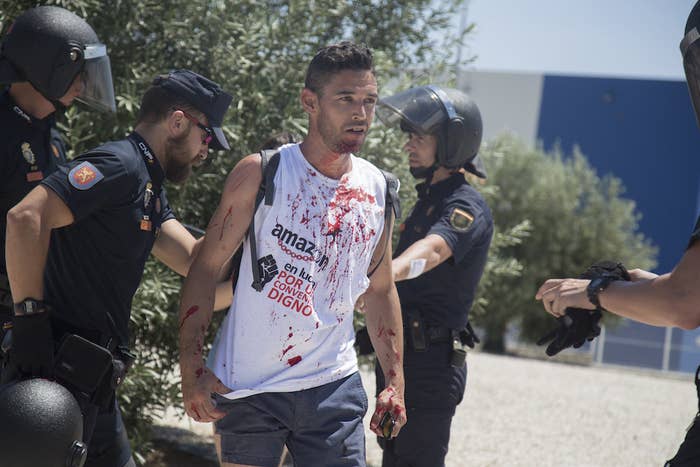 Amazon, which has long attracted scrutiny in the US over alleged poor working conditions and low pay in its fulfillment centers, is facing the same criticisms in Europe. International labor agencies and workers say the company, in its push to expand internationally, has cut costs while also increasing shipping speeds, and that this has degraded working conditions. Last week, tensions between the company and workers culminated in a worker strike and protest outside an Amazon facility near Madrid that began peacefully but ended with arrests and injuries.
Two people were arrested and charged with resisting authority during the protest last Tuesday, which was timed to coincide with Prime Day, the company's annual sales event. One protester needed eight stitches in his chin after police hit him with a baton, according to three sources who were present at the demonstration. Attendees say police hit another protester, who was not arrested.
The Spanish National Police did not respond to multiple requests for comment from BuzzFeed News.
About 950 workers participated in the strike against Amazon in Spain, while around 120 people gathered for a protest outside an Amazon fulfillment center near Madrid, according to photojournalist Lito Lizana, who documented the event. The demonstration escalated into violence when, after police in riot gear ordered demonstrators to move away from the street, an officer pushed a minor who was present at the demonstration, according to three attendees who spoke with BuzzFeed News.
Protesters who were present at the time said the scuffle with police erupted after the minor participant refused to hand over his ID. Video outside the facility shows three or four police arresting protesters, hitting one man with a baton, and kneeing another to the ground as they arrest him.
The two men who were arrested, 24-year-old Hugo Carrasco, who is not employed by Amazon, and 30-year-old Amazon worker Miguel Angel Alvarez Palomeque, were released the same day and charged with resistance to authority, disobedience to authority, and assault on authority, their attorney, Victor Llanos, told BuzzFeed News
"The police played the role of trying to break the strike," said Llanos. "There was no confrontation. The police began to provoke the demonstrators, beat them, and arrest them for no reason."
Regarding the protesters' arrests and injuries, Amazon said, "the safety of our teams is our number one priority and we greatly appreciate the efforts of the authorities to ensure everyone's safety."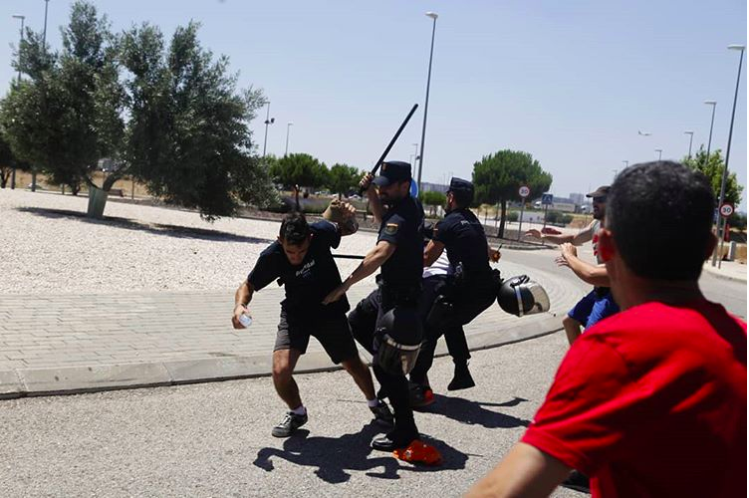 Carrasco told BuzzFeed News that the two men obeyed the police officers' orders and did nothing to provoke violence.

"The police do not have to intervene based on the fact a person is going to enter work or not, nor on how the picket line shows that there is a strike and tries to convince the person who tries to enter," said Carrasco. "The constitutionally recognized right to strike was violated by the police."
The workers at the Madrid facility also went on strike in March to protest stagnant pay, the loss of sick leave benefits, and loss of pay for covering night and weekend shifts. Some German and Polish Amazon workers at other fulfillment centers also went on strike last week on Prime Day.
"We are workers and we deserve what we are asking for, given the pressure of the work," Palomeque told BuzzFeed News.
A collective bargaining agreement between Amazon and workers represented by the Union Confederation of Workers' Commissions that entitled them to additional paid sick leave and pay raises expired in 2016. Since then, wages for Amazon employees in Spain have been frozen, Douglas Harper, a representative for the Union Confederation of Workers' Commissions, told BuzzFeed News. Along with frozen wages, Harper said Amazon has cut time off benefits and modified pay scales in a way that, according to him, has created disparities among workers with the same position.
Harper, who has worked as a technical service and maintenance representative at an Amazon plant located in San Fernando de Henares for six years, said that under the old labor agreement, Amazon also used to pay employees for sick days starting on the first day out. But now it adheres to legal minimums and only begins paying sick workers after their third sick day. Under the new sick day policy, Harper said people sometimes go to work sick or with injuries.
"What is at risk is the health of the workers," said Harper.
An Amazon worker, who was bruised by police batons at the protest and asked to remain anonymous out of fear of retaliation, told BuzzFeed News that she participated in the strike last week to "defend our rights."
"They changed our collective agreement because they wanted to," she said. "And each time, it'll become worse."
Amazon said it has brought over 2,000 jobs with "highly competitive pay, full benefits, and innovative training programs" to Spain since 2011. "Amazon is a fair and responsible employer," a company spokesperson said in a statement. "We believe in continuous improvement across our network and maintain an open and direct dialogue with associates."
Amazon has made a concerted push internationally over the last two years, opening several order fulfillment facilities across Asia and Europe and launching a new app for international shoppers in April. Its international sales, which amounted to $54.2 billion in 2017, pale in comparison to its $106.1 billion in sales in North America in the same year, according to its annual report.
The San Fernando de Henares center, where workers fulfill orders for European customers, is Spain's first and largest fulfillment facility. It employs about 1,100 people, including hundreds who are employed by temp agencies, according to the Union Confederation of Workers' Commissions.
Spain has the second-highest unemployment rate in the European Union at 16.2%; that rate is even higher among people between 15- and 24-years-old — somewhere around 38%, according to the Organisation for Economic Co-operation and Development.
Though at least one major bank says Spain's economy is improving, much of the country's job growth has been in temporary or short-term contract jobs, says Marcel Jansen, an associate professor at the Universidad Autonóma de Madrid.
"Besides this strong rise in short-duration contracts, we observe a strong drop in hiring wages, a substantial rise in part-time employment and unpaid overwork," Jansen told BuzzFeed News. "The strike at Amazon is a reflection of the comparatively poor working conditions in Spain, but in the specific case of Amazon, I fear the company's personnel policies are at the heart of the problem — long hours, high work pressure, combined with low wages."
After scrutiny from Spain's Social Security and Work Inspection department in June, Amazon was required to convert 28 temporary work positions into permanent positions at its San Fernando de Henares plant, according to El Boletín, a finance news outlet based in Spain. The inspection found the company violated labor policies because more than 25% of its labor force at the facility were temporary workers, according to El Boletín.
The Union Confederation of Workers' Commissions said the department's findings about Amazon's use of temporary labor were "just the beginning" of broader worker abuses at the facility.
An Amazon spokesperson told BuzzFeed News, "It is our priority to always be fully compliant with labor law. As we keep on growing in Spain we will continue to create more full-time jobs and career development opportunities." The spokesperson said, "conversions from temporary to full-time hires in our fulfillment center in Madrid have totaled to 354 in 2016, 291 in 2017, and 44 in 2018 so far."
Amazon's chief financial officer Brian Olsavsky told investors on a call in April that the company plans to expand more internationally. "We'll continue to make these investments in Prime. We'll continue to expand selection, continue to build [Fulfillment by Amazon] programs so that it increases selection even more and builds great partnerships with sellers. We'll continue to accelerate shipping. We'll continue to lower prices."
Harper, the union representative for Amazon workers in San Fernando de Henares, told BuzzFeed News that workers will continue to press Amazon for better working conditions and salaries.
"This is about recovering the rights that they made us lose and updating the situation to the current reality," he said.