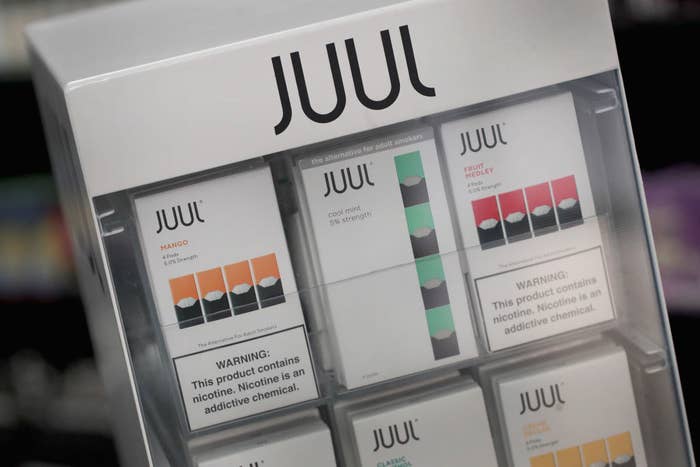 Juul Labs, which stopped accepting orders of flavored nicotine pods from retailers this morning, said it will restart orders of the products to stores that "invest in technology that designates flavored JUUL products as restricted," the company said in a statement on Tuesday.
In a description from the company, "Clerks must electronically scan IDs for flavored JUUL pod purchases, as well as visually verify the customer's ID. Purchasers will need to be 21+ to buy flavored JUUL pods regardless of local laws. Once an ID is scanned, the user will be age-verified, and the sale quantity will be limited to prevent bulk purchases."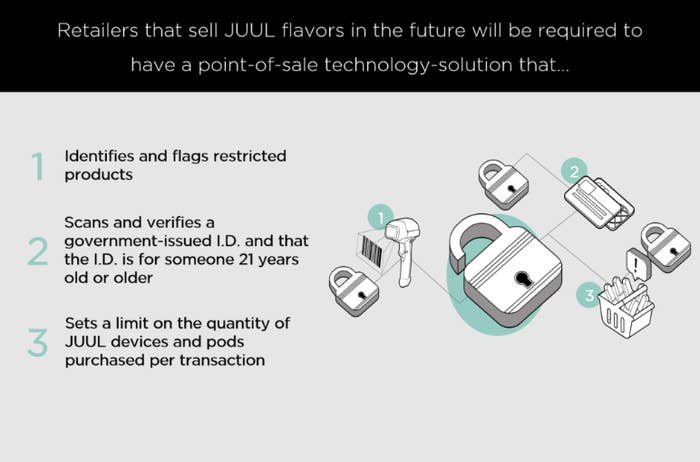 "We don't want anyone who doesn't smoke, or already use nicotine, to use JUUL products. We certainly don't want youth using the product," CEO Kevin Burns said in a blog post. "It is bad for public health, and it is bad for our mission."

Juul also said it has shut down its Facebook and Instagram accounts, and limited its Twitter account to nonpromotional posts featuring testimonials of former adult smokers who've switched to the Juul system. It said it has also worked with platforms to remove "tens of thousands" of user-generated social media posts "linked to the appeal of vaping to underage users."
"We're deeply concerned about the epidemic of youth use of e-cigs," Food and Drug Administration Commissioner Scott Gottlieb said in a tweet. "Voluntary action is no substitute for regulatory steps #FDA will soon take. But we want to recognize actions by JUUL today and urge all manufacturers to immediately implement steps to start reversing these trends."
The company stopped taking orders for its mango, fruit, creme, and cucumber-flavored pods to the more than 90,000 stores after drawing scrutiny from the Food and Drug Administration, which said that it may ban all or some flavored pods if Juul does not develop a plan to curb the use of e-cigarettes by teens and children. Juul said today that it will move forward in compliance with any new FDA rules; and convenience and retail stores that adopt its new age restriction and verification system — which prohibits anyone under 21 years old from buying their products, regardless of state tobacco-use age laws — will be able to resume sales. To monitor stores' enforcement, the company will increase its secret shopper visits to retail stores from 500 visits to about 2,000 visits per month.

While these changes will affect sales in stores, consumers aged 21 and older can still buy all of Juul's flavors on its website and its tobacco- and menthol-flavored pods in retail stores.

"Juul's announcement is too little, too late, and it's not a substitute for comprehensive FDA regulation of e-cigarettes," Matthew Myers, president of the Campaign for Tobacco-Free Kids, told BuzzFeed News in a statement. He said while Juul is no longer promoting itself on social media, its young customers are already spreading images of the product on their accounts to the same effect.

FDA Commissioner Scott Gottlieb is expected to announce a ban on the sale of most flavored e-cigarettes in stores and impose such rules as age verification requirements for online sales, senior agency officials told the Washington Post.
Juul Labs has grown exponentially since it spun off from Pax Labs in 2017. It now dominates about three-fourths of the e-cigarette market.