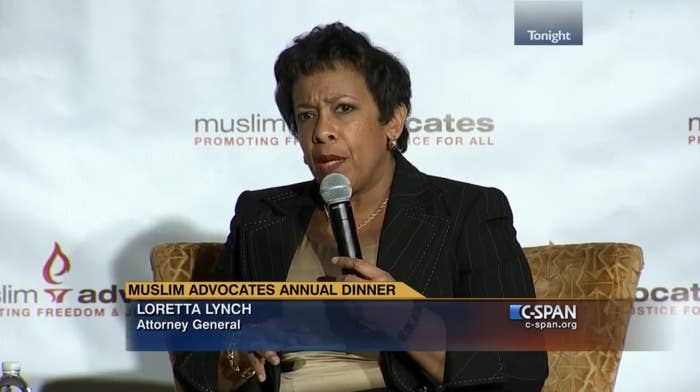 Attorney General Loretta Lynch said at an event in Washington, DC Thursday night that the Justice Department is investigating MacArthur High School after it arrested and suspended a Muslim student for bringing a homemade clock to school.
Ahmed Mohammed, a 14-year-old freshman with a knack for tinkering and passion for science, brought the clock to school in September to impress his teachers. But one teacher suspected that the clock might be a hoax bomb and reported it to the school which notified the police.
The student was handcuffed and detained briefly and was then suspended for three days. Police determined on-site that the clock was not a bomb and did not press any charges.
Lynch, who was speaking at an event hosted by the organization Muslim Advocates, criticized discrimination against Muslims in schools. She noted that the Justice Department has partnered with the Department of Education to advise schools on bullying.
"We have as you may know opened an investigation into the case of the young man in Irving, Texas. We'll see where that investigation goes," she said. "So you have extreme situations like that but you also have those everyday things that happen and we have an important, important role to play."
Muslim Advocates executive director Farhana Khera thanked the Attorney General adding that the case and treatment of Ahmed "was an issue of great concern and struck a chord with many parents."
The investigation comes after several Congressional leaders asked the Justice Department in September to investigate the case for potential civil rights violations.
Ahmed's family also sent letters to the City of Irving and Irving School District in November saying he was mistreated and seeks $15 million in damages. The City and School District are reviewing the letter. The family has not yet filed a lawsuit, according to their attorney.
Ahmed declined to return to the school district after his story went national and caught the attention of political leaders, scientists and technology entrepreneurs including President Obama and Facebook CEO Mark Zuckerberg.
Lynch also criticized a "very disturbing" uptick in anti-Muslim rhetoric and encouraged communities to notify the Justice Department of any cases where they may have been racially profiled or targeted because of their faith.