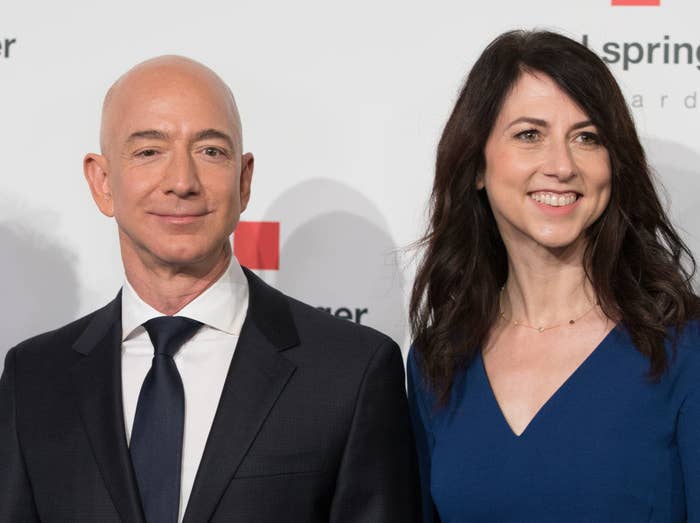 MacKenzie Bezos announced in a tweet Thursday that Amazon CEO Jeff Bezos will keep 75% of their shares in the company and voting control of her shares as the couple finalizes details of their divorce after 25 years of marriage. She also said Jeff will retain all interests in the Washington Post and aerospace company Blue Origin.
MacKenzie exits the marriage as one of the richest women in the world, and Jeff maintains his position as the world's richest person, according to Forbes.
"Grateful to have finished the process of dissolving my marriage with Jeff with support from each other and everyone who reached out to us in kindness, and looking forward to next phase as co-parents and friends," she said.
Jeff Bezos said in a separate tweet that he is grateful for friends and family for reaching out with encouragement and love. "MacKenzie most of all," he said. "I'm grateful for her support and for her kindness in this process and am very much looking forward to our new relationship as friends and co-parents."
MacKenzie Bezos was a key player in the Amazon origin story. The couple married while working at the New York–based hedge fund D.E. Shaw in the early '90s. She was inspired by Jeff's vision for Amazon and drove the couple across the country to Seattle as he wrote a business plan for the company on a laptop and called a Seattle attorney to incorporate the startup.

After more than two decades together, the couple announced they were splitting up in January, just before the National Enquirer reported it had text messages confirming Jeff had been having an affair with Lauren Sanchez, a news anchor and pilot.
The scandal escalated in February when Jeff published a statement on Medium accusing the tabloid of blackmailing him over dick pics and other revealing photos and texts he shared with Sanchez during his marriage to MacKenzie. Gavin de Becker, a private investigator hired by Jeff, said in an article this past weekend that his investigation shows people connected to the Saudi government accessed the Amazon CEO's phone.