More than a thousand protesters gathered in San Francisco's Castro District, Civic Center, and Alamo Square Park on Saturday to demonstrate against white nationalism in the wake of the race-fueled violence in Charlottesville, Virginia earlier this month.
Across the city, the demonstrations were largely peaceful, dominated by liberal activists after right-wing protest leaders announced on Facebook that they had cancelled rallies planned in Alamo Square Park and at Crissy Field. Police made just one arrest throughout the day, for public intoxication, according to a statement.
Joe Gibson, the founder of the right-wing group Patriot Prayer, said on Facebook Live Friday night that it would be canceling a protest planned for Crissy Field out of safety concerns. Gibson later said on Facebook that the rally planned for Alamo Square was also canceled and apologized to everyone who had planned to attend.
But although the rally was canceled, Gibson also said on Facebook Live that he would be meeting with people in Alamo Square Park and Crissy Field and then would "walk the streets." In the wake of the abrupt announcement, liberal protesters held a "victory demonstration" in Alamo Square Park Saturday, prompting concerns of clashes between the counter-protesters and any right-wing activists who showed up.
The protests across San Francisco are the most recent in a string of demonstrations since white nationalists sparked violence in Charlottesville, Virginia, where three people died.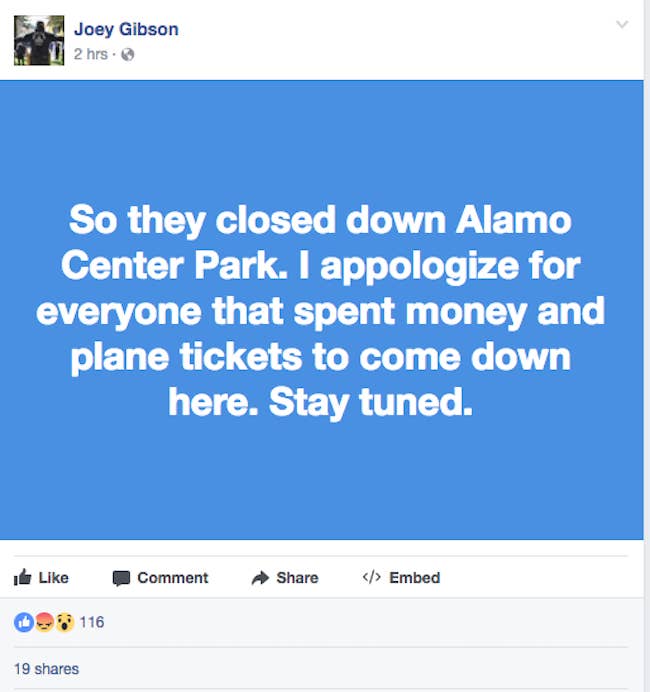 The Patriot Prayer group had a permit to hold its rally at the Crissy Field location but blamed local officials for tying the event to white supremacist violence, accusing city and state leaders of using "rhetoric" that invited extremists to the demonstrations.
Kyle Chapman, a self-described Trump supporter "helping lead the fight to destroy Neo-Marxism" and co-organizer of the Patriot Prayer rally, blamed the city's actions for squelching their rally in a Facebook Live video on Saturday.
"Basically what the mayor did, and the park services did, is they set the rally up on Crissy Field to where there would be the highest chance of violent interaction between our people and the counterprotesters," Chapman said. "Whether or not there is violence at these events lies in the hands of the mayor, the police chief, and the people who are tasked with securing these areas."
He blamed the media for stirring conflict by portraying the group as "bigots, white supremacists" and inciting "hatred among the liberals."
"They have no ability to filter their emotions and they act out violently," he added.
Leading up to the canceled rally, San Francisco Mayor Ed Lee, whose office promoted a Friday rally called "Unite Against Hate," told the San Francisco Examiner that while the Patriot Prayer members "have a message that we don't believe in, a message of hate," the city is one "of love and compassion, and we will always lead with love and compassion."
Protesters gathered at Alamo Square Park early Saturday afternoon, where they pushed back against police to enter the park. But police were able to hold back the crowds.
People gathered around the park, where several speakers with local organizations spoke out against white nationalism while other demonstrators held signs that read "Stand Against Racism and White Supremacy!" and chanted, "Whose streets? Our streets!"
Outside of San Francisco's Civic Center, people practiced yoga before a "peace concert" began Saturday morning.

Another group of demonstrators gathered in the Castro District, where people stood with signs, including one of Heyer with "I'm with her!"
At an afternoon press conference, Lee praised liberal protesters for turning out Saturday. "I cannot express how proud I am," Lee said. "All of the diverse aspects of our city loud and proudly said we are going to reject hate in our city, and they marched."

The San Francisco Police Department said it had enhanced law enforcement presence at Alamo Square Park and would continue to evaluate situations as they evolved throughout the day. By Saturday evening, though, the department announced that the protests had concluded without incident.
"The various First Amendment activities that took place throughout the City today have concluded peacefully," the department said in a statement. "There were no injuries reported at any of the events."

The statement added that officers would maintain a presence at Alamo Square Park, which remained closed Saturday evening.
Meanwhile, across the bay, officials in Berkeley are bracing themselves for a right-wing "Say No To Marxism" rally and related counter protest scheduled for Sunday afternoon.