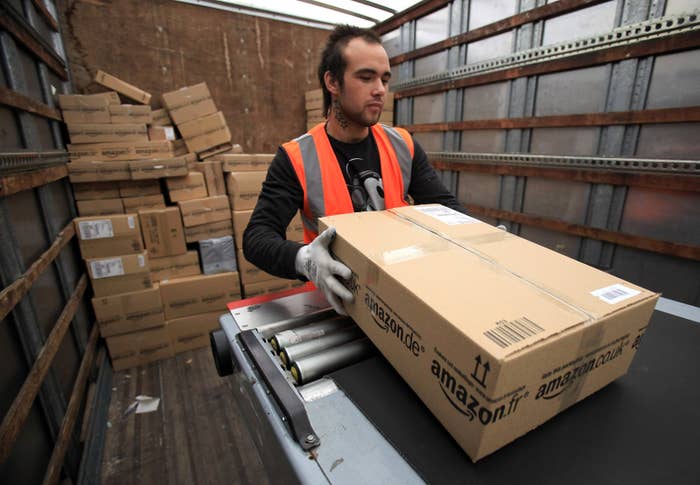 Now that the holidays are over, people are returning the unwanted sweaters, toys, and electronics they were gifted. And a year after more people opted to do their holiday shopping online, UPS said it expects to ship more returns back to retailers than ever before: about 1.4 million on Wednesday alone. That's an 8% increase from UPS's busiest day for returns last year.
The returns are part of the 750 million packages UPS projects that it delivered between Thanksgiving and New Year's Eve — a growth of nearly 40 million packages from 2016, according to UPS. These numbers account for just a part of all online purchases that shipping companies processed this year. USPS, for example, expected to deliver 850 million packages this holiday.
"While the day after Christmas used to be reserved for long return lines at department stores, the growth of e-commerce has changed when and how consumers return gifts," Alan Gershenhorn, UPS chief commercial officer, said in December. "A customer-friendly returns program is now an essential part of any successful e-commerce program."
The convenience of online shopping, as well as easy return policies at stores like Costco, Target, and Walmart, encouraged more than 64 million people to shop both online and in stores during Thanksgiving weekend, according to the National Retail Federation, the retail industry's trade organization. And more than 58 million shopped only online over Thanksgiving and Cyber Monday weekend, which is about one-third of a total of 174 million people who shopped that weekend.
Just ahead of the 2017 holiday season, Amazon honed its return policies to make it easier for customers to get a refund from the marketplace's third-party merchants without ever returning the item or notifying the seller. This automatically issues a refund to a shopper without requiring them to ship an item back to the seller. The new return policy sparked ire among Amazon's third-party sellers, but gave it an edge over Walmart.com and other competitors who do not offer returnless refunds. A June UPS survey found that 79% of respondents said free shipping on returns is important when selecting an online retailer, along with an easy-to-return online experience and a no-questions-asked policy.
E-commerce returns vary, accounting for 25% of all goods bought online, or even upward of 50% for apparel, according to Optoro, a reverse logistics company that works with online retailers. Optoro predicts about $90 billion in goods will be returned this holiday season. The National Retail Federation estimates shoppers will have spent between $678.75 billion and $682 billion during the 2017 holiday season.
But easy returns for shoppers create problems for retailers. While half of returns are reshelved to be resold, about 5 billion pounds of returned goods end up in landfills, according to Optoro.
Ann Starodaj, who leads Optoro's sustainability program, said many retailers have a legacy system that can closely track new merchandise. But they hit a snag when it comes to reverse logistics, or the system that sorts out what to do with a mountain of returns after the holiday season.
"It's messy," said Starodaj. "It's 'Oh crap, you bought a hat and you bring it back in, and it looks perfectly fine. But we're not selling this hat anymore; it's not on the floor.'"
In many cases, Starodaj said it's cheaper for retailers to send returned products to a landfill instead of sorting through merchandise to determine what can be resold.
Companies like Patagonia and Best Buy, which charges a 15% restocking fee on some opened items, have started to offer used and returned items on their websites, which Starodaj said is a solution to cutting down on landfill waste.
But the industry has a long way to go to make its returns process more sustainable, said Starodaj.
"A lot of focus has been on upstream how products are made, like Target removing chemicals from its products, and how they're transported," she said. "But there is a growing downstream issue because there's clearly a big opportunity to make sure items stay out of landfills for long as possible."