When Rihanna posted her first amateur video tutorial in November, fans lost their shit.
Over a short time-lapse video, the 29-year-old pop singer, fashion icon, and burgeoning beauty mogul showed viewers how to apply her most recent Fenty Beauty product — Stunna, a bright red lipstick designed to be worn by people of all skin tones.
In a rare moment, where fans could see Rihanna without makeup, she lifted the lip paint wand shakily toward the camera lens then swiped it across her bottom lip. Then she drew the paint unevenly across her cupid's bow and into the corners of her mouth. She wiped the sides of her mouth with her finger to clean up where she overpainted. For a short moment before the video cut, the faded image was illuminated by her full lips drenched in red.
"#stunna don't laugh at my tutorial skillz," the caption read.
Under the video, commenters gushed.
"I love it RIRI!!! You're adorable "
"Those lipsssss !!! im mesmerized "
"I rate u for keeping it real "
"Why did that video give me life...? "
" she can take my money 🏿"
Rihanna's grainy video tutorial captures a familiar scene to anyone who has felt humbled and mesmerized by their older sisters and her cool friends primping for a night out, or their boo putting on the final touches before date night, or their mothers preparing for another day at an office job. This is the ritual — a stripped face transforming into something new.
It's difficult to imagine Rihanna like us — barefaced and unkempt. She's often pictured smoking blunts and dancing in crowded clubs, clutching a drink in her tattooed hands or posing on Instagram in wild outfits, like a giant heart-shaped fur coat with cutoff shorts or a clutch with an embroidered penis. She rarely wears natural makeup, opting instead for shimmering blue eyeshadow, glossy black or blue lipstick, and of course, red.
But in the video, Rihanna transforms from whoever she is off Instagram into the rebel often captured flipping off cameras and rolling blunts with long painted nails and bold red lips.
Given Rihanna's international fame, it's not surprising that her makeup line, Fenty Beauty, a collaboration with Louis Vuitton Moët Hennessy's Kendo division, which develops private labels to be sold at the luxury company's Sephora stores, has gotten so much buzz.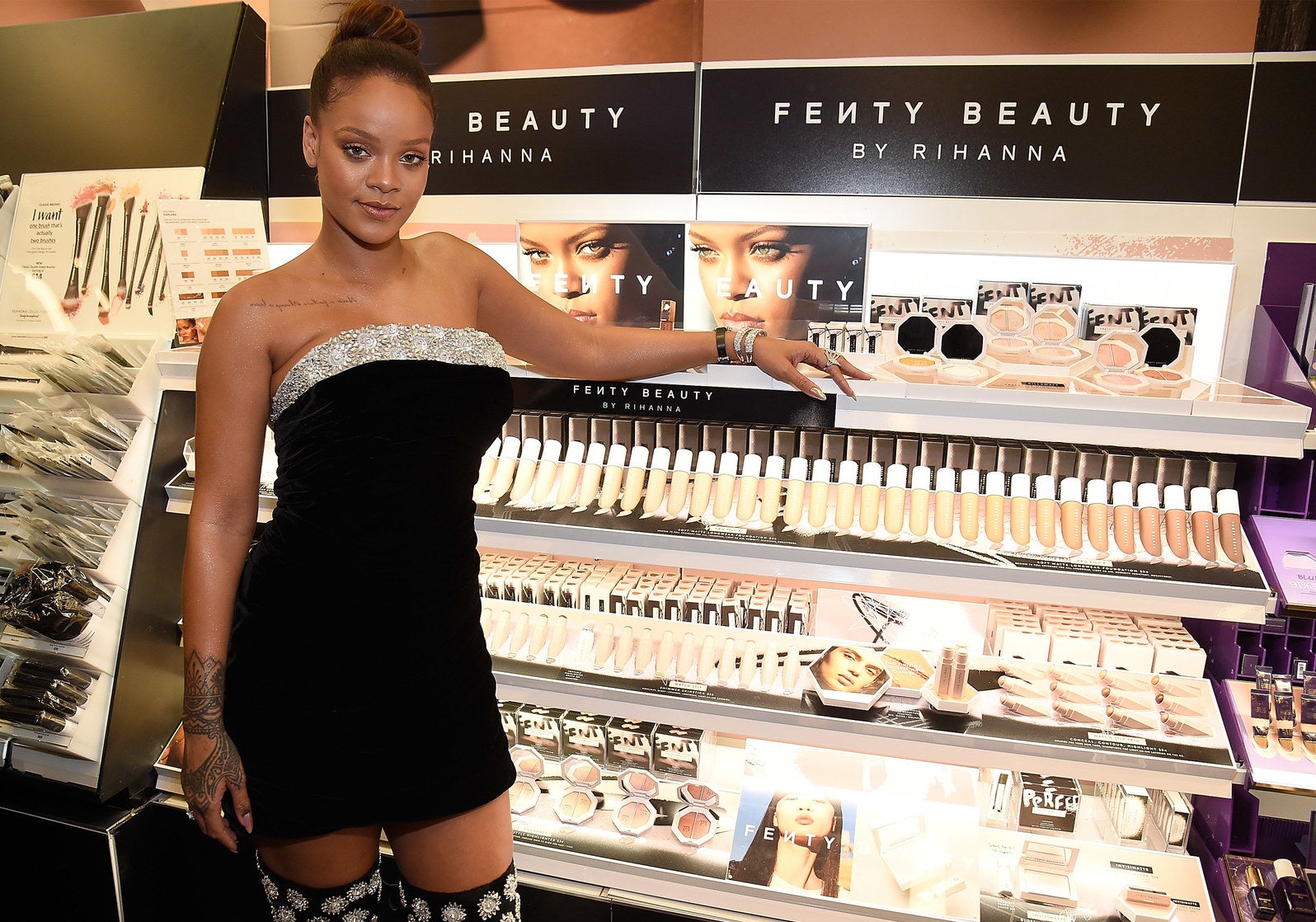 Though the company has been tight-lipped about sales, since launching in September, it's recorded $72 million in earned media value, which is the dollar value marketers give to word-of-mouth publicity. By this measure, Fenty Beauty beat out more established labels including NYX, Benefit, and Urban Decay, according to Tribe Dynamics, a market research company. It's also been named one of Time magazine's top 25 inventions of the year and Women's Wear Daily's launch of the year in the prestige beauty sector.
According to the company's website, Rihanna created Fenty Beauty to fill a void in the beauty industry for products that worked for all skin tones. It's designed "so that women everywhere would be included," with a focus on traditionally hard-to-match skin tones. Fenty offers 40 shades of matte foundation, 30 shades of makeup sticks, 6 highlighter shades, an eyeshadow palette of sparkling bright colors, and lip gloss.

The rush to buy the foundations in particular led some stores to run out of the darker shades, as an Affinity magazine tweet that went viral in September showed. Rihanna promoted a "rihstock" of the darker shades on Instagram saying, "Giving all my shade #400's a heads up for tomorrow so you get your hands on it before it's gone again!"
It's unclear why Rihanna chose to launch her lip line with a red. (Fenty Beauty declined multiple requests for comment from BuzzFeed News.) But the choice is significant. For centuries, makeup, and particularly lipstick, has been used as a way to define society and women's pleasure, play, and sexuality. These are the elements Rihanna embodies — pleasure, play, costume, excess, drama, sexuality, rebellion. And now, Rihanna has made her mark in this evolving story about makeup and red lipstick by creating a color designed to work on all skin tones. At a time when overt female sexuality can still seem like a liability, Rihanna, and her new lipstick Stunna, invites us to play the bad girl.
Makeup, for centuries, has reflected the evolution of social definitions of class, gender, race, and most directly, sexual mores. Before the 19th century, wearing makeup in Western culture was generally very taboo, Malia McAndrew, an associate professor of history at John Carroll University, told BuzzFeed News in a December interview.
"It was seen as this idea that your inner character would expose itself on the outside," she said. "If you're wearing makeup, you're trying to cover something up — your infidelity, you're a lush. Makeup was associated with vice, with prostitution. A respectable woman wouldn't need any artificial preparation."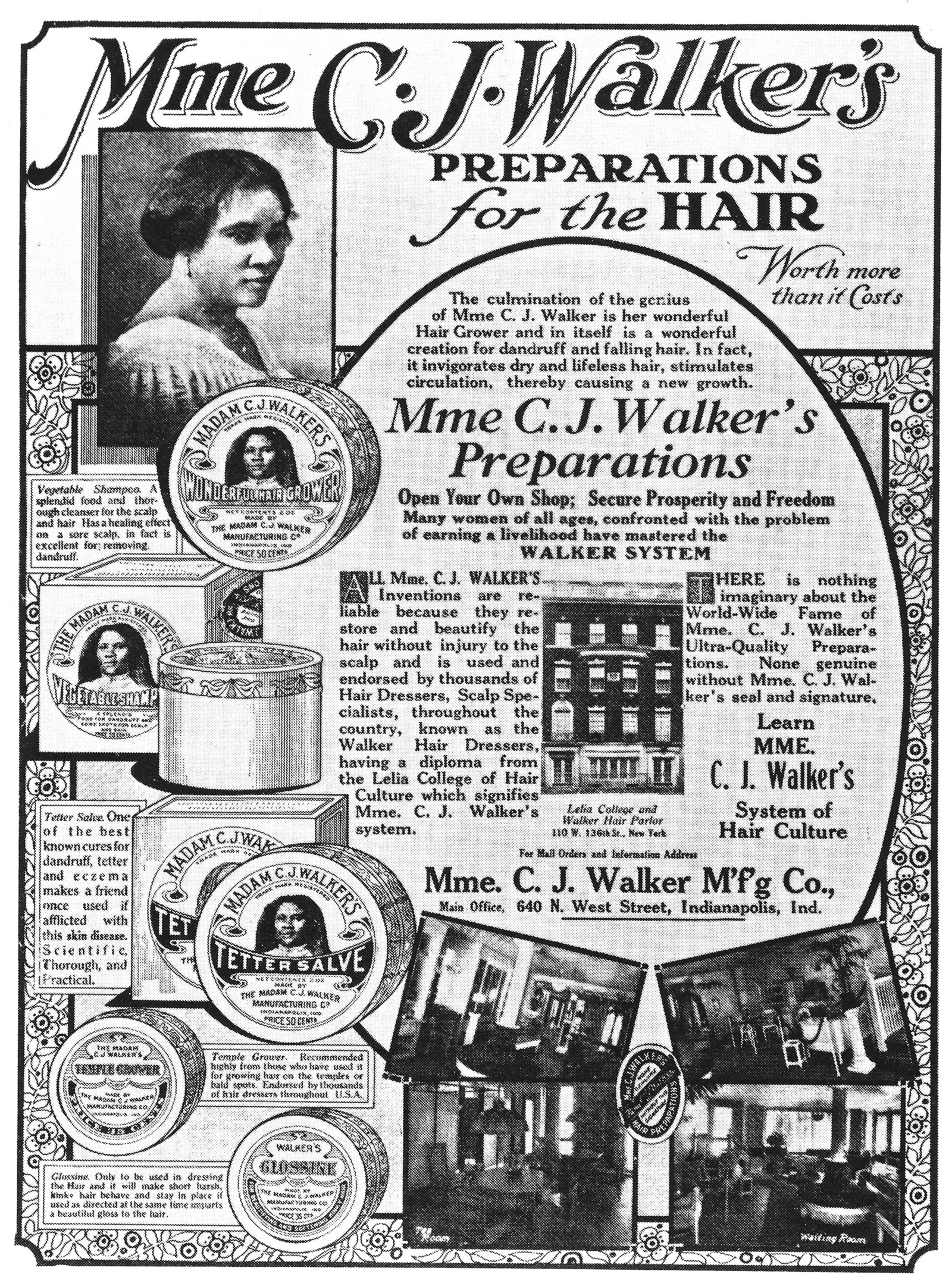 At the end of the 18th century, US colonies condemned the use of cosmetics on moralistic and religious grounds. A British gray-letter law, which means the law wasn't legally binding, went so far as to state that "all women regardless of age, rank, or status, who seduced or betrayed into matrimony any of his Majesty's subjects by the use of perfume, paints, artificial teeth, wigs, stays, hoops, high-heeled shoes, may well find their marriages annulled and themselves being tried for witchcraft."
However, in the late 19th century, as white women moved out of the shadows of the domestic sphere and into public life as a part of the working class, they asserted their independence with the dollar. Mass commerce, mass media, and the growth of the department store spurred a buzzing beauty industry catering to a new, empowered woman.
But few cosmetic lines were advertised for women of color at the time. Madam C.J. Walker, a pioneer of black hair care and cosmetics, Sara Spencer Washington, a beauty salon entrepreneur, Madame Nobia A. Franklin, who developed a line of cosmetics meant to flatter dark skin rather than lighten it, and Annie Turnbo Malone, the founder of Poro hair products, were the first black entrepreneurs to develop products for black women in the first half of the 20th century. Their success — all women eventually became millionaires — shows how much of an untapped market there was for beauty products that catered to black women.
Around the same time, wearing red lipstick had become a statement about womanhood and autonomy. Makeup was a form of self-expression as white suffragettes took the streets donning red lipstick as a symbol of defiance to demand the vote.
"Lipstick is the most artificial of the cosmetics," said McAndrew. "Wearing red lipstick is a very bold, very assertive move. The woman who does that is asserting her authority to be in a public space, chooses who she wants to date, chooses to keep her wages. Red lipstick was a marker for these women."
It also was a marker for women who were a part of Mexican-American pachuco culture in the early 20th century. Pachucas were the women of pachuco culture, which emerged within cities across the southwest among working-class, second-generation Mexican-American youth who felt disaffected by American patriotism fueled by World War II and discriminated against by policies like the Bracero program which imported low-wage, seasonal Mexican labor.
The style was ostentatious and flamboyant. While pachucos wore zoot suits, hats, and shiny boots, pachucas rolled their hair into high pompadours, wore tight skirts, and painted their lips red. Some pachucas also wore men's zoot suits with their faces heavy with makeup.
"Makeup was associated with vice, with prostitution. A respectable woman wouldn't need any artificial preparation."

But red hasn't always been a universally empowering color. As recently as the early 2000s, women's magazines pushed white women toward classic Revlon reds while darker-skinned women were advised to stick with plum or berry colors, Autumn Whitefield-Madrano, a feminist beauty blogger and author of Face Value: The Hidden Ways Beauty Shapes Women's Lives, told BuzzFeed News.
"If you want that classic iconography of femininity (i.e., red lipstick), well that's just for white women," she said.
Marjorie Stewart Joyner trained thousands of black beauticians as a vice president of the Madam C.J. Walker Company. She recalled that black ministers would criticize female parishioners for straightening their hair and accused them of being "interested in a red light district or you wouldn't be putting that rouge and lipstick on you and powdering up your face to look like white people," according to Susannah Walker's book Style and Status: Selling Beauty to African American Women, 1920–1975.
On the other end of the spectrum, historically, darker-skinned black women have been derided for wearing red lipstick. As recently as 2013, the rapper A$AP Rocky, while on tour with Rihanna, was criticized for telling the lifestyle site the Coveteur that "You have to be fair skinned to get away with" wearing red lipstick. The message often is that black women's lips — a body part that is simultaneously ridiculed and sexualized — are meant to be downplayed, not highlighted with red.
The mainstream beauty market didn't begin to fully embrace women's choice to wear red as a sign of sensuality and promiscuity until the launch of the makeup line Volupté's lipsticks, Lady and Hussy in 1938. At that time, white women were just stepping out into the workforce with disposable income of their own, which fueled their autonomy not just in terms of their purses, but their gender.
Lady was a lighter shade aimed at "girls who lean toward pale-lacquered nails, quiet smart clothes and tiny strands of pearls," according to a Mademoiselle magazine story that year on the collection. While "Hussy" was a red for "the girl who loves exciting clothes, pins a strass pin big as a saucer to her dress, and likes to be just a leetle bit shocking."
Fenty Beauty echoes Volupté's wild Hussy in its marketing campaign for Stunna. Its ads, featuring models of different skin tones traipsing around New York City with irreverent attitudes, spurred a fanbase led by black women who were drawn to the campaign's emphasis on a body part society deemed shameful.
History has shown us that a red lip is assertive, confrontational, unapologetic, reckless, and unpredictable, and so continues to be at the center of so many iconic fashion moments.
Rihanna is Volupté's Hussy. Or, a bad gyal, a patois term to describe a woman who owns her sexuality, is a little wild, and makes a name for herself without conforming to social expectations of a respectable woman. Rihanna pays homage to this through her Instagram handle badgalriri.
Respectability isn't something Rihanna has ever sought. She's been rumored to have dated a number of men that range from Drake to Kylie Jenner's current boo, Travis Scott, to Leonardo DiCaprio. But she doesn't depend on any of them. Her song "Needed Me" says it all: "Didn't they tell you that I was a savage / Fuck your white horse and a carriage / Bet you never could imagine / Never told you you could have it."
She doesn't shy away from displaying her body, and when does, she's in control of it. In 2014, she posed topless for the French magazine Lui, and when Instagram briefly suspended her account for nudity, she posted the photos on Twitter triumphantly. She later posted a doctored image of her dressed like a middle-aged matron on Instagram with the caption: "Rih's next magazine cover if it was up to Instagram." In 2014, she wore a see-through sheer, Swarovski crystal–encrusted Adam Selman gown to the CFDA Fashion Awards, showcasing her nipples. "I just liked it better without the lines underneath," Rihanna told Vogue magazine. "Could you imagine the CFDA dress with a bra? I would slice my throat. I already wanted to, for wearing a thong that wasn't bedazzled. That's the only regret I have in my life." Her look inspired famous copycats from the likes of Beyoncé and Kim Kardashian.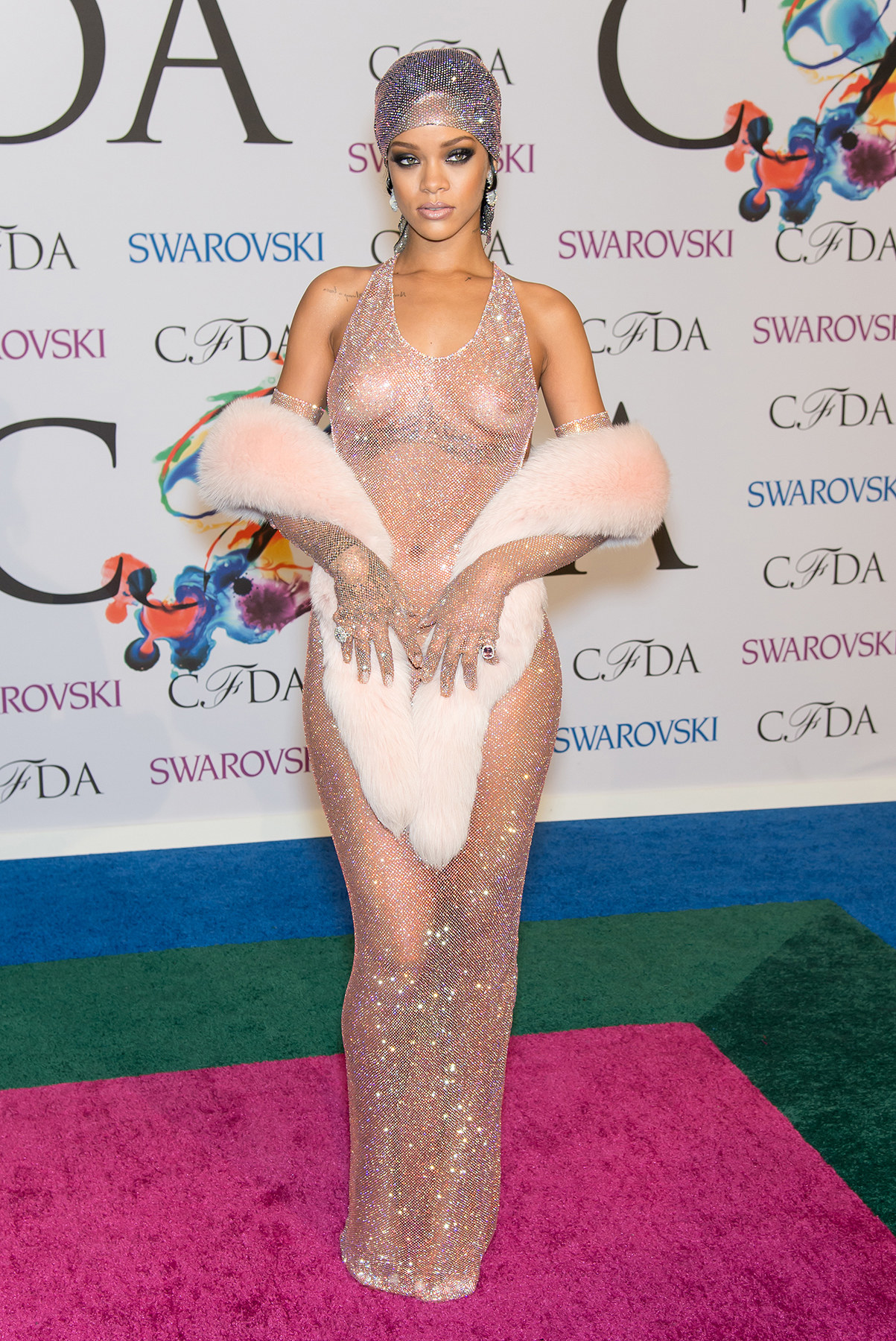 Her answer to anyone who believes women should cover their bodies and behave modestly is to invite them to look. She seems to relish the control she has over her exposed body, a powerful move at a time when women's bodies are targeted for sexual assault and harassment.
Her irreverence has no bounds. In 2013, she went on stage to accept an award at the American Music Awards with her hair in a doobie wrap, essentially akin to going to an awards show in hair rollers, an ultimate "fuck-your-expectations" move.
She doesn't shy away from paparazzi and isn't afraid to put them in check when they get out of line. When a paparazzo asked her for free tickets to a show, she clapped back, "Fuck all of y'all. Y'all muthafuckas better pay, you make enough money off of me. Bitches. Talkin' 'bout free tickets! Free tickets these nuts!" It's probably important to note she's wearing red lipstick during the whole thing.
Rihanna has also managed to penetrate the fashion industry on her own terms, a feat that can't be overstated. She's the first black woman to lead a Dior campaign, an institution that has historically targeted upper-class white women, while also leading a line with Puma (Fenty x Puma), and an all-denim collection with Manolo Blahnik. Typically, working for two brands at the same time is taboo in the fashion industry because brands prefer to work with a celebrity exclusively, yet Rihanna has worked with three.
With each brand, her penchant for excess, mystery, drama, and sex is clear. Her shoe line with Manolo Blahnik, cheekily called So Stoned, is a collection of jewel-encrusted heels and fur boots. Unlike Dior's traditionally bright, soft, and romantic campaigns, in Rihanna's ads, she's pictured wearing black gowns with bright red lips in a set of dark, sultry photos shot in the château and gardens of Versailles. Even when Rihanna does sporty, she adds some edge. Her line with Puma features a series of fur slip-on sandals, suede platform sneakers, and trainers that have the type of ankle strap typically used for heels.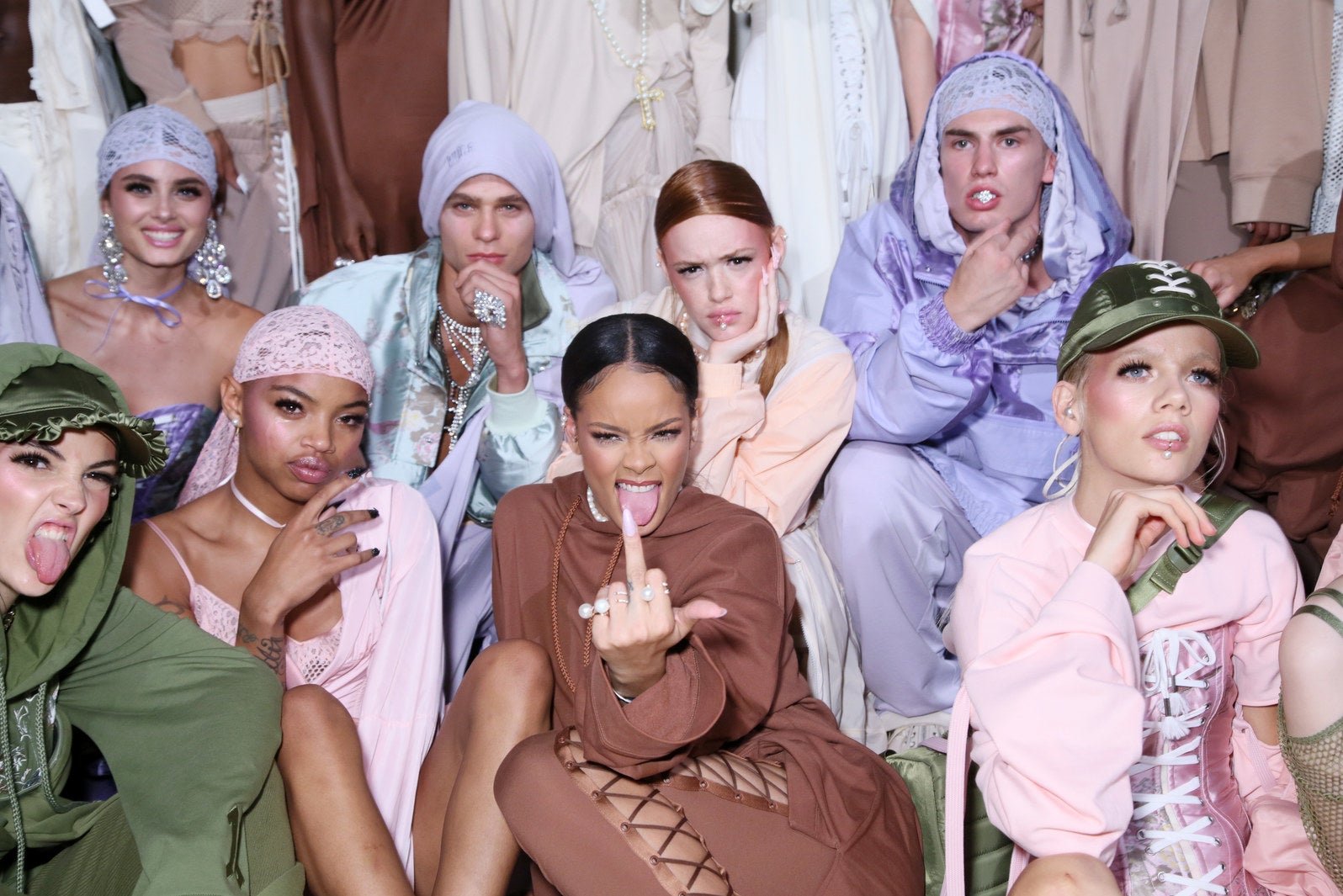 There is very little about her persona that appears curated, which gives fans the sense that she's relatable. She's fangirled over Aaron Paul, talked about how wasted she was last night, and mused on love and respect in relationships. For fans, Rihanna brings out their inner badass.
"I just like her attitude ... Her whole like, 'I don't give a F vibe,'" Welton Huang, a 21-year-old fan in New York City who recently purchased Stunna lip paint for the first time, told BuzzFeed News in early December. "I just want to be unapologetic and do things the way she does. I'm the total opposite. I'm very timid. I'm very, very shy. I tend to stutter over my words and in that way I'm the opposite, because she does things as she wants to and doesn't second guess herself."
Huang said Stunna was the first time he's ever worn "anything that bold." The experience left him feeling "so pretty" and proud.
Jasmine, a 19-year-old Rihanna fan whose music conjures memories of each city she's lived in as a military brat, told BuzzFeed News she bought the lip paint the day it came out (Nov. 23) in honor of her grandmother, whose birthday fell on the same day.
"My grandma wore red lipstick on the daily," she said. "When I got it, that's what it reminds me of — a confident woman, the bright red."
Rihanna and her grandmother, who passed away, shared the same unapologetic, outspoken attitude.
"It's something I aspire to do," said Jasmine. "There are a few things that I'm trying to figure out about myself, but I aspire to be as confident and open like that."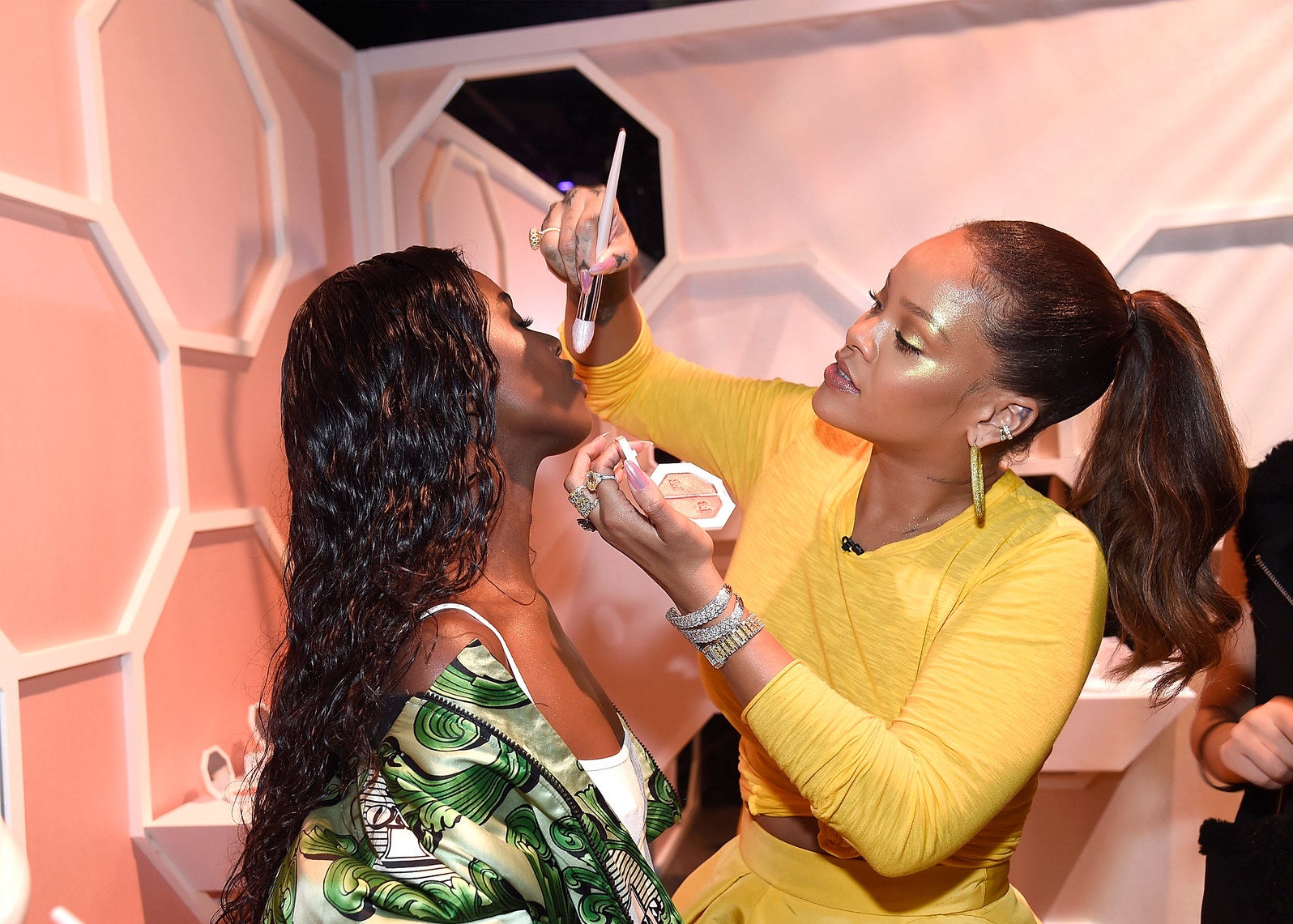 If 2016 was the year of Lemonade, 2017 is the year of Fenty Beauty. There is no doubt that Lemonade resonated deeply with many people, particularly black women. And the album came out during Obama's last year in office, a kind of denouement to a time in which black people seemed to have attained some concrete political power. That Beyoncé sang at Obama's 2009 inauguration and worked with her husband to help fundraise for his reelection in 2012 shows how close the singer was to the country's highest government office. But if Beyoncé strives for institutional clout, and along with it adopts some elements of respectability to attain it, Rihanna stays smoking a blunt and sipping wine outside the White House in Gucci socks and low-heeled mules.
Much like how someone might choose a nude lip one day and a red lipstick another, Beyoncé and Rihanna are two femininities one person can embody. And maybe, right now, we want Rihanna on our lips.
Fenty Beauty comes at a convenient time as we continue national debates about how powerful men seek to conceal sexual harassment and violence. Now we have a rebel upending the beauty industry as another self-described outsider and alleged sexual harasser enters a second year at the Oval Office. Who better to give us our color of rebellion than a rebel herself?
In November, MTV News raved that Rihanna reinvented red lipstick. They may not be wrong. Fenty Beauty's tagline "Beauty for All" appears to be a phrase the company actually intends to implement. It's not a slogan to placate women of color or give them a nod while featuring the faces of their white campaign stars. That's because Rihanna is not the typical white male beauty executive who wants our dollars but doesn't value our bodies.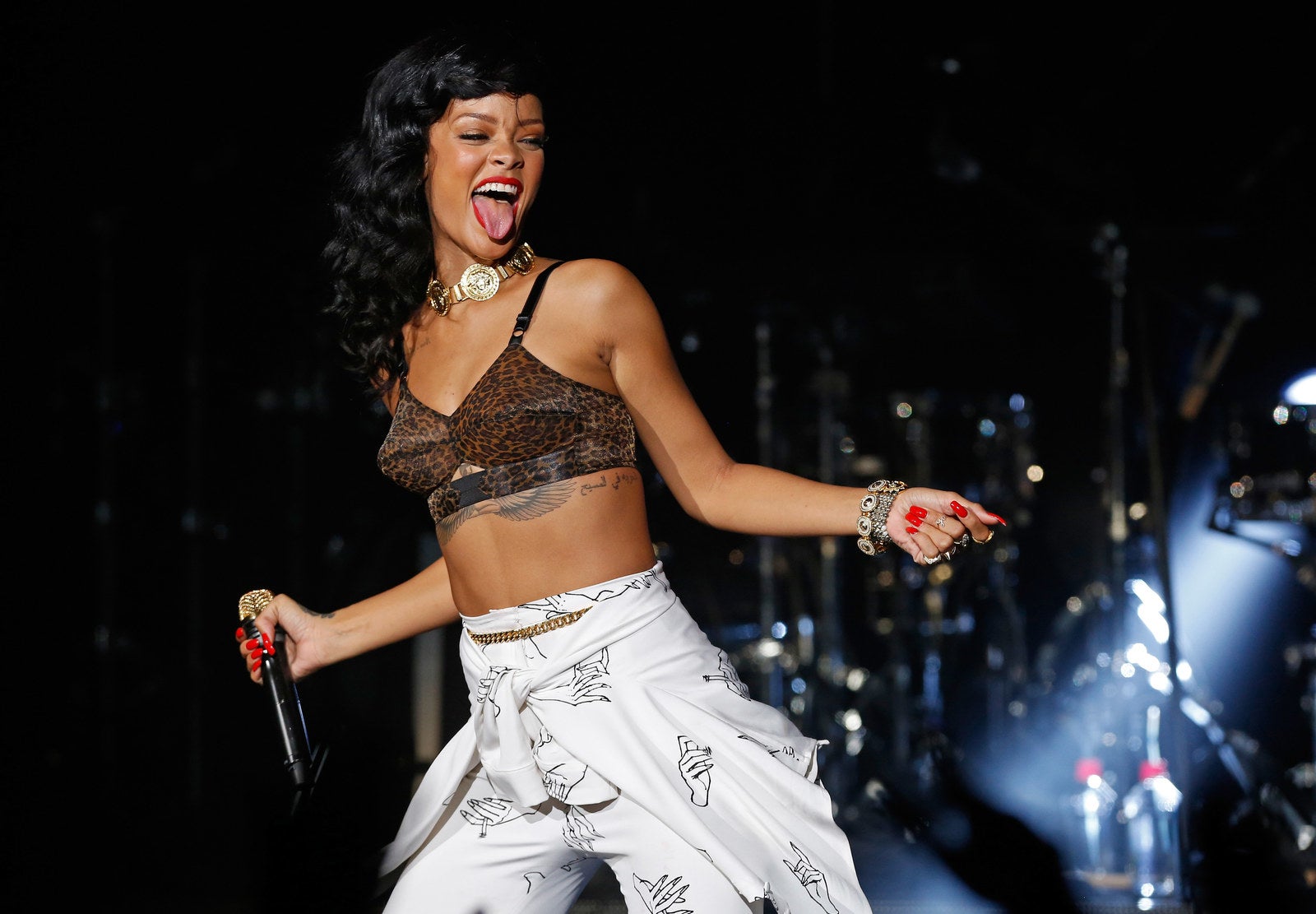 "The beauty market has always been very segmented and divided customers by class, age, ethnicity," said McAndrew. "You kind of go from back into early 20th century and people selling to the African-American market like 'the white market ignores us so we need to create our own sense of what beautiful is.'"
McAndrew called Fenty Beauty "another cultural transition" where Rihanna's not selling exclusively to black women, but "mainstream America in a way that is very different from the mainstream ideal that women of color had to play to."
Who better to give us our color of rebellion than a rebel herself?
Fenty Beauty's launch comes at a time when women of color have been fueling a dramatic growth in the industry, analysts who track the market for beauty products told BuzzFeed News in September. Latina women are one of the biggest buyers of cosmetics, according to a 2016 TABS Analytics report. In an industry worth $25 billion last year, Latinas spent roughly $4.3 billion on beauty products, according to research by Mintel, a market research firm. Black women spent $2 billion on beauty and 47% of it went toward cosmetics.
A part of this surge in spending by women of color on cosmetics is fueled by the rise of makeup as play. "Women have been moved from being the victim to the victor," said Madeleine Ogilvie, who does market research for cosmetic companies. "Women have used makeup in terms of self expression and play. It's like a canvas and artwork."
A red lip has always signaled an unruly femininity. At a time when femininity is being threatened at nearly every level, maybe victory comes from simple acts like applying a deep red lipstick — or a psychedelic pink or moody navy.
Makeup seems to also be a part of how Rihanna transforms into Rihanna.
"Makeup is like a secret weapon," she told Time magazine in November. "Depending on my mood, my look, or the occasion, makeup can go from very subtle to a complete transformation, and that's the fun in makeup: being able to play and create in endless ways." ●