More than 10 business leaders dropped out of Trump's advisory councils this week over the president's reluctance to condemn the race-driven violence in Charlottesville over the weekend. The resignations prompted Trump to announce on Twitter today that he decided to end both the American Manufacturing Council and the Strategic and Policy Forum.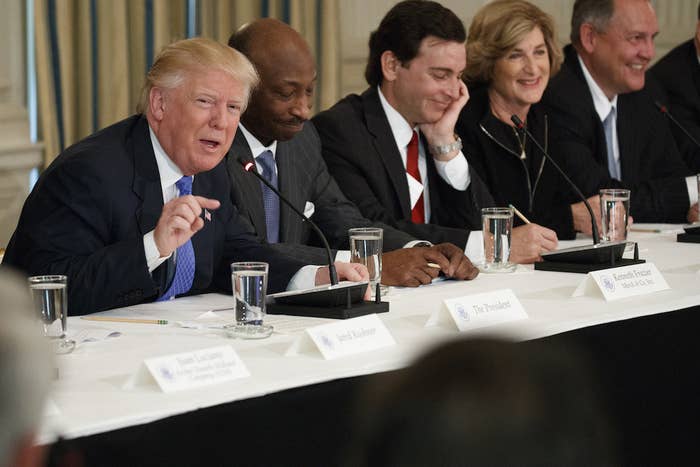 While many of the CEOs said they had joined the groups to work with the government on policies that would benefit their businesses, they now criticized the president's reluctance to condemn racism, and said working on the councils was no longer the most effective way to achieve their goals. "The President's statements yesterday were deeply troubling," said General Electric Chairman Jeff Immelt. Here, in no particular order, are the members' resignation statements:
Merck's CEO Kenneth Frazier: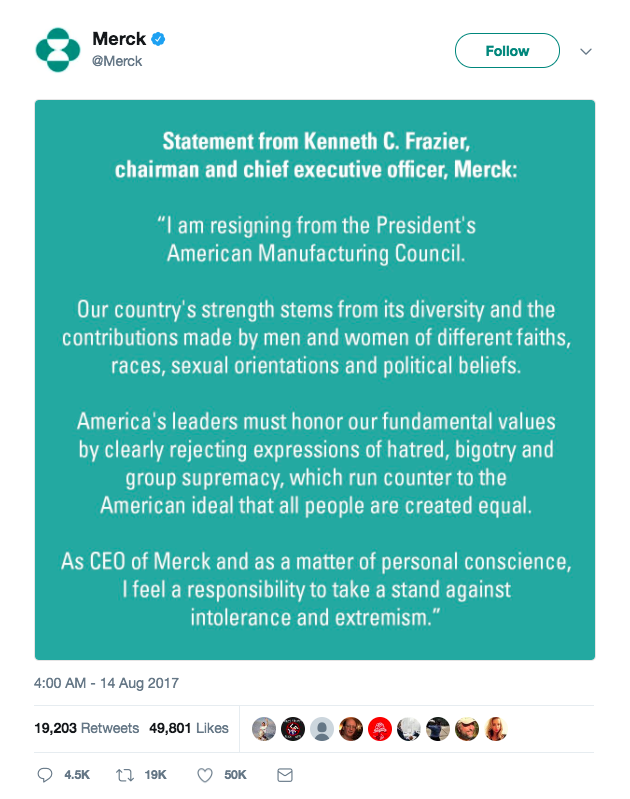 GE Chairman Jeff Immelt:
"The President's statements yesterday were deeply troubling. There would be no GE without people of all races, religions, genders, and sexual orientations. GE has no tolerance for hate, bigotry, racism, and the white supremacist extremism that the country witnessed in Charlottesville last weekend. I joined the President's Committee on Manufacturing because engagement with government on economic policy is very important for GE, our employees, and partners. As a company that exports over $20 billion of American made goods to the world, I believe we are best served when we constructively engage with leaders in the United States and around the world. The Committee I joined had the intention to foster policies that promote American manufacturing and growth. However, given the ongoing tone of the discussion, I no longer feel that this Council can accomplish these goals. Therefore, I notified members of the council this morning that I could no longer serve on the President's Committee on American Manufacturing."
United Technologies CEO Greg Hayes: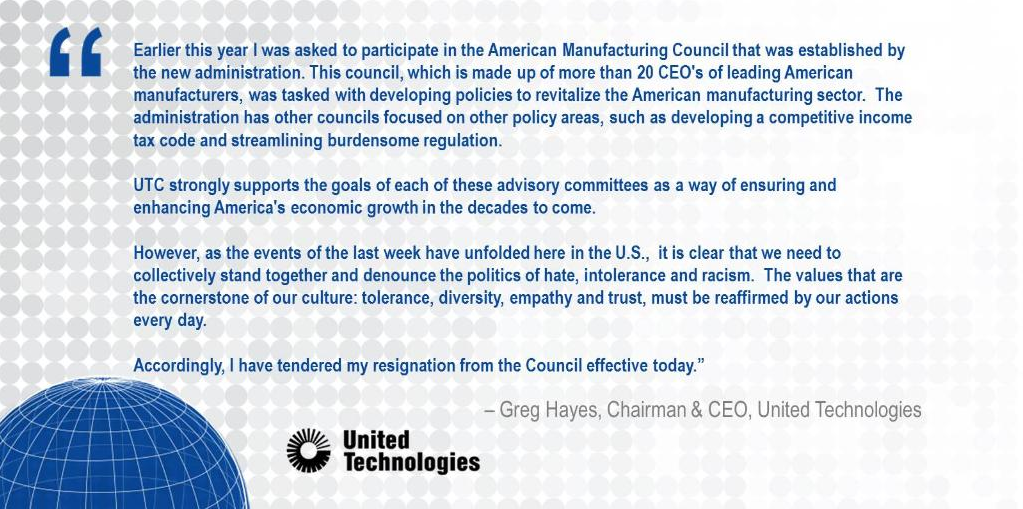 "Earlier this year I was asked to participate in the American Manufacturing Council that was established by the new administration. This council, which is made up of more than 20 CEO's of leading American manufacturers, was tasked with developing policies to revitalize the American manufacturing sector. The administration has other councils focused on other policy areas, such as developing a competitive income tax code and streamlining burdensome regulation.
UTC strongly supports the goals of each of these advisory committees as a way of ensuring and enhancing America's economic growth in the decades to come.
However, as the events of the last week have unfolded here in the U.S., it is clear that we need to collectively stand together and denounce the politics of hate, intolerance and racism. The values that are the cornerstone of our culture: tolerance, diversity, empathy and trust, must be affirmed by our actions every day.
Accordingly, I have tendered my resignation from the Council effective today."
3M CEO Inge Thulin:
"Sustainability, diversity and inclusion are my personal values and also fundamental to the 3M Vision. The past few months have provided me with an opportunity to reflect upon my commitment to these values.
I joined the Manufacturing Jobs Initiative in January to advocate for policies that align with our values and encourage even stronger investment and job growth – in order to make the United States stronger, healthier and more prosperous for all people. After careful consideration, I believe the initiative is no longer an effective vehicle for 3M to advance these goals. As a result, today I am resigning from the Manufacturing Advisory Council.
At 3M, we will continue to champion an environment that supports sustainability, diversity and inclusion. I am committed to building a company that improves lives in every corner of the world."
Johnson & Johnson CEO Alex Gorsky:
"Johnson & Johnson has a responsibility to remain engaged as important policy decisions are made. That hasn't changed. he President's most recent statements equating those who are motivated by race-based hate with those who stand up against hatred is unacceptable and has changed our decision to participate in the White House Manufacturing Advisory Council. We will continue to support, advocate and champion policies and programs that make this country and the world healthier, stronger and more united."
Intel CEO Brian Krzanich: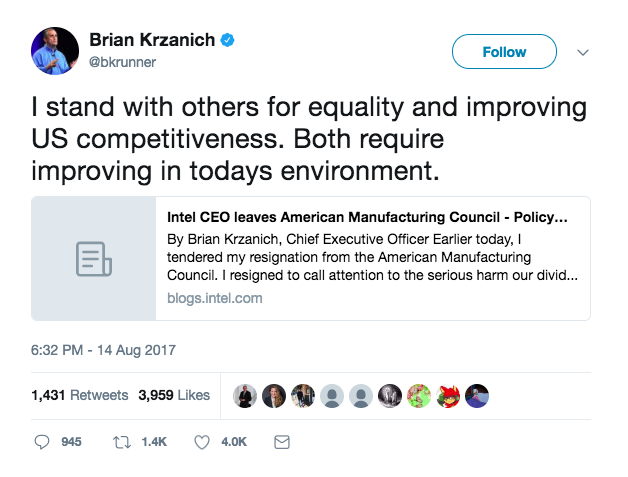 "Earlier today, I tendered my resignation from the American Manufacturing Council. I resigned to call attention to the serious harm our divided political climate is causing to critical issues, including the serious need to address the decline of American manufacturing. Politics and political agendas have sidelined the important mission of rebuilding America's manufacturing base.
I have already made clear my abhorrence at the recent hate-spawned violence in Charlottesville, and earlier today I called on all leaders to condemn the white supremacists and their ilk who marched and committed violence. I resigned because I want to make progress, while many in Washington seem more concerned with attacking anyone who disagrees with them. We should honor — not attack — those who have stood up for equality and other cherished American values. I hope this will change, and I remain willing to serve when it does.
I am not a politician. I am an engineer who has spent most of his career working in factories that manufacture the world's most advanced devices. Yet, it is clear even to me that nearly every issue is now politicized to the point where significant progress is impossible. Promoting American manufacturing should not be a political issue.
My request — my plea — to everyone involved in our political system is this: set scoring political points aside and focus on what is best for the nation as a whole. The current environment must change, or else our nation will become a shadow of what it once was and what it still can and should be."
AFL-CIO President Richard Trumka and former deputy chief of staff Thea Lee: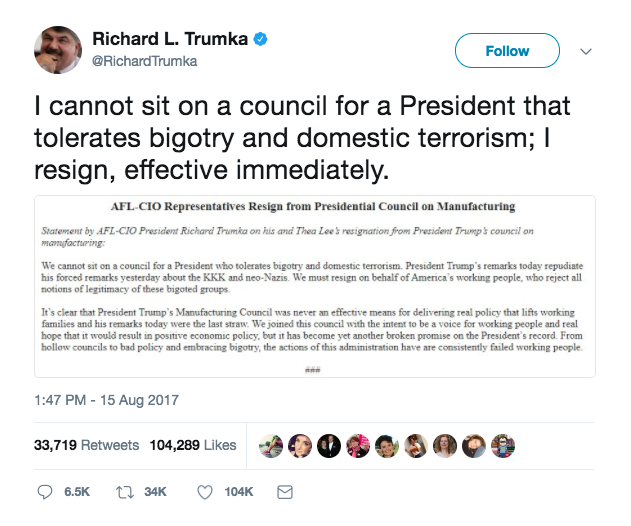 "The AFL-CIO has unequivocally denounced the actions of bigoted domestic terrorists in Charlottesville and called on the President to do the same. We are aware of the decisions by other members of the President's Manufacturing Council, which has yet to hold any real meeting, and are assessing our role. While the AFL-CIO will remain a powerful voice for the freedoms of working people, there are real questions into the effectiveness of this council to deliver real policy that lifts working families."
Campbell Soup CEO Denise Morrison: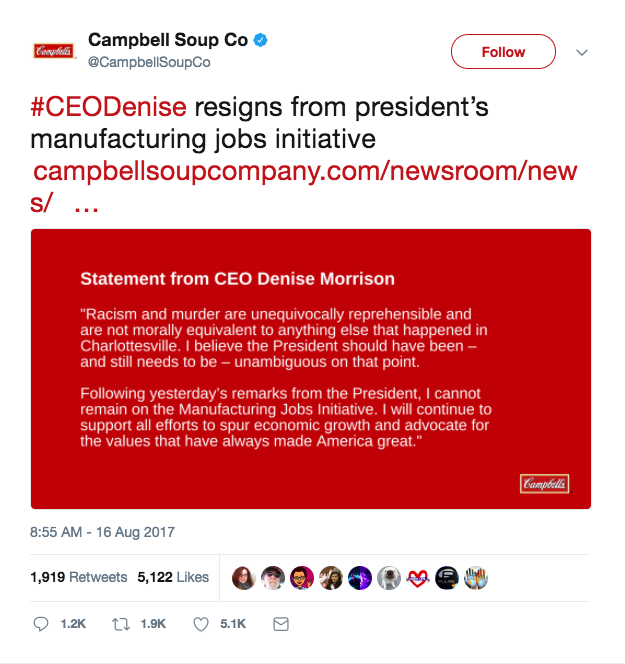 Under Armour CEO Kevin Plank: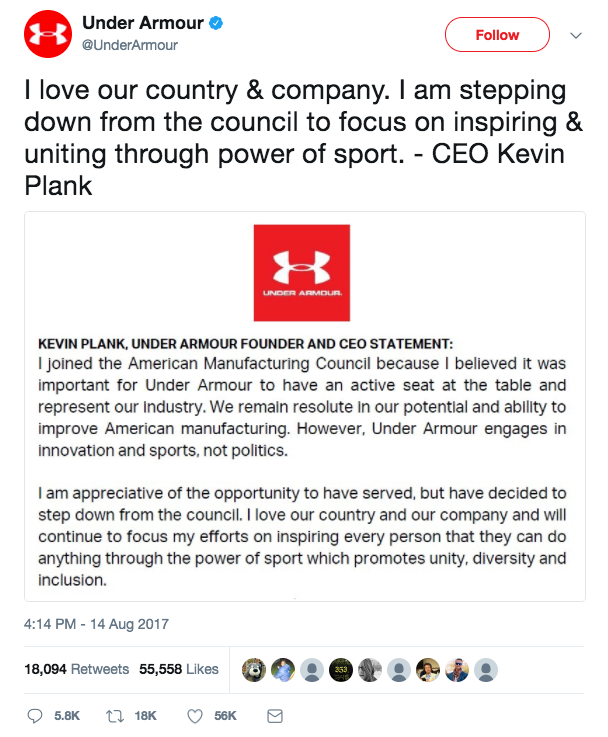 Alliance for American Manufacturing President Scott Paul: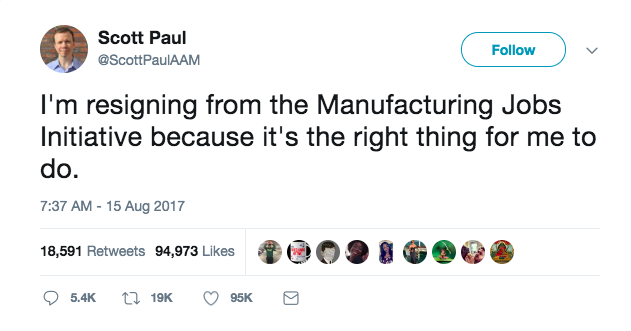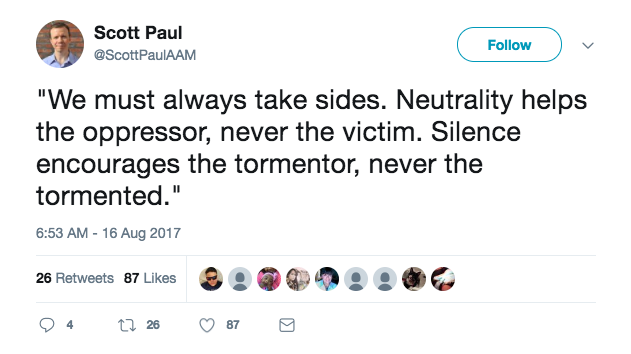 As for the Strategic and Policy Forum, which decided to disband, JP Morgan Chase CEO Jamie Dimon explained the decision to staff in an email on Wednesday, saying "racism, intolerance and violence are always wrong," according to the Wall Street Journal.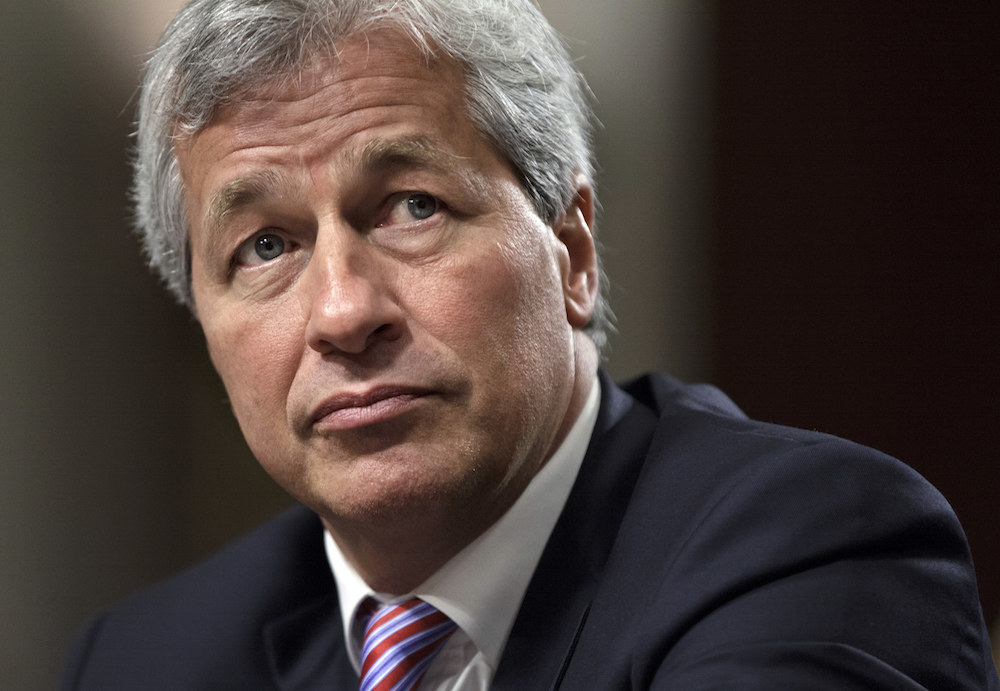 "I strongly disagree with President Trump's reaction to the events that took place in Charlottesville over the past several days. Racism, intolerance and violence are always wrong. The equal treatment of all people is one of our nation's bedrock principles. There is no room for equivocation here: the evil on display by these perpetrators of hate should be condemned and has no place in a country that draws strength from our diversity and humanity.
As a company and for all business in general, it is critical that we help develop rational, intelligent policies to help expand opportunities for all of our citizens. I know that times are tough for many. The lack of economic growth and opportunity has led to deep and understandable frustration among so many Americans. But fanning divisiveness is not the answer. Constructive economic and regulatory policies are not enough and will not matter if we do not address the divisions in our country. It is a leader's role, in business or government, to bring people together, not tear them apart.
Today, the members of the President's Strategic and Policy Forum agreed to disband. The group put out its own statement. But I also wanted you to understand why I personally supported this decision and how strongly I feel about these issues.
I'm very proud of the 250,000 people working here at JPMorgan Chase. I see your values every day — in how you treat your clients, your communities and each other. I am proud to see so many of you leading by example and not losing sight of the core principles which made our country great. I stand with you."
IBM CEO Ginni Rometty: