Companies have long known how to stop unhappy customers from complaining about them publicly or leaving bad reviews online: You make them sign a contract promising not to.
Often, these so-called gag clauses are included in the paperwork you sign at the beginning of your dealings with a company — so at least theoretically, you can choose to walk away rather than sign it.
But some companies have worked out a clever way around that. Instead, they put their gag clause in the form customers must sign to cancel their contracts. So the choice is, in effect, either leave and promise not to criticize us, or stay, and keep paying.
That's what happened to Thomas Inman, a dentist in Houston. After nearly two years as a customer of Local Dentist Search, a company that promises clients that it can improve traffic to their websites, he tried to cancel his service in September.

Local Dentist Search told him that to cancel the service, he needed to sign its cancellation form, which includes a paragraph-long clause that forbids him from public making any negative statements about the company.

"I've never seen a non-disparagement agreement ever before in my life," Inman told BuzzFeed News. "It was shocking."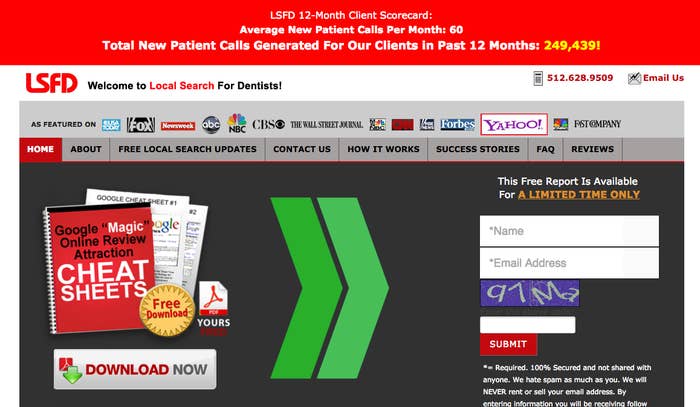 Carter Thompson, Local Dentist Search's attorney, told BuzzFeed News that the company thought the gag clause was appropriate after Dr. Inman "threatened to falsely defame my client unless he was released from an obligation to which he had previously agreed."

"My client proposed a peace deal, one in which all sides lay down their arms and go their separate ways," he said. "The mutual non-disparagement clause was the part of the peace deal that protected my client's hard-earned commercial reputation from an untruthful attack."
Thompson declined to provide to BuzzFeed News additional details or documentation of the threats.
The gag clause said Inman would have to pay $750 in damages to Local Dentist Search for every day that a negative statement about the company, remained in publication according to the contract.
Download PDF
Thomas Inman / Via documentcloud.org
The initial agreement that Inman signed in February 2015 included a requirement that he must fill out the company's cancellation form to end service. But there is no mention of a non-disparagement clause in that first contract.

Inman said he didn't have major gripes about the service; he just decided he wasn't getting a high enough return on his investment to continue with the company.
"The only thing I'm upset about are the tactics," he said. "They're trying to force me to sign a non-disparagement agreement, which I don't think I should have to sign something like that in order to cancel a contract."
Paul Levy, an attorney with Public Citizen who recently won a court battle against a Texas pet company that sued former clients for a negative Yelp review, told BuzzFeed News that such a gag clause "certainly could not" hold up in court.
"The legal theory is if you sign up with this guy, you sign a document which says if I'm going to cancel, I have to use the official cancellation form," he said. "But a judge would say it's not sufficiently clear to be a waiver of your free speech rights. I think if it were litigated they couldn't get away with it. It's an effort to engage in intimidation."
Inman said he has written a check for four months of service — two months where the company was unable to charge him because his credit card expired and two months to meet the cancellation agreement. But he still refuses to sign the gag clause, opting instead to send the company the check and a letter as his formal cancellation.
"I don't want to be bullied into signing something with another company just because they may have deeper pockets," he said. "It doesn't make it right."