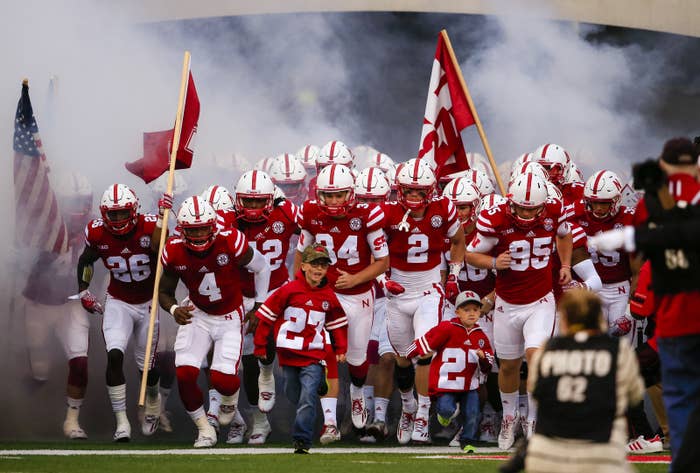 The family home of Sam Foltz, a 22-year-old punter for the University of Nebraska Cornhuskers who died in a car accident in July, was burglarized Sunday morning while the family attended a football game honoring him.
Greeley County Sheriff David Weeks told the Lincoln-Journal Star that the Foltz residence was burglarized sometime after the family left around noon on Saturday to attend a game in Lincoln and before they returned at about 3 a.m. Sunday morning.
The burglars broke into the family's home and car and stole roughly $1,400 worth of the family's possessions, including a TV and tools.
Sheriff David Weeks did not immediately respond to BuzzFeed News' request for comment.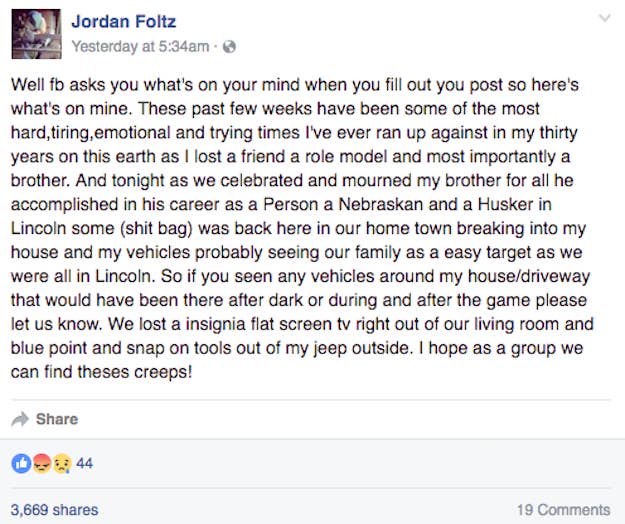 Jordan Foltz, Sam's brother, said in a Facebook post on Sunday that he "lost a friend, a role model and most importantly a brother."
"Tonight as we celebrated and mourned my brother for all he accomplished in his career as a Person a Nebraskan and a Husker in Lincoln some (shit bag) was back here in our home town breaking into my house and my vehicles probably seeing our family as a easy target as we were all in Lincoln," he added.
He encouraged anyone with information about the suspects to contact his family.
The burglary occurred during Saturday's Cornhuskers game against Fresno State. The team honored Foltz in a "missing man formation" by sending out the team without a punter while the players stood in memory of their lost teammate.

Sam Foltz and former Michigan State punter Mike Sadler died in a July car accident in Wisconsin during a weekend kicking camp.
Foltz was the 2015 Big Ten punter of the year and a top candidate to win the Ray Guy Award, according to the team's website. Sadler was slated to begin classes at Stanford Law School in the fall, according to SB Nation.