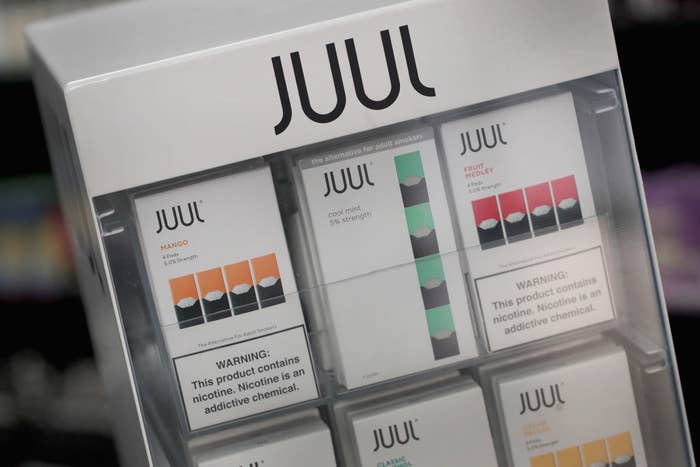 Amid calls for restrictions on flavored tobacco products because of their rising popularity with minors, the Food and Drug Administration announced a proposed plan on Thursday that would allow retail stores to continue selling flavored e-cigarettes. The proposed rules, which will go into effect shortly, will allow store to sell flavored tobacco only in restricted areas that use heightened age-verification methods.

All flavored e-cigarette products other than tobacco, mint, and menthol will be sold only in age-restricted areas, like a separate vape shop or section of a store that prevents anyone under 18 from entering, the FDA told BuzzFeed News. This applies to flavors such as cherry, vanilla, crème, tropical, and melon. The agency added that it made an exception for tobacco, mint, menthol, and non-flavored products because it considers them not as appealing to youth.
The FDA also said it will propose new rules to outlaw traditional menthol cigarettes and flavored cigars, which it said are prevalent among black youth. The new rule, if passed, would not go into effect for another two years and is likely to have a significant impact on menthol cigarette sales. In the US, menthol tobacco products made up 18% of small cigars sold and 31% of cigarette sales between 2011 and 2015, according to a June CDC report.

"We must recognize the potential for innovative, less harmful products that can efficiently deliver satisfying levels of nicotine to adults who want them," FDA Commissioner Scott Gottlieb said in a statement on Thursday. "Any policy accommodation to advance the innovations that could present an alternative to smoking – particularly as it relates to e-cigarettes – cannot, and will not, come at the expense of addicting a generation of children to nicotine through these same delivery vehicles."
The Campaign for Tobacco-Free Kids said the FDA's proposal does not do enough to curb minors' e-cigarette use. "Menthol and mint flavors will remain widely available despite new data being released today that shows 51% of high school students who currently use e-cigarettes use menthol- or mint-flavored products," said Matthew Myers, president of the Campaign for Tobacco-Free Kids, in a statement. "With these flavors still widely available, it is doubtful that this plan will stem the tide of youth e-cigarette use."
The FDA's announcement comes a day after Juul, the largest seller of e-cigarette products in the US, announced it stopped accepting orders of flavored nicotine pods from retailers until those stores adopt technology that designates legally available flavored products as age-restricted.
Since Juul separated from its parent company, Pax Labs, in 2017, its sales have skyrocketed; this coincided with a dramatic uptick in minors' use of e-cigarettes. As part of its efforts to curb youth use of Juul devices, the company also said it shut down its Facebook and Instagram accounts and limited its Twitter account to posts featuring testimonials of former adult smokers who've switched to the Juul system.

"We don't want anyone who doesn't smoke, or already use nicotine, to use JUUL products. We certainly don't want youth using the product," CEO Kevin Burns said in a blog post. "It is bad for public health, and it is bad for our mission."

The FDA and the CDC also published data from the 2018 National Youth Tobacco Survey that prompted the agency to take "a series of steps" to curb youth use of e-cigarettes, it announced Thursday.
The data from this nationally representative survey, which interviewed middle and high school students, show striking increases in kids' use of e-cigarettes. This reverses years of favorable trends in the fight to prevent youth addiction to tobacco products.

Between 2017 and 2018, there was a 78% increase in e-cigarette use among high school students and a 48% increase among middle school students, according to the survey. The total number of middle and high school students using e-cigarettes rose to 3.6 million in 2018, a 1.5 million increase from the previous year.
"The markedly accelerating rate of e-cigarette use among US youth within the past year is a cause for grave concern," CDC Director Robert Redfield said in a statement. "E-cigarette use is unsafe among youth, and it's critical that we implement proven strategies to protect our nation's youth from this preventable health risk."