Facebook ads are going to start feeling a whole lot more like shopping in a store. The social media company announced Tuesday that it's rolling out augmented reality ads that allow users to try out sunglasses, makeup, and furniture inside their News Feeds.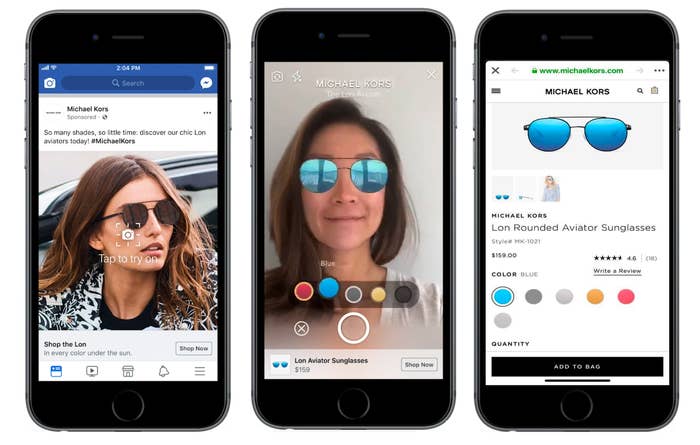 At its F8 developer conference in May, Facebook announced that it was developing AR ad products in Messenger and Instagram, and adding new capabilities to AR Studio. But now — ahead of the 2018 holiday shopping season — it's bringing that technology to retail ads.
Michael Kors will be the the first brand to test AR ads in News Feed, which will let users try on sunglasses and make a purchase within the ad.
"We see augmented reality as an emerging and important part of our customer-centric mobile strategy," Michael Kors said in a statement to BuzzFeed News. "We know our customer is highly visual, and we are always looking for ways to deliver experiences that are not only unexpected but relevant, personalized and useful to her in her shopping journey."

Sephora, Nyx Professional Makeup, Bobbi Brown, Pottery Barn, and Wayfair will begin testing the technology later this summer.
Facebook users will be able to tap on an ad and use their camera to try on sunglasses or makeup, or see how a piece of furniture looks in a room when these companies roll out their ads.
Retailers like Wayfair (which is a part of Facebook's test group) and Amazon have experimented with augmented reality on their own platforms. Covergirl partnered with Walmart in February to allow consumers to try on makeup virtually within a browser.
Facebook's new ads come after several experiments with AR in Messenger. Asus, the company that enabled Wayfair's mobile AR experience, saw that on average consumers were 10 times more engaged with their AR experience in Messenger than without the technology. Facebook also reported that Nike's Kyrie 4, sold via Messenger in AR, was successful: The shoe sold out in under an hour.
A Facebook spokesperson told BuzzFeed News the company is testing the technology to smooth out the user experience, develop a pricing model, and understand how consumers are interacting with the ads. It plans to make the ad technology available to all advertisers at the end of the year.