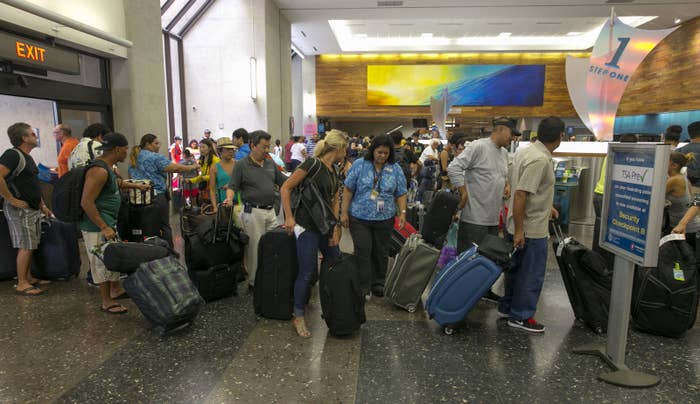 Dozens of flights heading toward south Florida and the Caribbean have been canceled or delayed as Hurricane Irma barrels toward the region with winds up to 175 mph.
As of Tuesday evening, 35 flights had been canceled and 11 flights delayed coming into Puerto Rico's San Juan Luis Muñoz Marín Airport, according to the flight tracking data company FlightAware.com. Four flights traveling to Miami International Airport Tuesday were also canceled, and 41 flights were delayed.
As Irma grew into a Category 5 storm, airlines across the country began issuing travel advisories for dozens of flights headed into the hurricane's path. American Airlines has issued fee waivers to passengers at 27 airports to rebook their flights for before or after the storm passes, the company told BuzzFeed News. It also added an extra flight from San Juan to Miami Wednesday, when the hurricane is expected to reach Puerto Rico.
The airline also said it would refund canceled itineraries if an American flight is canceled or excessively delayed.
Southwest Airlines warned customers on Tuesday that flights may be canceled or delayed at eight airports in Florida and the Caribbean through Sept. 11. It offered free rebooking for delayed flights and refunds on canceled flights. JetBlue will rebook flights heading to or from the Caribbean and Florida without any additional fee or fare increases through Sept. 12.
Meanwhile, United Airlines has issued travel advisories for all its flights to and from the Caribbean region. Passengers at eight airports served by the airline will have their change fees and fare increases waived.