#DoYourJob Trends After Kentucky Clerk Refuses Same-Sex Marriage Licenses
Same-sex marriage supporters rally under the hashtag to demand that Kentucky county clerk issue marriage licenses.
A clerk in Rowan County, Kentucky, continued to deny marriage licenses to same-sex couples on Tuesday, a day after the Supreme Court denied her request to put on hold an a judicial order that she end her "no marriage licenses" policy.
Kim Davis said she was able to deny the licenses "under God's authority," according to the Associated Press. The American Civil Liberties Union of Kentucky filed a contempt motion against Davis this morning in federal court.
The scene at the Rowan County Courthouse this morning was chaotic, witnesses told BuzzFeed News. Some of Davis' supporters clapped as couples were denied marriage licenses, while same-sex couples and their supporters shouted, "Do your job, Kim."
Since then, the hashtag #DoYourJob has erupted on Twitter, with many using it to express outrage and disappointment with Davis.
It has also led to a meme: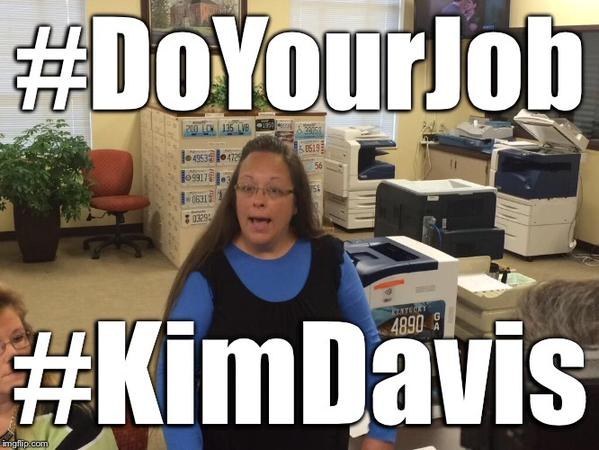 Some people say Davis should be fined.
Others said Davis's actions don't reflect well on her home state.
They've tweeted about the separation of church and state.
Other have challenged Davis's Christian beliefs.
One compared her to George Wallace, an Alabama governor who infamously blocked two black students from entering the University of Alabama in 1963 to challenge integration.
And others just can't.
Most tweets, put simply, echo this sentiment: