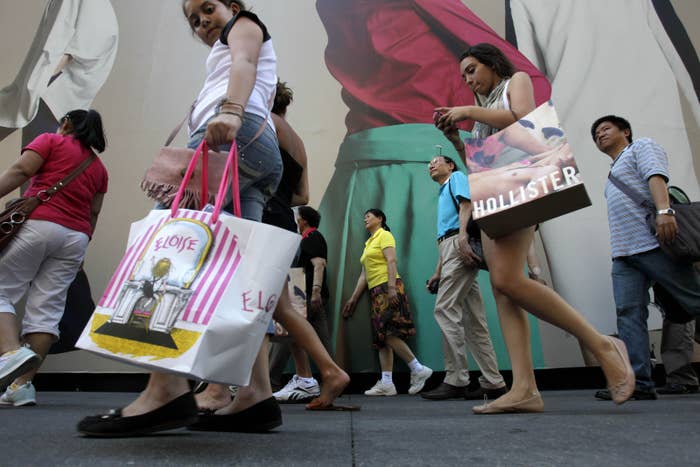 Back-to-college spending is expected to reach $46 billion this season, according to a recent report from the consultancy Deloitte. As mass merchants like Target and off-price retailers like Dollar Store gain traction with consumers, department stores are expected to take a hit. Specialty clothing stores also took a hit.
"The venues have changed this year," Rod Sides, vice chairman of Deloitte LLP and leader of its US Retail & Distribution practice, told BuzzFeed News. "Our respondents have told us they shop less at department sores, which is a significant market shift and validates a hypothesis of what we've seen play out in subsegments of retail."
The shift in back-to-school shopping habits are significant for retailers, as it is the second-biggest retail event of the year. Shopping for college students makes up about two-thirds of spending for the season, Deloitte reported. The transition has been difficult for department stores: comparable store sales at Kohl's, Macy's and Dillard's all declined last quarter.
According to Deloitte, the number of parents who planned to shop at department stores fell by 17%, and the number of college students by 11% compared a year ago. Meanwhile, plans to complete back-to-college shopping at mass merchants increased by 20% with parents and 29% with students.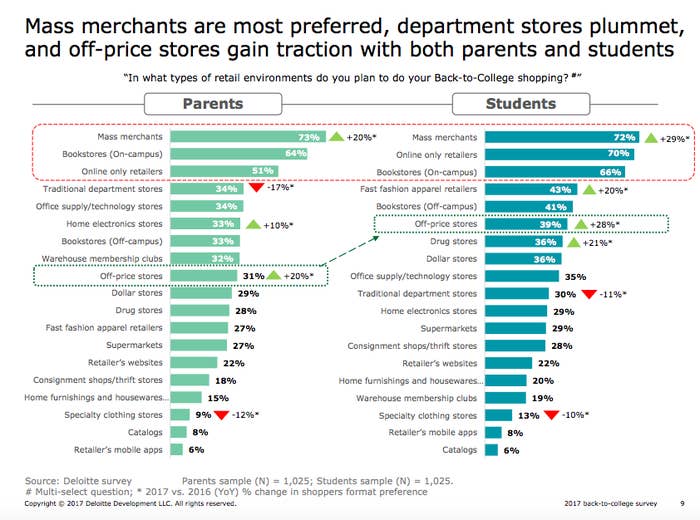 While both Deloitte and the National Retail Federation found college students prefer to buy online, they believe that it doesn't mean the end of traditional retail stores.

Katherine Cullen, the director of retail and consumer insights with the industry group National Retail Federation, told BuzzFeed News that 44% of consumers reported they plan on using buy-online-pick-up-in-store services.
"If you're moving out of state then it's easier to pick up the product than haul it in a car," she said. "People are not abandoning stores completely. It's still a really important channel."
Deloitte research found 22% of parents were undecided about whether to even shop online or in-store, which he believes opens up an opportunity for traditional retailers to court more shoppers.
"You really need to go into a store to try on the apparel and for certain categories like electronics more people are buying them in the store, " he said. "I think there is a chance for traditional retailers to really enhance that experience and I think it counters the rest of the news from the last year about online destroying the brick-and-mortar experience."