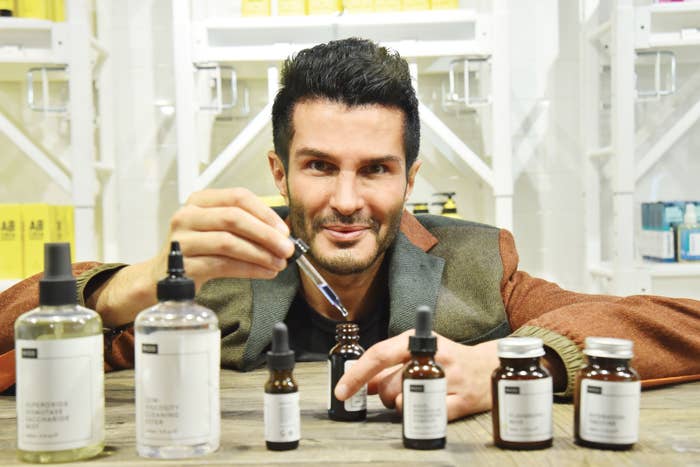 Brandon Truaxe, the founder of cult skin care line Deciem, was ousted from his role Friday after its parent company Estée Lauder told a Canadian court he has caused "irreparable harm" to the business.
On Monday, Truaxe posted a rambling video to Deciem's official Instagram account, in which he said the company was immediately shutting down and accused his colleagues of being "involved in a major criminal activity."
The post confused many Deciem shoppers and prompted some to consider stocking up on its products.
An Ontario Superior Court judge granted Estée Lauder's application to remove Truaxe, who founded the trendy skin care company in 2013, from any role as officer or employee of Deciem. This will bar Truaxe's access to the brand's social media accounts, which have been marked by a number of the founder's controversial posts over the past year, including ones in which he detailed infighting at the company and announced he was firing Deciem's advertising team.
Among other updates, Truaxe has also posted personal tirades against President Trump on Deciem's official account, as well a screenshot of a New York Post headline about an oil tycoon with a comment about the meaning of "obstruction of liberty."

"We are pleased with the court's decision today, and will be working closely with Deciem's leadership team to support and guide them as they resume operations and continue to provide consumers with the products that they know and love," a spokesperson for Estée Lauder told BuzzFeed News.

The decision comes a day after Estée Lauder told the court that Truaxe's erratic behavior has caused "chaos and confusion for Deciem's employees, customers, consumers, suppliers, landlords, and other stakeholders."
Estée Lauder claims in its application that its request to remove Truaxe comes after he exhibited "erratic, irrational, disturbing, and highly offensive behavior and conduct that is entirely inconsistent with the duties and responsibilities of a corporate officer and director" for several months.
Nicola Kilner, formerly co-CEO of Deciem, will become interim CEO of the company, as part of the judge's order to grant Estée Lauder's application. During the company's tumultuous past year, Kilner left the company in February, but she rejoined six months later. Deciem's board of directors will include only two individuals — an Estée Lauder representative and Deciem minority stakeholder Pasquale Cusano.