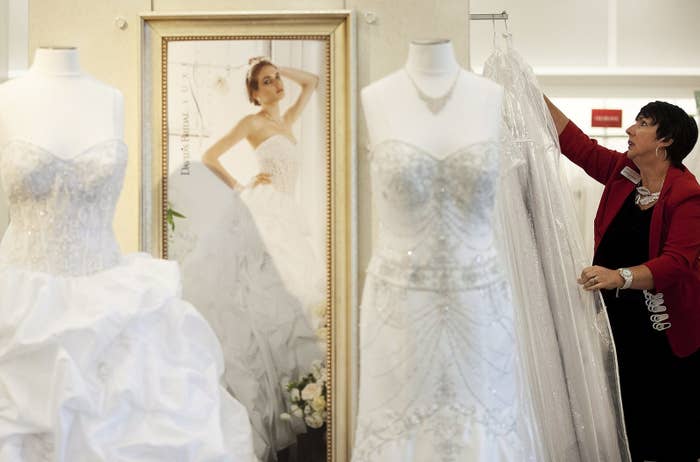 David's Bridal, the country's largest bridal retailer, filed for Chapter 11 bankruptcy Monday to restructure its debt as it wrestles to manage a heavy debt load amid changing consumer tastes and increased competition from online bridal companies.
To the relief of brides waiting for their gowns, the company said its online and in-store orders and appointments will not be impacted.
The bankruptcy filing will reduce its debt by more than $400 million, the company announced in a press release Monday. It will continue to operate its more than 300 stores as it restructures its debt.
"For more than 60 years, David's has delivered beautiful, high-quality dresses and accessories for our customers' most special occasions, and the actions we are taking will enable us to build on that tradition," Scott Key, CEO of David's Bridal, said in a statement. "Our team is laser focused on providing brides and their families with the five-star service and experience they deserve and have come to expect from us."

The wedding dress retailer, which was founded in 1950, has struggled against a tide of consumer tastes for more casual styles that can be found at a cheaper price online.
Shoppers in the market for bridal apparel are increasingly cost conscious, often opting for lower-priced, ready-to-wear wedding dresses. Companies like Rent the Runway allow people to rent bridal apparel, while startups like Anomalie create custom dresses that range in price from $800 to $1,500. Meanwhile, Anthropologie, Asos, Reformation, and H&M have all rolled out bridal lines for cost-conscious shoppers, which has squeezed out traditional bridal stores such as David's Bridal. Alfred Angelo, the country's second-largest wedding retailer, abruptly closed last year as part of a Chapter 7 bankruptcy.
David's Bridal plans to continue operating through its debt restructuring. It received commitments for $60 million in new debtor-in-possession financing from existing lenders as well as a recommitment of its existing $125 million asset-backed loan, which it said will help it continue operating during restructuring.

The retailer anticipates completing the court-supervised process by early January.