It turns out that most people have trouble actually understanding their credit card agreements. A study of 2,000 credit card agreements from CreditCards.com found that they are written at a reading level too difficult for about half the country to understand.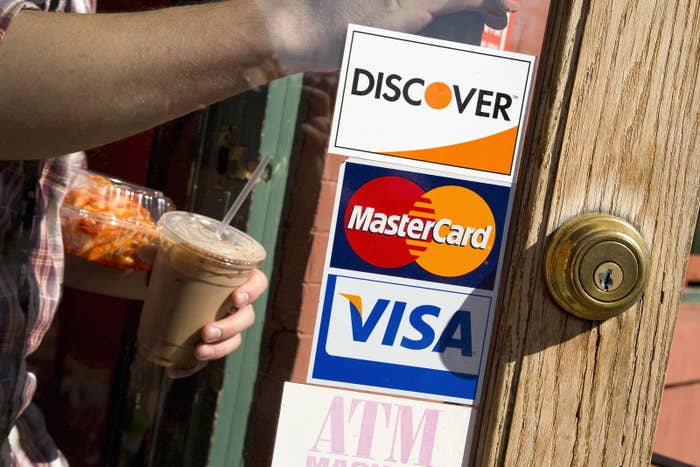 CreditCards.com, a consumer site that compares credit cards, analyzed the readability of every 2016 credit card agreement on file at the Consumer Financial Protection Bureau and found on average they are written at an 11th grade reading level. Yet half of American adults read at a ninth grade level or below.
"They're still mind-numbingly obtuse," Joe Ridout, consumer services manager at the nonprofit Consumer Action, said in the report.
This is especially problematic as credit card companies offer worse terms to less-educated and less-affluent customers, according to a June 2016 paper published by the National Bureau of Economic Research. The paper also found unfavorable terms also tended to appear in fine print on the last pages of the offer letter.
"In credit cards and other aspects of consumer banking, the model often relies on making money from fees that the customer isn't paying attention to or is even aware of," said Claudine Gartenberg, assistant professor at New York University's Stern School of Business, to BuzzFeed News.
Although 91% of the US population has a high school degree, literacy studies show many adults read at a lower level than the highest grade they finished in school.
Only about one-in-three American adults have at least a bachelor's degree, according to the US Census Bureau, but many contracts require this level of reading comprehension.
Barclays Bank Delaware agreements have an average grade-level rating of 14.8 — you would need to be a junior in college to comprehend the contract. TD Bank and Bank of America's contracts came in at 13.9 — roughly the reading level of someone with an associate's degree or a sophomore in college.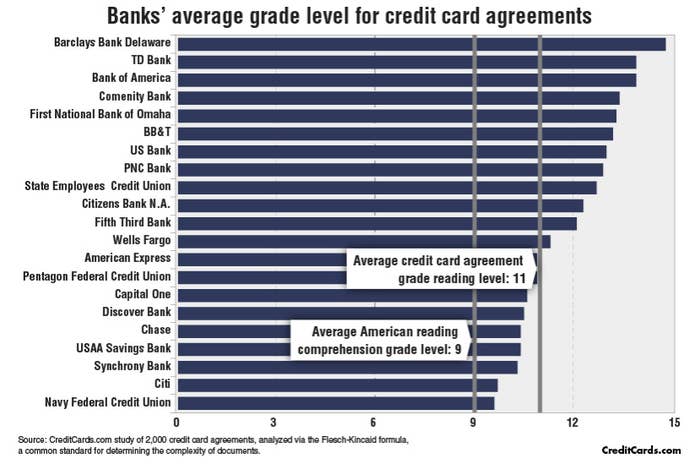 As a comparison, "Harry Potter and the Half-Blood Prince" is written at a sixth to eighth grade reading level, and the New American Standard Bible and King James Bible are written at about a sixth grade reading level.
CreditCards.com's analysis of the agreements used a tool called the Flesch-Kincaid formula, a tool developed to assess US military personnel reading abilities which is now commonly used to evaluate education texts.
"Why wouldn't a bank want to make sure that agreements are understandable to their customers?" Christina Tetreault, a staff attorney with nonprofit advocacy group Consumers Union, told BuzzFeed News. "Of course, good disclosures are no substitute for smart product design, but providing clear, accessible descriptions of users rights and obligations is not too much to ask of credit card issuers."
Most people described their agreements in a recent telephone survey as "wordy," "confusing," "complex," "tedious," and "painful." Only 26% of people said they actually read their contracts.
On average the credit card agreements are 4,900 words, about 500 words less than they were five years ago, but still still four times longer than suggested by the Consumer Financial Protection Bureau. The average adult needs about 20 minutes to read 4,900 words. The bureau in 2011 launched a project to simplify credit card agreements and released a sample two-age agreement.
Key Bank's Key2More Rewards had the lengthiest contract at 15,037, which is slightly longer than Shakespeare's play "The Comedy of Errors," said CreditCards.com. Printed out, the contract would be 30 pages long.
While contracts remain too long, the bureau has cracked down on illegal credit card practices; it fined banks like JPMorgan Chase and Bank of America for charging consumers for credit monitoring services they never received. Most recently Wells Fargo was required to pay more than $100 million in refunds to customers who had accounts opened in their name without their consent.
Tetreault said the onus is on lending institutions to "design and test disclosures to ensure that their customers really understand their products."
"Consumers need to know what they are getting into when using a particular credit card because when it comes to credit, what you don't know can hurt you," Tetreault said.