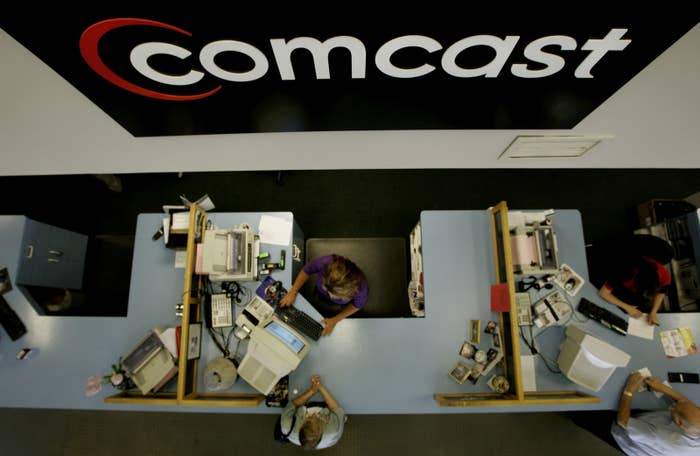 Washington State Attorney General Bob Ferguson slapped Comcast with a $100 million dollar lawsuit on Monday accusing the company of "engaging in a pattern of deceptive practices."
The office alleges the company misrepresented the scope of its service protection plan, hit customers with incorrect fees and administered improper credit screenings. In total, the charges amounted to more than 1.8 million individual violations of the Washington Consumer Protection Act.
"This case is a classic example of a big corporation deceiving its customers for financial gain," said Ferguson at a press conference with reporters on Monday. "I won't allow Comcast to continue to put profits above customers and the law."
Comcast said it was blindsided by the lawsuit, which came after discussions between the company and the government. "We worked with the Attorney General's office to address every issue they raised, and we made several improvements based on their input," spokesperson Jenni Moyer said in a statement.
"Given that we were committed to continue working collaboratively with the Attorney General's office, we're surprised and disappointed that they have instead chosen litigation. We stand behind our products and services and will vigorously defend ourselves."
"This was systematic over a period of years"
The Washington Attorney General's office said the company deceived an estimated 1.2 million Comcast customers over its "customer guarantee."
The guarantee promises customers they won't be charged "for a service visit that results from a Comcast equipment or network problem," according to its website.
Instead, the company allegedly "charged thousands of Washington customers for service calls that resulted from a Comcast equipment or network problem," according to the Washington Attorney General's office.

The office said it discovered the company used a special service code until June 2015 which allowed its technicians to charge customers for services that should be provided for free, according to Comcast documents obtained by Ferguson's office.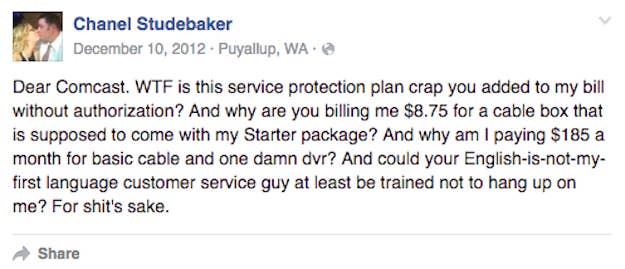 Comcast is also accused of deceiving its customers who signed up for extra service protection. The company charged 500,000 Washington customers at least $73 million in total subscription fees since 2011 for the plans, the Attorney General's office said.
Customers who signed up for the plan were led to believe the $4.99 monthly fee provided them with a "comprehensive" service plan, according to Ferguson's office.
But customer service representatives were allegedly told to conceal that the program does not cover wiring inside a wall, service calls related to consumer's equipment and the repair of cable jumpers, connectors and splitters, according to the office's investigation.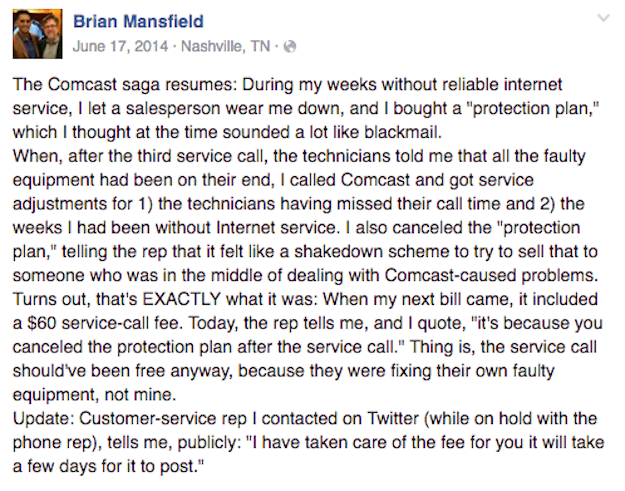 The office also discovered that on more than 6,000 occasions Comcast wrongly charged customers with good credit an equipment deposit. Typically the deposit is waived for customers with a high credit score.
"This was not just on occasion or once in a while," said Ferguson about the alleged deceptive practices. "This was systematic over a period of years in which they set about to induce Washington state consumers to put their hard earned dollars toward a product that was not what Comcast promised. That is not OK."
The Washington Attorney General's office is demanding more than $73 million in restitution for people who subscribed to the service protection plan, $1 million for all service calls that were improperly coded and a penalty of up to $2,000 for each violation of the state's Consumer Protection Act.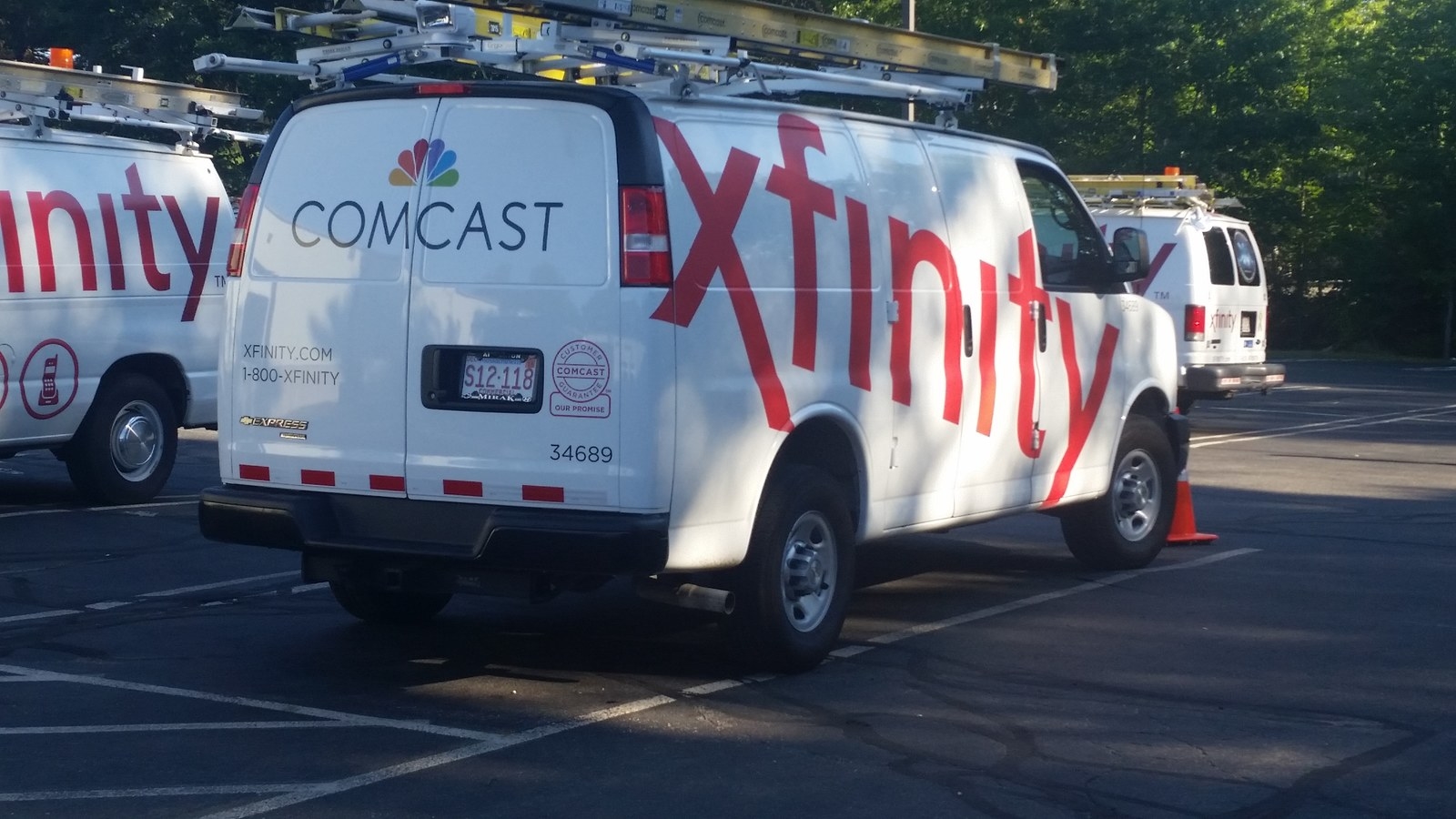 Comcast's protection plan has drawn a number of complaints across the country from people who said they were shocked to see they had been billed for the service.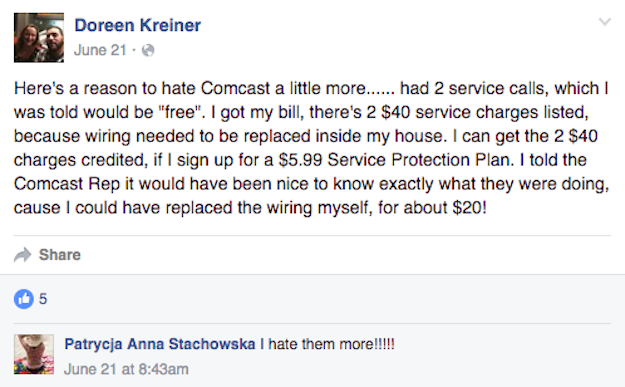 "I discovered that they tacked on a 'service protection plan' for $7.39 per month," said one person. "It was never authorized."

"I see that I have since April been involuntarily enrolled in your service protection plan," said one person on the company's Facebook page in 2013. "Pretty dirty, Comcast!"
The lawsuit comes as Comcast continues to struggle with its customer service, according to consumer satisfaction surveys. The American Customer Satisfaction Index shows the company increased its customer satisfaction score to 62 in June 2016 from 54 last year, although both scores are below the average ratings of companies in almost any other industry.

The Washington State Attorney General's office often sues companies under the state's Consumer Protection Act, which protects the marketplace from unfair competition and consumers from deceptive practices.
It previously sued a large independent tech support company in December, alleging that it led people to believe their computers had been struck by a virus and pressured them to buy the company's services to fix it. It also filed a suit in May against Johnson & Johnson, accusing the company of concealing the risks from a vaginal mesh implant product.
Ferguson said his office is "optimistic in how this will end."
A trial has been set for July 31, 2016.