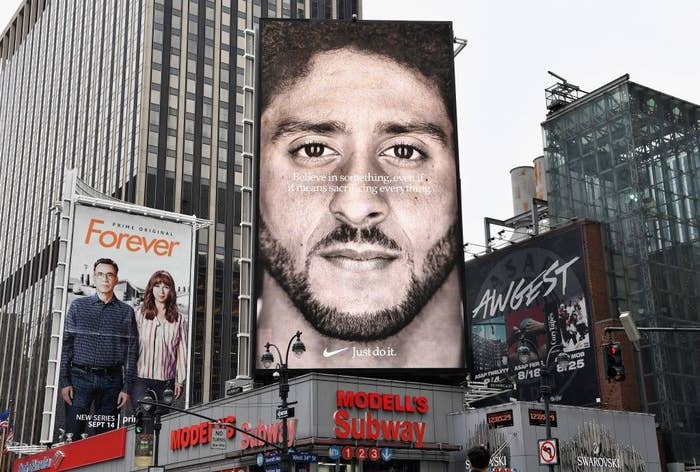 Although some called for people to boycott Nike after it unveiled a campaign featuring former NFL quarterback Colin Kaepernick, the company's sales have been left unscathed, according to an online commerce data research group.
Edison Trends found that Nike's controversial bet to feature Kaepernick in its 30th anniversary Just Do It campaign last week has driven up online sales even during the post–Labor Day sales slump. Kaepernick, the former quarterback of the San Francisco 49ers, inspired a wave of athletes to join him in protesting police violence and racial inequality in the US by kneeling during the national anthem at games.

"People know there will be a Labor Day sale and they'll buy what they want to buy, and after the sale, there is little bit of a dip normally," Hetal Pandya, cofounder of Edison Trends, told BuzzFeed News. "But this year they didn't see that drop on Tuesday and Wednesday because of the buzz."
Edison Trends analyzed purchases from 3 million Americans' anonymized and aggregated email receipts across more than 200 US retail outlets and Nike.com. The San Francisco–based company found Nike's online sales grew 31% from the Sunday of Labor Day weekend through that Tuesday, compared to a 17% uptick during the same time last year, according to Edison Trends.
Sales declined by 18% on the Tuesday after Labor Day, but returned to around the same level they were before Kaepernick's ad campaign debuted. This year, over the week between Labor Day and the following Sunday, Edison Trends found that Nike's online sales decreased 9% overall, but this dip was far less than the 32% dive it took during the same time last year.
Nike's campaign, which features Kaepernick and the phrase "Believe in something, even if it means sacrificing everything," provoked both positive and negative responses.
President Trump, who urged NFL team owners last year to fire players who follow Kaepernick's lead and refuse to stand during the national anthem, criticized Nike's ad campaign. "Just like the NFL, whose ratings have gone WAY DOWN, Nike is getting absolutely killed with anger and boycotts," Trump said in a tweet last week. "I wonder if they had any idea that it would be this way? As far as the NFL is concerned, I just find it hard to watch, and always will, until they stand for the FLAG!"

Some Nike customers also tweeted about burning their sneakers in protest of the message.
But the campaign appears to have drawn as much support as ire. A Quinnipiac University poll showed 49% respondents support Nike's decision to feature Kaepernick in its campaign, compared to 37% who don't support the ads. The university poll also found a distinct age gap among respondents — 67% of voters ages 18 to 34 approved of Nike's decision, with only 21% of people in this age range disapproving. Meanwhile, 46% of voters 65 years and older disapproved the decision, compared to 39% who did approve.
Trump's tweets about how Nike would face consequences for featuring Kaepernick spurred Edison Trends to analyze whether the president's criticisms would cut sales.
"That was the internal question — would this stop people from buying Nike shoes? Does Trump have a say over what people wear on their feet?" said Pandya. Considering the data shows Nike's ad campaign has actually boosted sales, Pandya said the analysis shows "how companies can take a side" without hurting their bottom lines.

As of Friday, Nike's stock had rallied to an all-time high of $83.44 during morning trading.