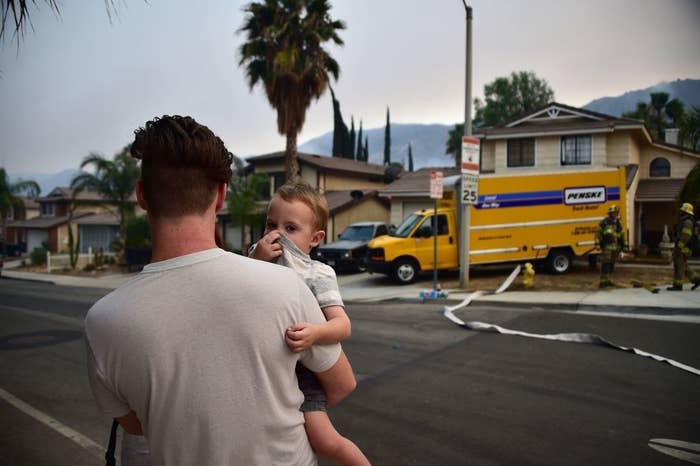 Home improvement stores across California are running out of air pollution masks and air purifiers after smoke from raging wildfires across the state lowered several regions' air quality to unhealthy and hazardous levels.
"Everywhere is sold out of #masks," one person said on Twitter. "This shit is literally making me ill."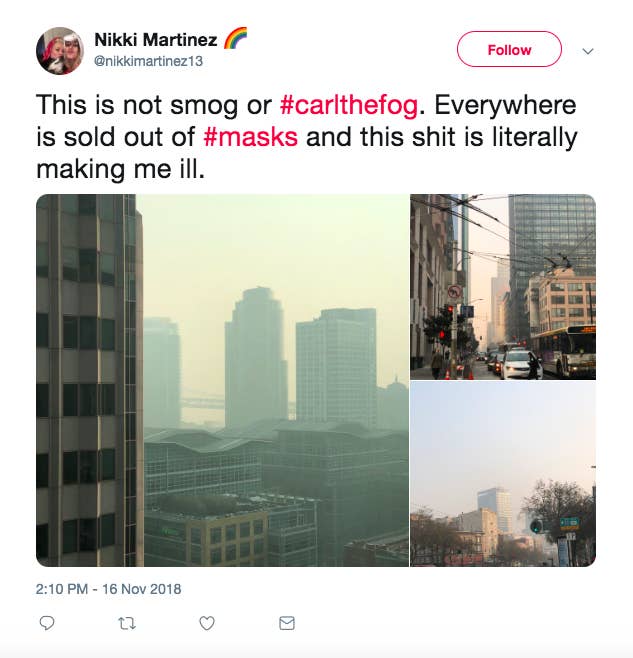 San Francisco, Stockton, and Sacramento were the world's three "most polluted cities" Friday morning, a designation typically given to cities in countries like India and China, according to Berkeley Earth, a nonprofit organization that collects and analyzes data from air-quality monitoring sites.
California officials have told residents in affected areas to stay indoors or wear face masks to avoid inhaling the polluted air. The city of Sacramento briefly handed out free masks to homeless people until supplies ran out Thursday.
As the air quality worsens the state, stores are sprinting to keep up with demand for air filters and masks.
Tommy Grubbs, a clerk at Deal Exchange Ace Hardware in Oroville, California, told BuzzFeed News that he has made eight trips to the warehouse this week to replenish the store's face mask supply.

"We hardly sell face masks; maybe we sell three a week," he said. "Now we're selling 1,000 or 1,500 face masks and air purifiers a day."
BuzzFeed News spoke to several hardware stores in California that reported selling thousands of face masks over the last week as wildfires continue to spew pollution across the state.
In Chico, where air quality reached hazardous levels Friday, Collier Hardware has sold 36,000 face masks in the last week and 100 air purifiers, according to store manager Julie Lengerich.
"We sold out Saturday for a couple hours and then went and picked more up and we've been fine since then because we got shipments in," she said. "That's what everyone is buying."
When wood and other organic materials burn, it creates smoke that includes a mixture of gases and fine particles that can penetrate deep into the lungs. Exposure to wood smoke can cause a range of health problems, from burning eyes and a runny nose to aggravated chronic heart and lung diseases, according to the Environmental Protection Agency. The agency said exposure to wood smoke is also linked to premature death.
"We are just loaded with people coming in here and buying those masks," said one store clerk at Montclair Village Hardware in Oakland to BuzzFeed News. "It's just constant people."
The increased demand and low supply in California have led some people to capitalize on the moment, including an Uber driver who is selling face masks during rides for $5, according to Recode.
Amy Allison, a spokesperson for Lowe's, told BuzzFeed News that its stores have seen an increased demand for air purifiers, filters, and flashlights in the California areas impacted by the wildfires.
"Our teams are working to send additional critical product to those areas," she added.
Margaret Smith, a spokesperson for Home Depot, told BuzzFeed News that the company does not break out product sales by category, "but as you would imagine, we've been seeing a lot of customers coming in for respirator masks."
"Our focus right now is replenishing in-demand product like this as quickly as possible and serving our communities as best we can," she said.
Orinda Hardware in Orinda, California, ran out of face masks an hour before BuzzFeed News called the store Friday afternoon. Lorraine Rawlinson, the store's office manager, told BuzzFeed News that at the start of the morning the store had 800 face masks in stock.
"If we can find more, we'll restock, but its difficult to find a supply because everyone is buying them up," she said. "We have a delivery due on Tuesday, but we need another source. So that's what we're trying to do."