Oh My God The GOP Debate Had The Most Awkward Introductions Ever
Ben Carson set off a chain reaction of cringe.
The GOP debate got off to a super awkward start Saturday night. Things began getting weird after the introduction of Ben Carson, who stood still and didn't walk out on stage.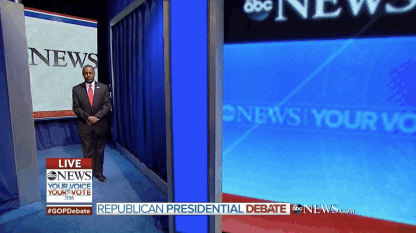 Donald Trump was introduced next, but he waited to come out until Marco Rubio's name was read. And after Rubio walked by, Trump stayed behind with Carson.
After Bush, the moderators proclaimed "ladies and gentleman, the Republican candidates" — as if the introductions were over — only to turn around and see several empty podiums. They then had to ask Carson and Trump to actually come out on stage.
And just when it seemed things couldn't get any more awkward, Chris Christie had to point out that John Kasich hadn't been introduced at all yet.
"What about Kasich?" Christie can be heard saying. "Can I introduce Kasich?"
Moderators Martha Raddatz and David Muir finished the entire ordeal by commenting on the acoustics of the room, seemingly suggesting that might have been the problem. In any case, you can watch the entire awkward ordeal here: