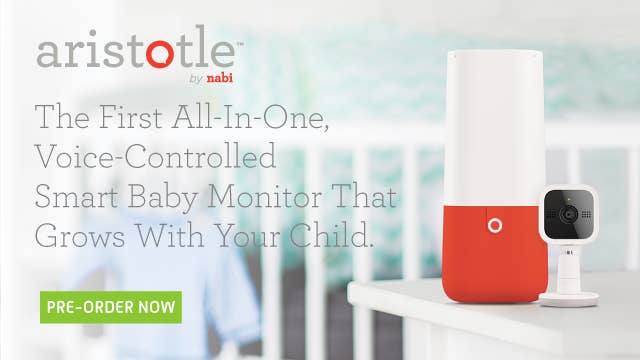 Mattel abandoned plans to release a device that aimed to be the Amazon Echo for small children because it did not "fully align with Mattel's new technology strategy," according to a statement to The Washington Post on Wednesday.
Instead of just playing music or ordering a product on Amazon.com, the Aristotle aimed to use similar technology to help soothe a crying baby, reinforce good manners in kids, and even help children learn a foreign language.

Mattel's announcement that it was not releasing the device came two days after concerned parents, privacy experts, and child psychologists petitioned the company to halt its planned release of the product, arguing that the device encourages babies to form bonds with inanimate objects and use information it collects for targeted advertising.
Senator Ed Markey, a Massachusetts Democrat, and Representative Joe Barton, a Texas Republican, also sent a letter to the company asking Mattel to give additional information about how the device will record children and how it will protect and store the information.

"We shouldn't be using kids as AI experiments," Josh Golin, executive director of the privacy advocacy group Campaign for a Commercial-Free Childhood, told BuzzFeed News. "If we don't know what the effect is, then we shouldn't be putting that in children's bedrooms."
Golin's group partnered with the Story of Stuff Project, an advocacy group that made a documentary about commercialism and the environment, to put forward the petition.

Mattel told The Washington Post that it had decided not to release the product after Sven Gerjets, the company's chief technology officer, joined the company in July. Gerjets decided "not to bring Aristotle to the marketplace as part of an ongoing effort to deliver the best possible connected product experience to the consumer," the company said.
Golin said that Mattel's announcement that it won't bring Aristotle to market "should send a strong message to other toymakers and tech companies with plans for their own surveillance devices for young children."
"This is a tremendous victory for everyone who believes children still have a right to privacy and that essential caregiving functions should never be outsourced to robots," said Golin.

nabi, the Mattel brand that developed the device, said in January that the Aristotle, which was to be priced at $299, was designed to "provide parents with a platform that simplifies parenting, while helping them nurture, teach, and protect their young ones."
The home platform's artificial intelligence used AI engines developed by nabi, Microsoft, and Silk Labs that enabled Aristotle to autonomously act based on a user's habits to help with child development and learning.

But these capabilities would not have adequately taught children to empathize with human emotion, which could have long-term effects on their development, Sherry Turkle, a professor at the Massachusetts Institute of Technology, told BuzzFeed News.

"All that robot can do is have a pretend empathy rather than the real thing," she said. "You get children into getting used to a world where simulation of feelings become feelings enough."
Child privacy advocates like Jeff Chester, executive director of the Center for Digital Democracy, told BuzzFeed News that the Aristotle was just the latest product to stand to profit from an increasingly lucrative digital children's market.
A June study from the market research firm Juniper Research estimated that smart-toy sales would reach $15.5 billion in hardware and app content revenues by 2022, up from an estimated $4.9 billion in 2017.
"This is Alexa for tikes," said Chester. "They're rushing to cash in on the digital lifestyles that our children are growing up in without ever thinking about the consequences and what to do to protect them."
Aristotle was built with federal children's privacy laws in mind, said the company in January. It used a 256-bit end-to-end encryption when transmitting user information, including any video streams. That data could have only been accessed through paired mobile devices and with proper approval through parental controls.
But Golin, with the Campaign for a Commercial-Free Childhood, said that federal laws, which require parental consent to gather information from children under 13, would not have protected children from the broader consequences of the device.
"In addition to this device being marketed to replace parents, there is also an issue of habituating children into a culture of surveillance," said Golin. "If we teach children that its fine and ok to be surveilled, they'll never grow up to think they're entitled to privacy."