A Police K-9 Unit Will Get Lifesaving Vests Thanks To Anderson Cooper
The money will help the Norfolk Police Department in Virginia purchase protective vests for its dogs after it lost a K-9 in a shooting on Sunday.
The Norfolk Police Department in Virginia announced it lost Krijger, a 4-year-old Belgian Malinois, on Monday. He was shot by a suspect during a standoff related to a domestic violence dispute on Sunday, according to WAVY-TV.
Spike's K9 Fund, a charity based in Virginia Beach and led by former Navy SEAL James Hatch, launched a fundraising campaign on Monday to outfit the Norfolk Police Department's K-9 unit with ballistic vests in honor of Krijger.
CNN's Anderson Cooper showed his support for the campaign in a tweet on Monday.
Hatch told BuzzFeed News he was "kind of floored" when Cooper offered the donation.
The two first met in September when Cooper covered Hatch's work with law enforcement dogs.
"Having known him a little bit he is a very genuine person," Hatch said.
He plans to launch the K9 Krijger ballistic vest campaign nationally, which would funnel donations specifically to outfit police dogs in tailored harnesses.
Hatch declined to tell BuzzFeed News how much Cooper donated, but said it was enough to buy 18 vests for the Norfolk K-9 unit.
Each vest costs about $2,200, which amounts to a possible donation of about $39,600 by Cooper to the campaign.
Hatch said that he told Cooper he would thank him publicly for his donation even though the CNN anchor was wary of the publicity.
The fund has received an additional $3,000 in individual donations since Hatch announced Cooper's donation, he added.
Spike's K-9 Fund is named after Hatch's most memorable canine during the time he served as a Special Warfare Operator and dog handler, according to the organization's website.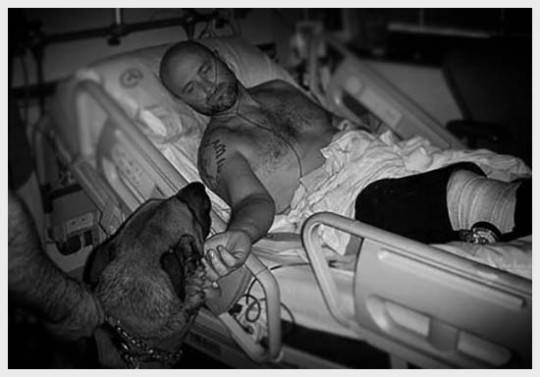 The dog, Spike, was shot and killed in 2006 while helping to contain a suspected insurgent in Iraq, Hatch said.
Three years later, Hatch was wounded during another event. A dog was shot and killed which gave the team enough time to locate the enemy.
"Dogs saved me," he told The Virginia-Pilot.
The Norfolk Police Honor Guard will honor Krijger before he is buried at the Garden of the Pines Pet Cemetery in Virginia Beach.