Amazon has yet again pulled merchandise promoting far-right ideologies from its online marketplace.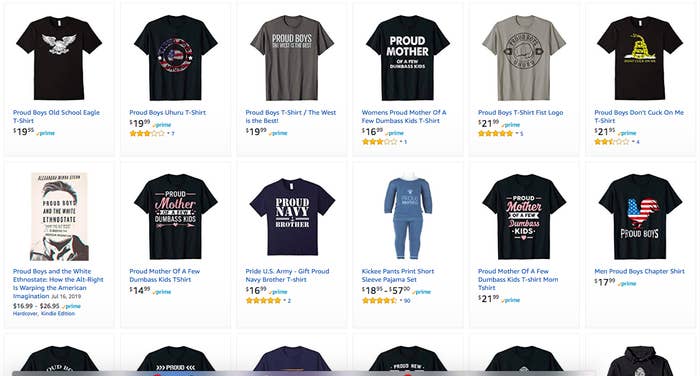 On Thursday, two days after BuzzFeed News contacted Amazon, the online retailer removed several T-shirts with slogans and logos promoting the Proud Boys, a far-right mens group that has gained notoriety for its frequent involvement in violent demonstrations around the US, including the "Unite the Right" rally in Charlottesville, Virginia, last year.
Third-party sellers were offering several T-shirts screen-printed with "Proud Boys" and one of the organization's commonly used terms, "Uhuru," on Amazon's marketplace for anywhere between $14.99 and $19.99.
Amazon declined to respond to questions about whether the items violated its terms of service and how the items ended up on the site.
In July, Amazon faced scrutiny from Congress over allowing third-party sellers to market items promoting Nazism and other racist ideologies on its marketplace, including a cross-burning onesie for boys, a Nazi swastika pendant, a Nazi eagle sticker, and white nationalist literature. Amazon pulled the items in response, and in a letter to Rep. Keith Ellison, said that it prohibits product listings that promote or glorify hatred, violence, racial, sexual, or religious intolerance or that promote organizations with such views.
The group, which only admits biologically male members, is dedicated to what McInnes calls "€œWestern chauvinism" in which men "refuse to apologize for creating the modern world."€
"They long for the days when '€œgirls were girls and men were men,'" McInnes wrote in September 2016 after the group's second meeting in New York City.€ "This wasn't controversial even 20 years ago, but being proud of Western culture today is like being a crippled, black, lesbian communist in 1953."
The group claims it is not an alt-right or white supremacist group, but instead driven by "anti racial guilt." They say they accept gay and nonwhite members so long as they agree that "white men are not the problem."
The group adopted the term Uhuru, which means "freedom" in Swahili, after "laughing at the reparations videos of Gazi Kodzo," according to the website.

In August, Twitter suspended the group's main account @ProudBoysUSA and McInnes's account for violating its policy on "violent extremist groups." The company also removed several regional accounts associated with the group.
Facebook and Instagram later banned accounts associated with the Proud Boys in October because of its rules against hate groups.
"Amazon has proven once again that it can't manage to keep its site from being a soapbox for some of the most vile hate speech in the world," a spokesperson for the Action Center on Race & the Economy, which first reported the sale of products that promoted hate and violence, told BuzzFeed News.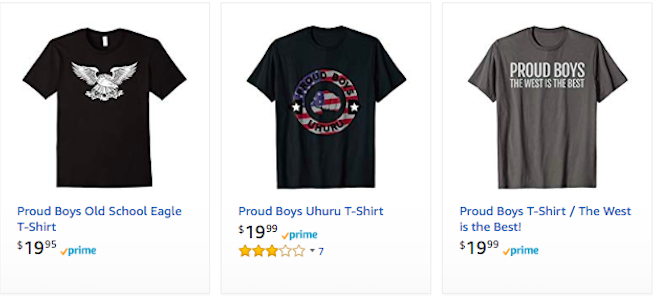 "It was always unacceptable for racist merchandise to be on the website, but the fact that similar items could still be found months after being drawn to the company's attention is appalling," the organization added, referring to its original July report. "Amazon must immediately develop and resource transparent enforcement mechanisms to ensure that they don't support this hate speech."

Amazon did not immediately respond to these comments.

UPDATE
This post was updated to clarify the Action Center on Race & the Economy's response.