A South Carolina couple sued Amazon in a proposed class action lawsuit filed on Wednesday, claiming solar eclipse glasses bought on the site left their eyes damaged, according to Reuters.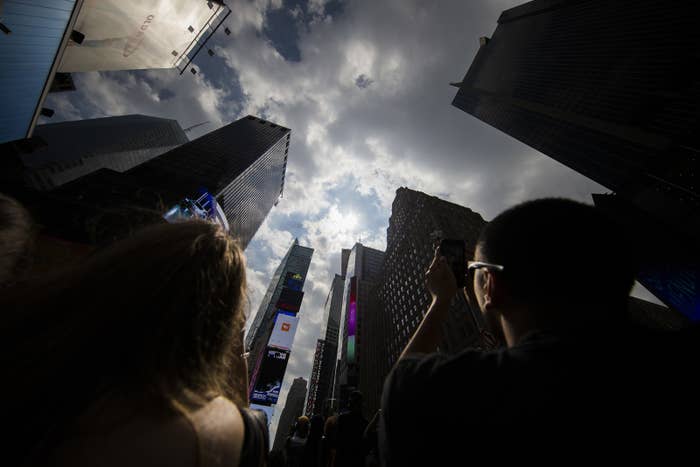 Corey Payne and his fiancée Kayla Harris claim they purchased a three-pack of solar eclipse glasses on Amazon to view the solar eclipse on Aug. 21.
After the event, Payne and Harris said they experienced headaches and eye watering. Later they noticed vision impairment, including blurriness and distorted vision, according to Reuters.
Amazon declined to a request for comment from BuzzFeed News because it does comment on pending litigation.

Amazon had recalled glasses that it could not verify for safety before the eclipse. The couple claim they never received a safety warning about the glasses and assumed they were safe to use while watching the eclipse.
The lawsuit comes weeks after Amazon pulled some third-party solar eclipse glasses from its marketplace that did not provide documentation showing the products met safety standards.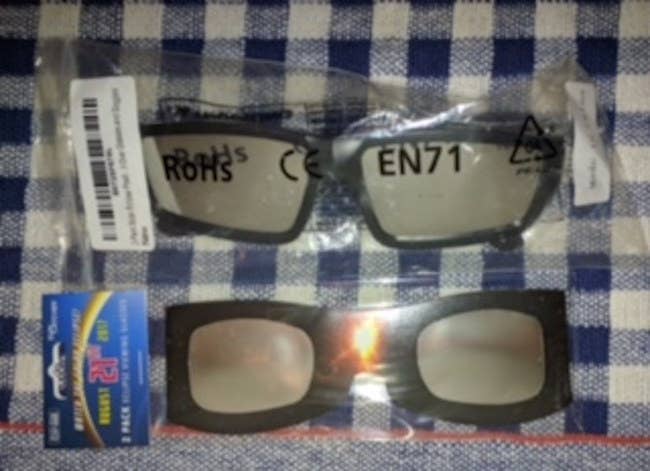 "Out of an abundance of caution and in the interests of our customers, we asked third-party sellers that were offering solar eclipse glasses to provide documentation to verify their products were compliant with relevant safety standards," the company said in a statement at the time.
Amazon only removed products that didn't provide the documentation. All other solar eclipse glasses that submitted safety information to Amazon are still listed on the site.
NASA warned that looking directly into a solar eclipse without proper protection can cause retinal burns, which can lead to temporary or permanent blindness.
Amazon's announcement came just a week before the total solar eclipse, which some people, like Debbie Twyman, have been planning around for weeks.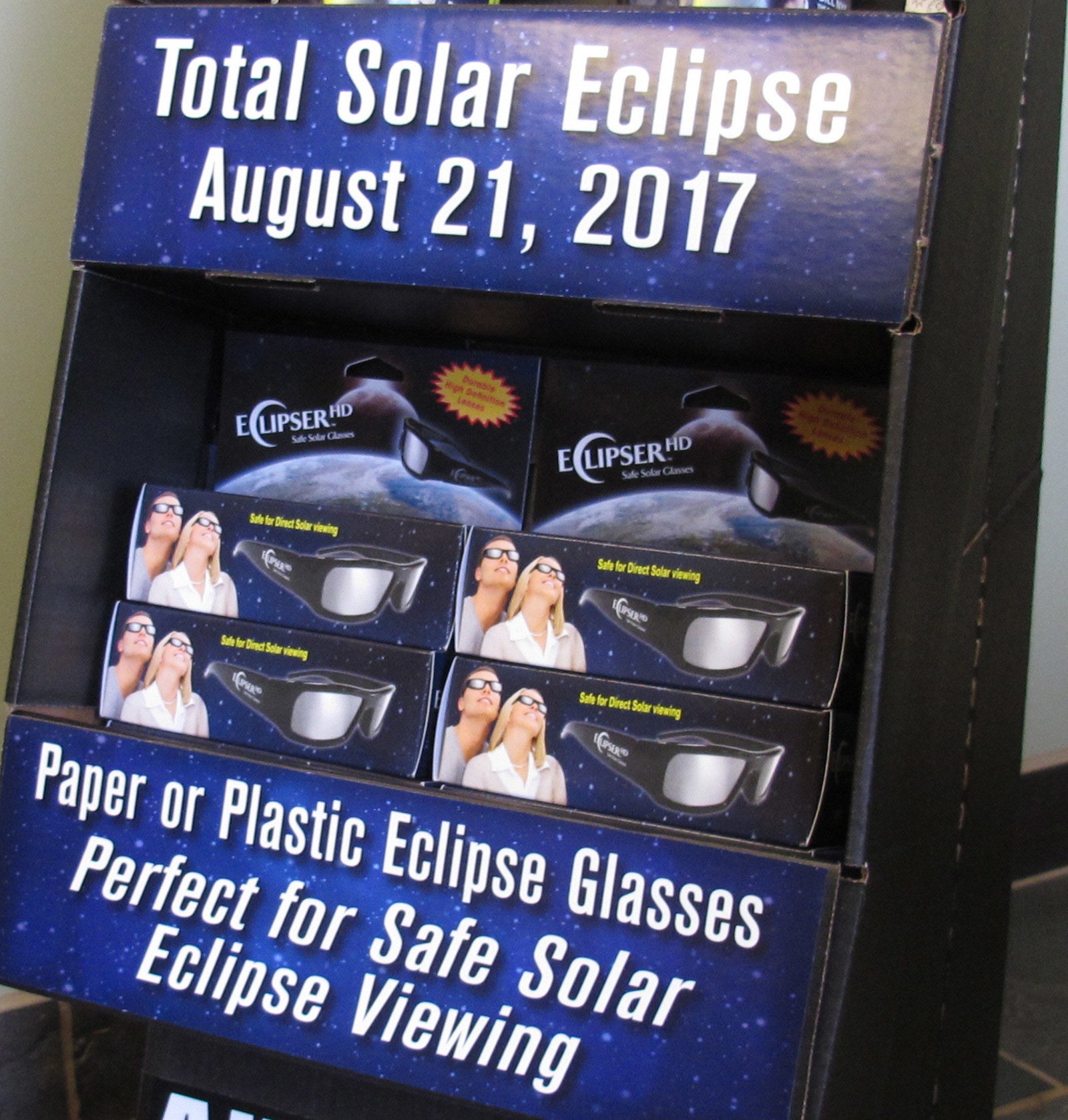 Twyman, a self-described "space nerd" from Independence, Missouri, told BuzzFeed News she bought a two-pack of solar eclipse clip-on lenses for her and her husband in early July.
"This has always been on my bucket list," she said. "Having the chance to see the solar eclipse, as a cancer patient...this may be my only shot. That's why we ordered them in advance because we knew it was coming."
Twyman was frustrated to get an email from Amazon warning her not to use the clip-ons she had purchased just days before the event.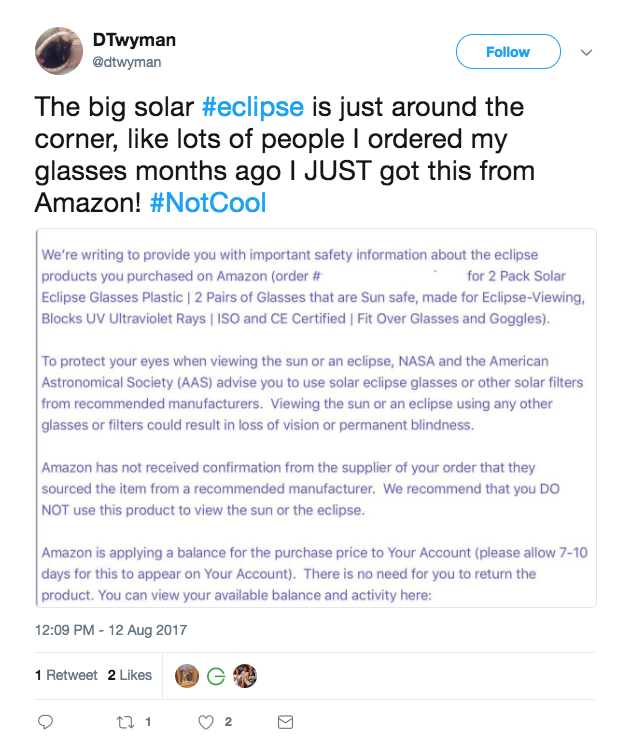 "Amazon has not received confirmation from the supplier of your order that they sourced the item from a recommended manufacturer," the email read. "We recommend that you DO NOT use this product to view the sun or the eclipse."
Twyman said she spent the day driving to three hardware stores and two grocery stores in her area to find another pair of glasses, but that they were completely out of solar eclipse eyewear. A friend recommended that she go to a local library, which was distributing free cardboard lenses that it claimed could be used to safely view the eclipse.
"On the one hand you're really glad Amazon did everyone the courtesy of checking and finding this out because people could've been seriously hurt if people had used the glasses," said Twyman. "I'm delighted I'm not blinding myself, but on the other hand a timelier notice would've been nice."
The American Astronomical Society warns consumers to only use solar eclipse glasses that comply with ISO 12312-2 safety standards. Amazon customers who purchased glasses can contact the company with any questions or concerns.
CORRECTION
Solar eclipse glasses distributed by Lincoln County, Oregon, have not been pulled by Amazon. An earlier version of this story contained a photo of the glasses.