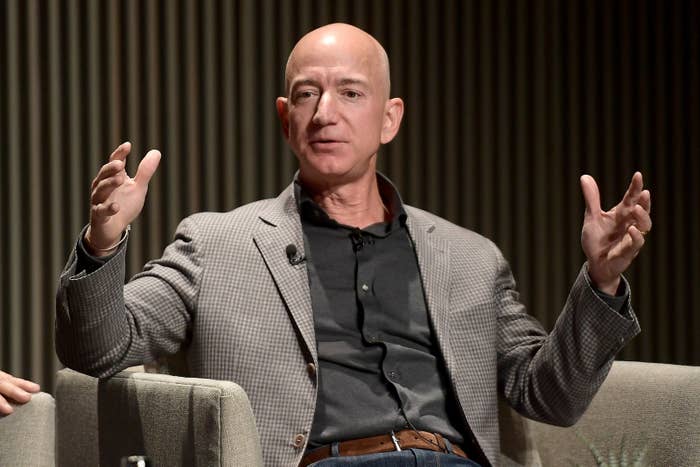 On Thursday, Amazon CEO Jeff Bezos released emails he says he received from the owner of the National Enquirer, which Bezos alleges show the outlet attempted to extort and blackmail him with a string of text messages and images he sent to his current girlfriend while he was still married.
Last month, Bezos and his wife, MacKenzie, announced that they are getting a divorce after 25 years of marriage. According to the New York Post's Page Six, Bezos made the statement under the expectation that the Enquirer would publish a story detailing his relationship with his girlfriend, alongside salacious images.
In a Medium post, Bezos claims the CEO of American Media Inc., David Pecker, threatened to publish personal text messages and photos unless Bezos ended his investigation into how the publication obtained the original photos and text messages. The threat, Bezos alleged, was motivated by Pecker's desire to quell speculation that AMI's coverage of his affair is "politically motivated," which the media company denies. Gavin de Becker, who led the investigation on behalf of Bezos, told the Daily Beast that "strong leads point to political motives," referring to the National Enquirer's decision to publish the text messages.
President Donald Trump and Jeff Bezos have sparred in the past. Trump has criticized Amazon and the Washington Post, which Jeff Bezos owns, on Twitter, and Bezos has responded in kind. In his Medium post, Bezos noted Trump's tweets about him and pointed to Pecker's relationship with President Trump. Bezos also referred to the Department of Justice's immunity deal with AMI, related to its role in killing stories of then-candidate Trump's alleged extramarital affairs.

Instead of complying with AMI's alleged threats, Bezos decided to publish the text of some of the most damning emails he says he exchanged with media company's attorneys.
"Be assured, no real journalists ever propose anything like what is happening here: I will not report embarrassing information about you if you do X for me. And if you don't do X quickly, I will report the embarrassing information,'" he writes. "Nothing I might write here could tell the National Enquirer story as eloquently as their own words below."
He goes on to say that "these communications cement AMI's long-earned reputation for weaponizing journalistic privileges, hiding behind important protections, and ignoring the tenets and purpose of true journalism. Of course I don't want personal photos published, but I also won't participate in their well-known practice of blackmail, political favors, political attacks, and corruption. I prefer to stand up, roll this log over, and see what crawls out."
American Media said in a press statement on Friday that it "believes fervently that it acted lawfully in the reporting of the story of Mr. Bezos."
"Further, at the time of the recent allegations made by Mr. Bezos, it was in good faith negotiations to resolve all matters with him," the company added. "Nonetheless, in light of the nature of the allegations published by Mr. Bezos, the Board has convened and determined that it should promptly and thoroughly investigate the claims. Upon completion of that investigation, the Board will take whatever appropriate action is necessary."
An Amazon spokesperson declined to comment to BuzzFeed News, but confirmed that Bezos wrote the post.