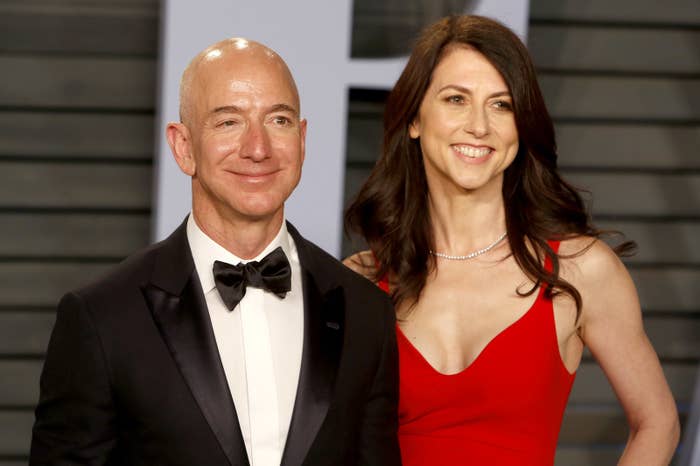 Amazon CEO Jeff Bezos and his wife MacKenzie announced on Twitter Wednesday that they are getting a divorce after 25 years of marriage.
Jeff Bezos is the richest man in the world with an estimated net worth of $137 billion, according to the Bloomberg Billionaires Index. This means that MacKenzie could be entitled to half of her husband's accrued wealth over the course of the marriage.
The couple married while working at the New York-based hedge fund D.E. Shaw based in the early '90s. MacKenzie Bezos is a key player in the Amazon origin story, driving the couple across the country to Seattle as Jeff wrote a business plan for the company on a laptop and called a Seattle attorney to incorporate the startup.
"We feel incredibly lucky to have found each other and deeply grateful for every one of the years we have been married to each other," the couple said in a joint statement. "If we had known we would separate after 25 years, we would do it all again."
The couple, who have four children together, launched a charitable fund last year called the Day One Fund.

On Wednesday the New York Post's Page Six and National Enquirer reported that Bezos had been seeing another person, former TV anchor Lauren Sanchez. The Enquirer said it would publish a lengthy story about Bezos' relationship with Sanchez on Thursday, complete with salacious images detailing their time together.
The Post reported that Bezos made the statement about his divorce under the expectation that information and photos would come out about his relationship with Sanchez.
A source close to the Bezos couple told BuzzFeed News that the pair had tried to work out their marriage problems before they separated last year. Following that separation, Jeff Bezos started dating Sanchez.
An Amazon spokesperson declined to answer questions about what the divorce means for Bezos' shareholding in the company. "Jeff remains focused on and engaged in all aspects of Amazon," the spokesperson said in a statement.
UPDATE
An update was added with additional details from the New York Post and National Enquirer.