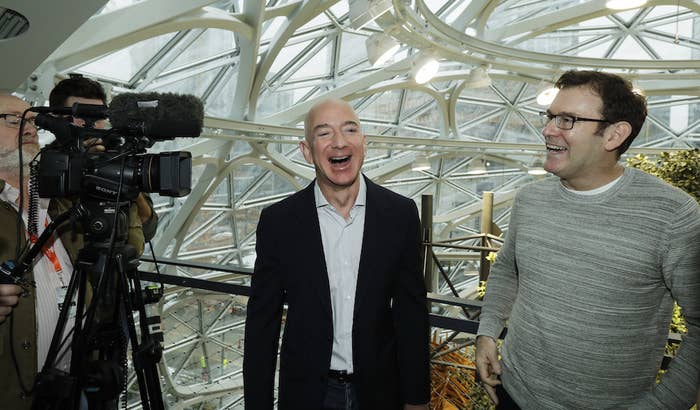 Amazon accomplished in a year what some traditional companies can only dream of — a whopping 31% increase in sales last year, amounting to $177.9 billion. The company's total 2017 income came out to $3 billion, according to an earnings report released Thursday.
Investors liked the news. Amazon's stock rose by about 6% in after-hours trading, from roughly $1,390 to $1,480.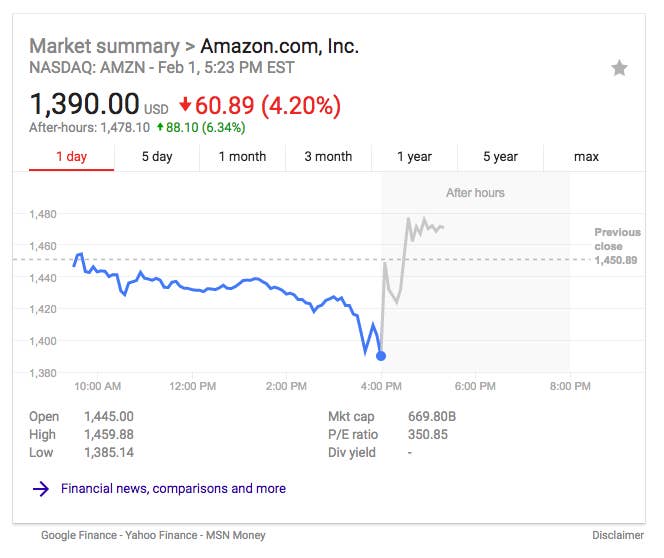 Just in the fourth quarter of 2017, which covers holiday sales, the company's net sales increased 38% to $60.5 billion, compared with $43.7 billion at the same time in 2016, according to the report.
The company reported $1.9 billion in net income in the fourth quarter compared to $749 million during the same time in 2016. Its profits were boosted by the Trump Administration's tax overhaul, which lowered the corporate tax rate to 21%. It said it gained roughly $789 million in tax benefits.
Amazon has grown tremendously since it launched 20 years ago as a basement company led by founder and CEO Jeff Bezos, who's recently became the richest person in the world with an estimated net worth of $116 billion, according to Bloomberg's billionaires tracker. The company claims about 44% of online retail sales and close to 4% of all retail sales in the US, according to market research firm eMarketer.

The online commerce giant also reported that it grew in several markets besides retail, including the cloud-computing services space, with its Amazon Web Services business, which dominates about 40% of the market, according to Synergy Research Group.
And it now commands roughly 70% of the smart speaker market, according to according to eMarketer.
"Our 2017 projections for Alexa were very optimistic, and we far exceeded them," Bezos said in the earnings report. "We don't see positive surprises of this magnitude very often — expect us to double down."
Amazon also expanded into physical space in 2017 when it acquired 470 Whole Foods Market stores for $13.7 billion, sending shockwaves through the grocery industry and adding to the movement of digital-first companies that are opening brick-and-mortar stores. Amazon said in an earnings call Thursday that it did $4.5 billion in physical store sales, which stemmed mainly from its Whole Foods stores.
And with the opening in January of its cashless convenience store, Amazon Go, Amazon has also been experimenting with changing how people shop in stores.
The company is also entering the health care industry. This week, it announced it will create an independent health care company with JPMorgan Chase and Berkshire Hathaway, which caused health insurance stocks to fall.