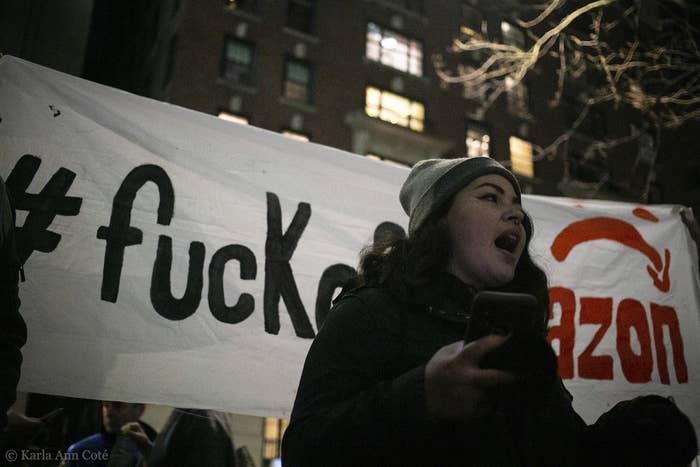 Amazon's 2018 was marked by scandals, controversies, and scrutiny: An Amazon Flex driver pooped in driveways and workers peed in water bottles. Many of its workers relied on food stamps to get by. Government scrutiny over whether or not it's a monopoly mounted. Civil rights groups speculated that Amazon is selling its facial recognition technology to ICE, and this same technology was shown to misidentify a number of black celebrities and politicians as criminals. Some of its workers in Europe went on strike to protest poor working conditions. White supremacist products kept popping up for sale on its marketplace. It continued to grapple with a serious fake reviews problem. And citizens and politicians were outraged by the secretive, steep tax credits and bizarre gifts of affection that local governments offered Amazon to convince it to open its second headquarters in their job-hungry cities.
But unlike fellow tech giant Facebook, which has struggled as it was forced to reckon with its own scandals this year, Amazon is still thriving. This year, Amazon became the second US company, after Apple, to join the trillion-dollar club. Its CEO Jeff Bezos' current net worth hit $160 billion, making him the wealthiest man in the world. And to top off the year, on Wednesday Amazon reported another "record-breaking" holiday sales season.
Amazon's resilience in the face of issues that might turn consumers away from another company shows the power of its convenience and ubiquity. Its 100 million (and counting) Prime members may have concerns about some of Amazon's business dealings, which include gutting the book publishing industry, shrinking small businesses, expanding vertically and eluding antitrust laws, and competing directly with third-party sellers on its platform — but ultimately, they rely on the company's simple shopping process, free two-day shipping, and prices that undercut big-box competitors. And people still have confidence in Amazon. In a Georgetown survey this year, consumers said they trust Amazon more than their local police departments, banks, and the White House. Surveyed consumers trust only the military more than Amazon — by a slim 0.12 margin.
"People who interact with Amazon primarily as consumers experience its benefits and convenience," Lina Khan, an academic fellow at Columbia University Law School, told BuzzFeed News. She added that the burden of an easy consumer experience often falls on the backs of third-party merchants and warehouse workers. "It's possible for someone both to love Amazon as a consumer and to worry about the predatory business practices and exploitative conduct that enable those consumer conveniences."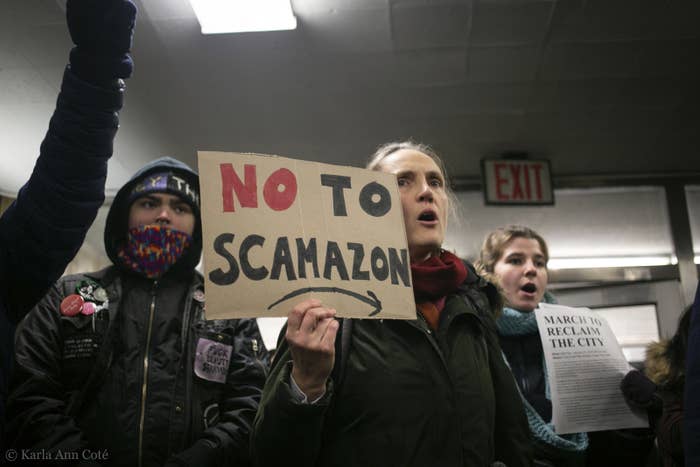 Out of all the controversies surrounding Amazon in 2018, the one that seemed to spark the greatest outcry — and damage the most trust — was the company's competitive search for a second headquarters location. Amazon encouraged towns to compete over who could muster up the biggest tax subsidy for the trillion-dollar company — a process that was mostly done in secret. The hunt for Amazon's HQ2 became its own reporting beat, as media outlets celebrated "big scoops" on which city was closest to winning its bid to attract Amazon. The company didn't even need to run a significant media campaign around what ended up being a glorified office opening because the media (BuzzFeed News included) followed the story so closely.
When Amazon announced in November that it would open new headquarters in two locations — Virginia and New York City — there was immediate backlash from residents and lawmakers over the financial incentives involved. New York state and New York City's governments offered Amazon a total of $3 billion in performance-based incentives, while Virginia offered a (relatively) more modest $573 million. Members of New York's City Council berated the company for squeezing money from the city struggling with ongoing issues related to public transportation, health, housing, and public school systems.
Demonstrators gathered near the location of Amazon's proposed headquarters in Long Island City to protest over the project's potential impact on housing costs and strain on public transportation. Others were frustrated by the lack of transparency surrounding the bidding process, as well as the hefty tax credits Amazon would receive.
But all this outrage hasn't kept people from shopping on Amazon. That's largely because the company has fundamentally changed the ways consumers shop by introducing them to the concept of free two-day shipping.

Now ordering something online and getting it quickly is not a luxury in retail — it's the norm. Retail giants like Walmart, Target, and Best Buy have gradually adjusted to this new world of Amazon-influenced consumers. Many of these retailers are even turning brick-and-mortar stores into fulfillment centers for customers who prefer to buy online.
Amazon has essentially trained consumers to feel entitled to free shipping — to the point that some have joked that "free shipping is a human right."
Sure, the United Nations won't start a committee on "free shipping." But shipping and logistics through Amazon has become such an integral part of how we get daily goods that in the aftermath of Hurricane Maria in 2017, the company delivered essential supplies to flood-ravaged Puerto Rico when the White House and FEMA said efforts were delayed. Later, the company coordinated relief efforts with the American Red Cross as Hurricane Florence neared the Carolinas in September. And even when it's not an emergency, many remote towns in the US depend on Amazon to deliver necessities when other companies can't reach them.

"There are choices if you hate Apple; there's Windows," Kristina Lerman, principal scientist at USC Information Sciences Institute, told BuzzFeed News. "If you don't like Uber, there is Lyft. These companies are changing how people act, but there is a choice. With Amazon, there is no choice. If you hate Amazon, there are no good alternatives." (Sure, Target.com or Jet.com are a close alternative, but Target doesn't offer free shipping year-round, and Jet.com only offers free shipping on orders of $35 or more.)
Consumers' interactions with Amazon also extend beyond shopping on Amazon.com or at Whole Foods, or streaming entertainment on Amazon Video. You may not know it, but when you shop on Zappos, you're shopping with Amazon. When you check any IMDb profile, you're on an Amazon website. Write a review on Goodreads, you're writing a review on an Amazon website. Watch Twitch? You're watching Amazon. Anytime you find yourself on Netflix, Comcast, or even BuzzFeed, you are browsing a website hosted by Amazon Web Services. And when you visit the Center for Disease Control and Prevention, Food & Drug Administration, the US State Department, NASA, or even Alameda County online, you're on a website hosted by Amazon.
"There is an important difference between horizontal breadth and vertical depth," an Amazon spokesperson told BuzzFeed News. "We operate in a diverse range of businesses, from retail and entertainment to consumer electronics and technology services, and we have intense and well-established competition in each of these areas. Retail is our largest business and we represent less than 1% of global retail and around 4% of U.S. retail."
Amazon is everywhere. The company has become so enormous that some economists have called for breaking up Amazon, and the furor surrounding its HQ2 bidding process has prompted some New York City lawmakers to introduce legislation that would ban Amazon-style nondisclosure agreements.
"People have always been wary of large organizations, from railroads in the 1800s to the McDonald's and GEs and IBMs of the 1900s," Jonah Berger, a professor at the Wharton School of the University of Pennsylvania and author of Contagious: Why Things Catch On, told BuzzFeed News. "The more companies seem to control things, the more pushback they receive. It's often easier to be David than Goliath in that regard. People want the products and services these companies provide or provided, but they don't like the fact that they are so reliant on them."
If 2018 was the year consumers found many reasons to question their trust in Amazon, 2019 may be the year that trust starts to erode. But it may be a while until consumers find a way to rely less on the retail giant. A colleague of mine recently told me that shopping on "Amazon is like just breathing air." And even this journalist bought nearly all of her Christmas presents this year on Amazon.
Shoppers will always gravitate toward things that are fast, easy, and simple, Berger told BuzzFeed News. "The fact that Amazon is often more of a platform than a seller certainly helps [to develop consumer trust]," said Berger. "People often feel like they are buying something on Amazon rather than from Amazon. In that sense, the company is helping them get what they want, which makes it harder to dislike them."
UPDATE
This post has been updated with comment from Amazon.
CORRECTION
Lina Khan's name was misspelled in an earlier version of this post.