A breast cancer patient in Mecklenburg County, North Carolina is having a well-deserved string of luck. The state's lottery agency announced on Wednesday that Gina Short had won the lottery — again.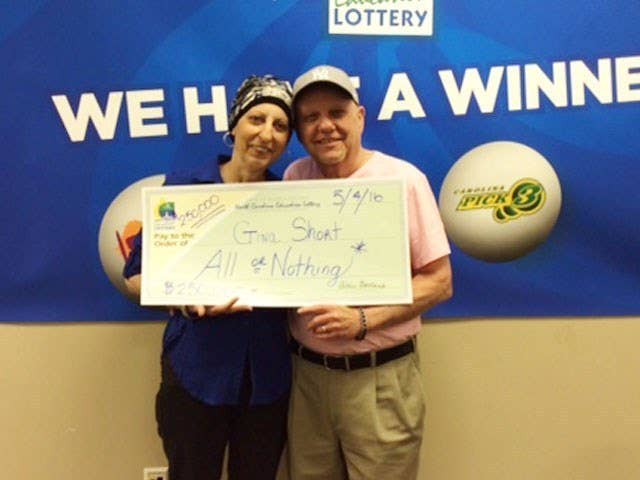 Short beat one in 2.7 million odds to win the top $250,000 All or Nothing Prize on April 29.
"We're still in disbelief mode," Short said according to a statement from the North Carolina Education Lottery.
Short was a regular player of the All or Nothing lottery, but hadn't played in a long time. She asked her husband a few weeks ago to buy a $2 ticket at a Publix super market because "she had a feeling the game was going to be lucky," according to the lottery office's statement.
After federal and state tax withholdings, she received $173,125 from the $250,000 prize.
But this is actually Short's SECOND TIME winning the lottery. She won $1 million in February.
Short fell to the floor in shock when she found out she won the grand prize for the state's Ultimate Millions second-chance drawing.
Her entry was drawn from more than 1.2 million entries.
She chose a lump sum payment which, after federal and state taxes, amounted to $415,500.
"It's not something you can put into words," said Short's husband Len on Wednesday. "For us to have the good fortune of winning not just one big prize but two, we are just very thankful for that."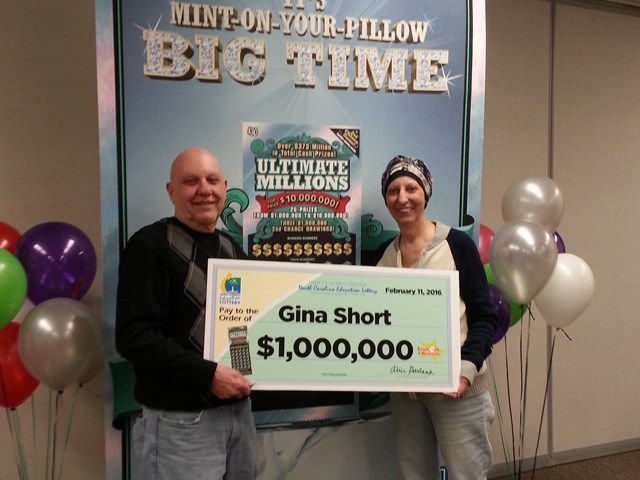 Short was diagnosed with breast cancer six years ago and is currently undergoing chemotherapy.
"With what Gina's been going through this helps," said Len. "We'll use the money for Gina. She's the priority. She's number one."