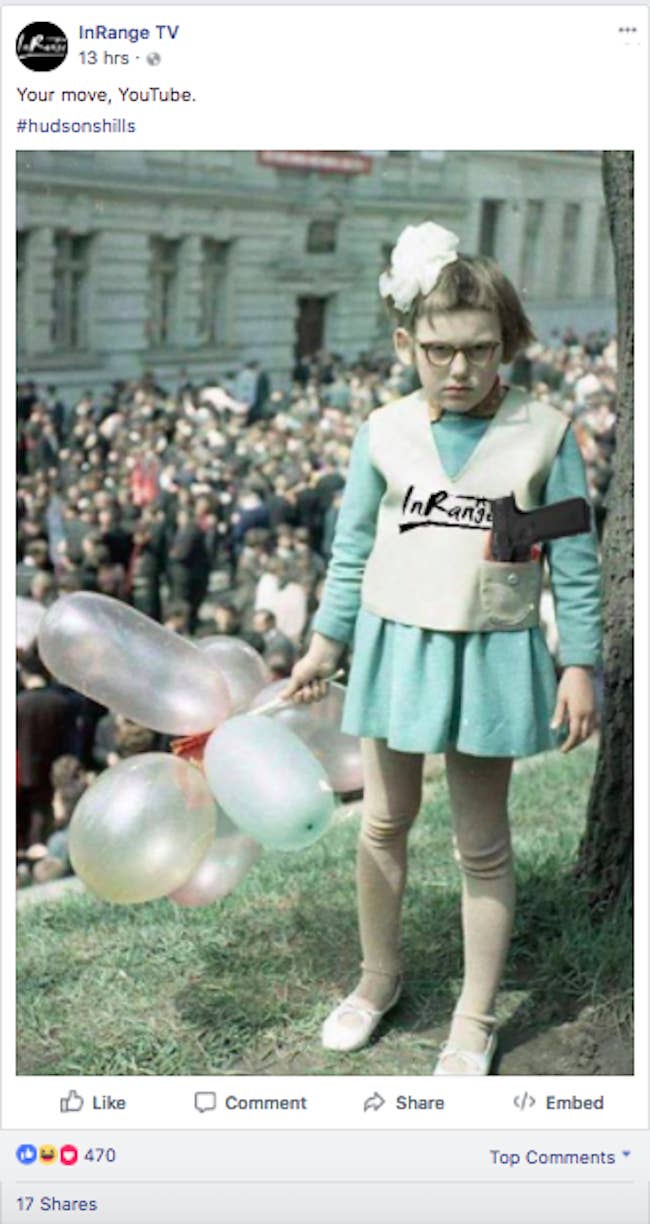 After YouTube released a new policy this week prohibiting videos that promote firearms or instruct viewers on how to make or alter them, the popular gun demo channel InRange TV said it plans to leave the platform and move to Pornhub.
InRange TV, which has published videos on YouTube since September 2015 and has more than 143,000 subscribers, said in a statement on Facebook that YouTube's "vague and one-sided firearms policy makes it abundantly clear that YouTube cannot be counted upon to be a safe harbor for a wide variety of views and subject matter."
Because of this, InRange TV said it's expanding onto Pornhub, which it said "has a history of being a proactive voice in the online community, as well as operating a resilient and robust video streaming platform."
It added that "vice and pornography have long been leading drivers of communications technology and infrastructure" and that it's "excited to be joining a group of content creators who are truly open and non-judgmental when it comes to potentially controversial content."
YouTube's move to limit the kinds of gun-related content people can post on its platform comes after the Parkland, Florida, school shooting in February that left 17 people dead. Some retailers, including Walmart and Dick's Sporting Goods, responded to public outcry after the shooting by raising the age to buy guns at their stores; other companies, including Hertz and Delta, cut ties with the National Rifle Association. Tech companies, including Amazon and Apple, have declined to prohibit the NRA from streaming video on their platforms, spurring calls for consumers to boycott Amazon and Apple.
Beginning in April, YouTube will begin enforcing its ban on videos that promote or link to sites selling firearms and accessories, including "bump stocks," which allow rapid fire using a semiautomatic rifle. It will also ban videos with instructions on how to make firearms.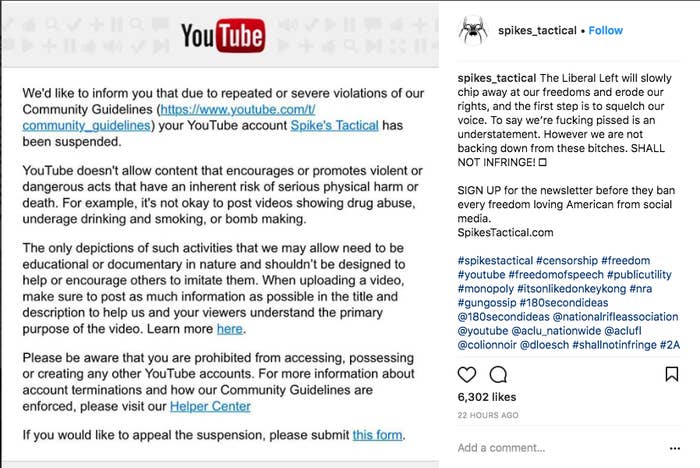 Other gun rights advocates were also angered by YouTube's policy change on gun-related content. Spike's Tactical, a firearms company, said in an Instagram post also shared on Facebook that it was suspended from YouTube due to "repeated or severe violations" of YouTube's community guidelines, which prohibit content that "encourages or promotes violent or dangerous acts that have an inherent risk of serious physical harm or death."
"The Liberal Left will slowly chip away at our freedoms and erode our rights, and the first step is to squelch our voice," said Spike's Tactical. "To say we're fucking pissed is an understatement. However we are not backing down from these bitches. SHALL NOT INFRINGE!"
YouTube and Pornhub did not immediately respond to BuzzFeed News' requests for comment.
CORRECTION
InRange TV's YouTube channel has more than 143,000 subscribers. An earlier version of this post misstated that number.