After more than a week of anticipation, the first of two baby eagles hatched at the National Arboretum in Washington, D.C.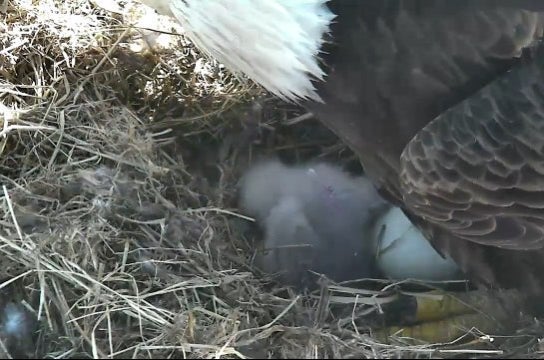 The eaglet fully emerged from its shell at about 8:20 a.m. on Friday.
The eaglet's parents, named "Mr. President" and "The First Lady," could be seen doting over each other moments after the hatching.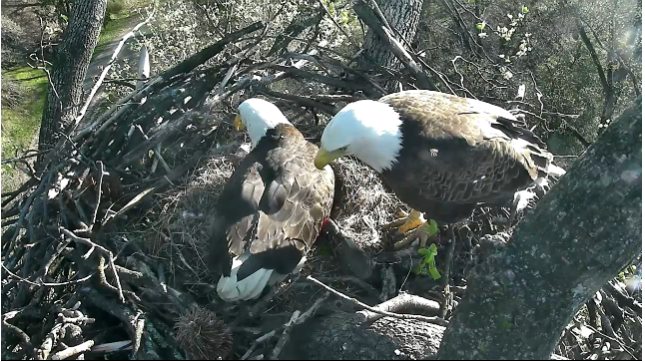 Bald Eagles share similar child — or eaglet — rearing habits as humans.
Typically males and females take turns incubating the eggs and eaglets, according to the Center for Conservation Biology, a research group within The College of William and Mary and the Virginia Commonwealth University.
But female eagles do the bulk of work keeping the eggs warm, while male eagles stand guard protecting the nest and hunting for food, according to the research group.
The pair's entire nesting and hatching process was captured over a livestream hosted by the American Eagle Foundation and the USDA.
The Bald Eagle pair first mated in 2014 and chose to nest in a Tulip Poplar tree at the National Arboretum.
"This is the first Bald Eagle pair to nest in this location since 1947," according to the American Eagle Foundation and USDA.
The two eggs were laid on Feb. 10 and Feb. 14. Bald eagles typically incubate their eggs for about 35 days before the hatching process begins.
This is the pair's second eaglet to hatch. The first left the nest in June, according to the American Eagle Foundation and USDA.
🇺🇸 🐣 🎉