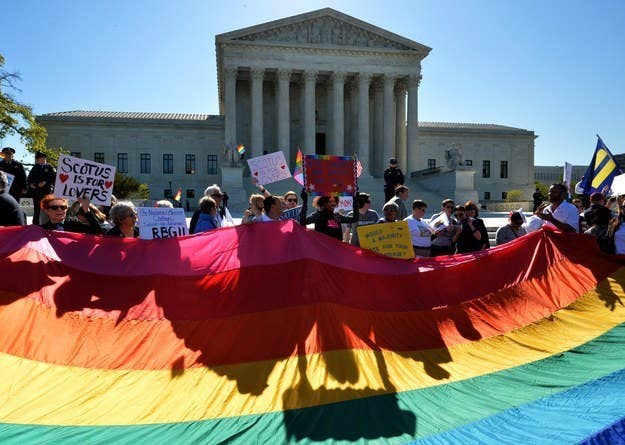 SEOUL — The U.S. Supreme Court's decision that same-sex marriage is a question of basic equality before the law is not only the end of the long political battle in the U.S., but is also a tipping point in the global conversation over whether LGBT rights are human rights.
This is not because the United States has raised the bar of what LGBT equality means — it is well behind more than 20 countries in Europe and Latin America in crossing the marriage equality finish line. Nor is it because now that the U.S. has accepted marriage equality, the rest of the world will follow — the wave of anti-LGBT legislation adopted in countries like Uganda and Nigeria in 2014 were in part a reaction to marriage wins in the West, and some countries may intensify their anti-LGBT rhetoric in response to this decision.
But once its full implications are understood, the decision will push the global debate over what it means for countries to fully protect the human rights of gays and lesbians into a new phase. Before the Obergefell decision, even many campaigners trying to get international human rights institutions to treat LGBT rights kept marriage at an arm's length out of fear that asserting it as a fundamental right would intensify opposition to any LGBT rights protections in many parts of the world. After Obergefell's statement that this is a clear question of equality for gays and lesbians, it seems impossible to exclude partnership rights from the list of fundamental rights that same-sex couples are entitled to regardless of what country they live in.
You won't hear many LGBT rights organizations saying this, at least not yet — the reality of the decision is still sinking in, and those organizations based in the U.S. and Europe that work globally have treaded carefully or steered clear on this issue for years. But the U.S.'s own trajectory on marriage equality — and the personal trajectories on the issue of President Barack Obama and his first secretary of state, Hillary Clinton — make it clear why it seems impossible for it to stay on the margins.
Obama and Clinton were the essential figures for making LGBT rights a serious part of the global human rights discussion. Before Obama took office in 2009, the U.S. was one of the most important opponents in blocking an LGBT rights push at the United Nations. In 2011, the U.N. Human Rights Council passed its first resolution addressing LGBT rights with U.S. support, and Clinton gave what was considered a groundbreaking speech in which she declared, "Gay rights are human rights, and human rights are gay rights."
But at the time, Clinton herself was on record as opposing marriage equality. So was President Obama, who announced his support for marriage equality only six months before the 2012 election. It would be hard for the U.S. to endorse anything that suggested marriage was a universal right in 2011 — far more U.S. states banned recognizing same-sex couples' marriages than established marriage equality.
So when the U.N. Office of the High Commissioner for Human Rights released its first global survey of LGBT rights — a report ordered by the 2011 resolution — it barely considered partnership rights, focusing instead on the criminalization of same-sex relationships, free speech rights for LGBT activists, and hate crimes.
This sometimes put U.S. diplomats in awkward situations as the global battles over marriage equality intensified at a breakneck speed. Ahead of a 2013 vote on a marriage equality ban in Croatia, for example, the State Department's then-top officer for human rights, Uzra Zeya, said in a press conference at Europe's largest annual gathering of LGBT activists that "the U.S. government does not advocate for or against same-sex marriage in other countries." Instead, she said, it limits its promotion of "rights for LGBT persons" to countering criminalization of "LGBT status," combating hate crimes, and "other core issues."
When asked by BuzzFeed News why she said marriage was not a "core issue" for LGBT rights, she said, "I'm not saying it's not a core issue. I'm just telling you what our focus is."
In less than two years, the State Department went from the confused position Zeya presented to a strong statement from Secretary of State John Kerry, thanks to the clarifying effect of Obergefell.
"The Court's decision also sends a clear message to every corner of the globe: no law that rests on a foundation of discrimination can withstand the tide of justice," Kerry said in a statement released following the judgement's announcement. He also noted that he'd recently appointed "the first-ever Special Envoy for the Human Rights of LGBTI Persons, Randy Berry" — himself a married gay man with two children — "who is fighting every single day so that people all over the world have the rights they deserve."
The U.S.'s symbolic status and soft-power clout has given its steps toward marriage equality huge weight even though it has never been at the vanguard. The first European nation to establish marriage equality, the Netherlands, passed its law in 2000, and today the only two major EU members in Western Europe without marriage equality are Germany and Italy. In the Americas, marriage equality has been the law in Canada since 2005, in Argentina since 2010, and in Brazil since 2013. Mexico's Supreme Court has been ruling state bans on same-sex marriage unconstitutional since 2012, taking an additional important step toward establishing universal marriage equality earlier this month.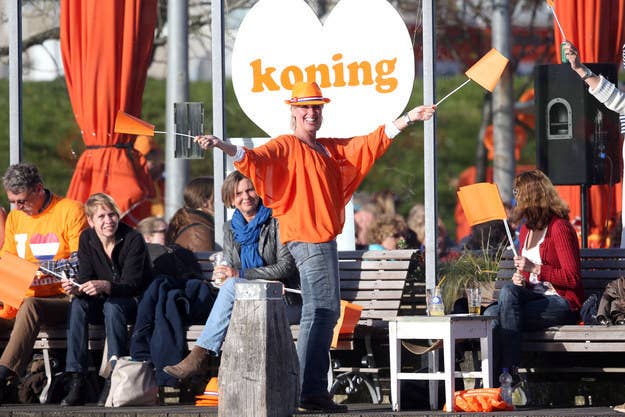 And the global impact of Obergefell is so significant in part because the conversation has already progressed so far in other corners of the globe. In some ways, the symbolism of Ireland becoming the first nation in the world to enact marriage equality by popular vote in May was more powerful than Obergfell in countries like Australia or Italy — the lopsided vote refuted the argument from conservatives that marriage was being imposed by ruling elites over the will of the people. And the shift at U.N. was detectable weeks before Obergefell — in his 2015 version of the LGBT human rights report, the high commissioner for human rights said partnership protections were necessary to protect gays and lesbians' human rights.
More countries could very well enact marriage equality before 2015 is over. Opposition parties in Australia began making a serious push for a vote on a marriage equality law following the Irish vote, and Prime Minister Tony Abbott has shown signs that he might allow members of his ruling coalition to vote for it despite his personal opposition. The proposal's sponsors are expecting a vote to happen this fall.
The U.S. Supreme Court decision may have its most direct impact in Colombia, which has a marriage equality case currently pending before its constitutional court. Colombia and the U.S. are joined under the human rights system of the Organization of American States, and the Colombian court takes into consideration foreign rulings (even though the United States explicitly does not follow foreign precedent).
Mauricio Albarracín, head of the Colombian LGBT rights group Colombia Diversa and an attorney who has worked on the litigation, told BuzzFeed News that, just as the U.S. Supreme Court's 1955 ruling on racial discrimination in Brown v. Kansas Board of Education has influenced law throughout Latin America, Obergefell "is a beacon for our national debates [on marriage equality]."

Of course, the number of countries that have marriage equality are still a small minority — just over 20, as compared to the around 80 countries that criminalize homosexuality. They are overwhelmingly concentrated in the Americas and Western Europe, lending ammunition to LGBT rights opponents in Africa, Asia, and Eastern Europe who say they're standing up for national customs against "cultural imperialism" from the West. The celebrations in Ireland and the United States feel very far away in countries like Morocco, where two men were sentenced to jail on charges of embracing in public, or Turkey, where police shut down a pride march on Sunday with tear gas and water cannons.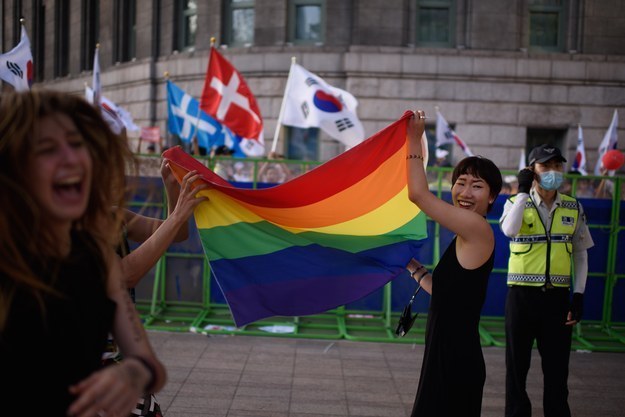 "Maybe Korea will follow the U.S. ruling, but never in our time," a 22 year-old student named Jang Hyun-joon told BuzzFeed News on Sunday at a pride march in the South Korean capital Seoul, which was almost banned in the face of opposition from Christian groups.
But the ground for the debate has shifted, and it could change faster than even people like Jang expect. A BuzzFeed News/Ipsos poll conducted this spring found 53% of South Koreans support legal protections for same-sex couples. And the country's best known politician, U.N. Secretary-General Ban Ki-moon — who polls show would easily be elected if he decided to run for president of South Korea in 2017 — sounded an awful lot like John Kerry when he spoke about the Obergefell decision on Friday.
The ruling "marks a great step forward for human rights in the United States," Ban said during a ceremony in which he was presented a medal for his work promoting LGBT rights. "When the time comes to look back on my tenure, I will feel enormous pride in the fact that I have been the first U.N. secretary-general to push hard for equal rights and respect for LGBT people around the world."
Obergefell is a turning point for the LGBT movement, not only because the United States has crossed what many now view as the clearest litmus test over whether LGBT people are equal citizens. It will change how LGBT rights campaigners talk about their own agenda on the global stage.
It's hard to imagine any politician — or government — maintain that marriage equality is not a "core issue" while maintaining that "gay rights are human rights" ever again.