White House Says Obama Won't Back Off LGBT Rights During Kenya Visit
"When the president travels around the world, he does not hesitate to raise concerns about human rights," Press Secretary Josh Earnest said ahead of Obama's trip.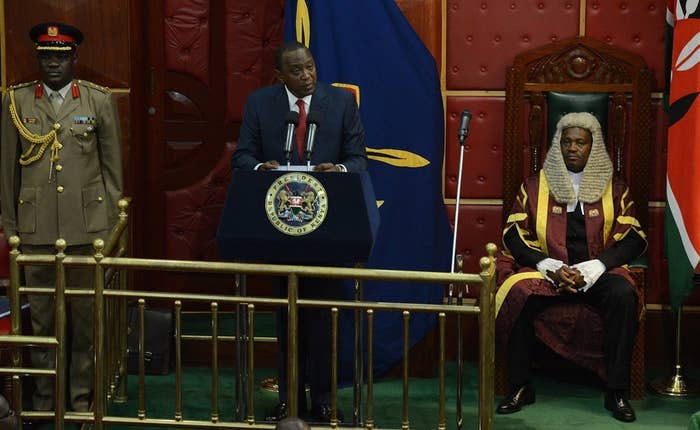 White House Press Secretary Joshua Earnest said Monday that President Barack Obama would not back off LGBT rights when he visits Kenya later this month, despite calls from senior Kenyan politicians that he steer clear of the issue.
"I'm confident that the president will not hesitate to make clear that the protection of basic fundamental human rights in Kenya is also a priority and consistent that we hold dear here in the United States of America," Earnest said in response to a question from the Washington Post's David Nakamura.
Nakamura asked Earnest about reports that "the National Assembly has said Obama will not be permitted to raise the issue of gay rights." This was an apparent reference to a statement by Kenyan National Assembly Speaker Justin Muturi in which he said Parliament would respond to "any advances perceived to encroach on our social fabric," in a statement interpreted in the Kenyan press as a gag order.
"As an individual and a Christian, I am opposed to homosexuality and cannot condone gay practices," Muturi said.
Earnest said he was not aware of what Nakamura was referring to, but, "we have been clear that when the president travels around the world, he does not hesitate to raise concerns about human rights."
Muturi's remarks followed similar comments from Kenya's deputy president, William Ruto, during a Sunday church service.
"We have heard that in the U.S. they have allowed gay relations and other dirty things," Ruto said. "I want to say as a Christian leader that we will defend our country Kenya, we will stand for our faith and our country."
Though some Kenyan lawmakers have occasionally made anti-LGBT statements in recent months and some legislators are attempting to pass new laws expanding Kenya's colonial-era law criminalizing homosexuality, there has not yet been a serious political push to crack down on LGBT rights. Kenya's judiciary, which has a history of defending human rights, has also recently issued a handful of rulings that may lay the groundwork for expanded LGBT rights protections in the country.
An anti-LGBT street protest organized ahead of the president's visit have reportedly drawn only a small number of people, but Kenyans have been calling on Obama to avoid discussing LGBT rights using the hashtag #KenyansMessageToObama.