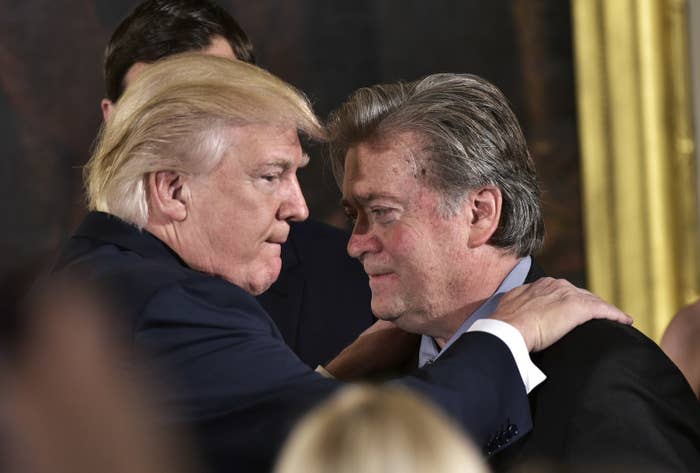 WASHINGTON — Steve Bannon isn't out to promote a socially conservative agenda on homosexuality, say writers who worked for him at Breitbart — but he does have an interest in attacking LGBT-rights advocates as a way of attacking the left.
This makes him an uncertain player in fights over LGBT rights inside the White House.
Just last month, President Trump announced that he would preserve an Obama-era executive order that bars federal contractors from discriminating against LGBT people. Ivanka Trump, Jared Kushner, and Gary Cohn reportedly helped kill efforts to install religious freedom exemptions — the kind that social conservatives like Vice President Mike Pence have pursued in recent years. Bannon, an integral White House adviser and strategist, was absent from many of these stories.
If the reports are correct, Steve Bannon — a lead architect of White House policy — appears to have sat on the sidelines of this discussion.
And that's just where he'd want to be, speculated Thomas Williams, Breitbart's editor in Rome.
"I don't think [Bannon] has very strong views on the question at all … I mean gay rights broadly," said Williams, one of the major social conservative voices on the site. "Probably pushed to it, he would probably say I think it's gone too far, but he never pushes it, he never vocalizes it — it's just not on the top 10 list of things that he cares about."
Neither Bannon nor White House Press Secretary Sean Spicer responded to request for comment for this story.
"It's just not one of the issues where he's going to go to the mat," Williams said. "Regardless of his personal inclination on the issue ... you have to pick your battles and it's just not worth it."
Williams joined Breitbart when Bannon decided to expand operations to cover the Vatican in 2014. Even then, say people involved in those efforts, Bannon seemed more interested in amplifying conservative Catholic voices in the service of what he described as a "global tea party movement" than bolstering social conservatives fighting internally to maintain a hard line on homosexuality under Pope Francis.
"I'd say that Steve Bannon … [is] always looking internationally to people that he can work with where there is mutual common interest," said Benjamin Harnwell, who introduced Bannon to a leading conservative cardinal and later organized a conference in the Vatican where Bannon laid out his global vision in June 2014. "He was interested in amplifying the voice of a leading conservative."
"I don't think he wants to wade into" infights within the Catholic church, Harnwell said.
Austin Ruse, a long-time Catholic conservative activist who heads the Center for Family and Human Rights, and who started writing for Breitbart in 2013, said he thinks Bannon would feel strongly about cases like "if a Catholic NGO was made to" violate their beliefs in the name of honoring gay rights. But the editorial line at Breitbart was to attack LGBT rights activists, but not weigh into fights over homosexuality itself.
"The thing about Breitbart and LGBT — and this was discussed — we don't want to be mean to gays; we want to expose them when they're being bullies," said Ruse, who recently left the site to write a book.
This may not have been the most natural fit for Ruse, who has lamented that conservatives have stopped campaigning against sodomy as a social ill or alleging a connection between homosexuality and pedophilia. But unlike older social conservative media, Ruse told BuzzFeed News, Breitbart wasn't so concerned with fighting over the morality of homosexuality or even necessarily bolstering efforts to reverse marriage equality after the Supreme Court's 2015 ruling. Instead, it was taking aim at what the site dubbed the "Big Gay Hate Machine" and LGBT rights organizations the site believes is out to get Christians and silence free speech.
"The big mission at Breitbart is to change the liberal narrative," Ruse said, not "going after gays per se."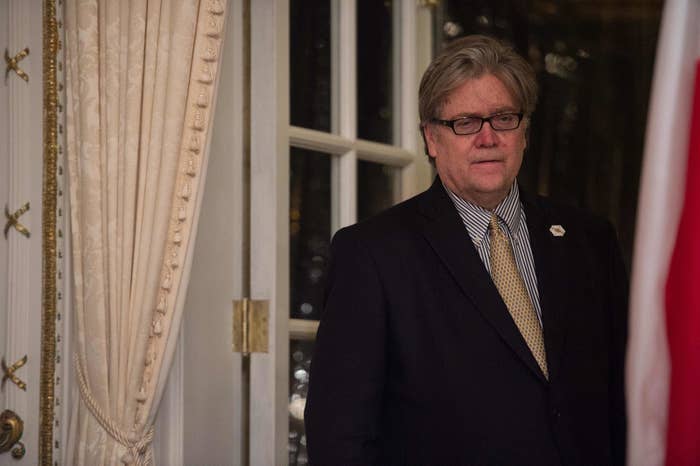 Ruse said the first story he pitched Bannon directly represents this approach. It was about Matthew Shepard, the 19-year-old gay man who became a national symbol of anti-LGBT violence when he was murdered in 1998. Shepard was beaten and left for dead tied to a fence on a rural Wyoming road by two men who later claimed they panicked after the teen came on to them. His story helped get a national hate crime law including protections for LGBT people, passed 11 years later.
Ruse proposed a story asserting Shepard wasn't the victim gay rights groups made him out to be. He remembered Bannon responding with the highest accolade Bannon dished out to Breitbart writers: "HUGE."
Ruse hammered out a post declaring, "Almost everything you think you know about the Matthew Shepard narrative is false." Relying on reviews of a controversial book then coming to press, Ruse wrote that Shepard had had sex with one of his murderers and been killed over a drug dispute. The story of Matthew Shepard was "hagiography" fabricated by "the gay establishment," evidence that "the agenda of the sexual left lives on lies."
Many LGBT rights supporters may see little difference between attacking gay rights activists and gay people, especially given Breitbart's combative tone. And it has taken a very clear position against transgender rights, said Angelo Carusone, president of the progressive media advocacy organization Media Matters for America. But on issues affecting gay men and lesbians, he said there's a marked difference between the uniform Breitbart position in opposition to something like Islam and the range of opinions on the site about homosexuality.
"When it comes to issues of anti-Muslim sentiment there's no confusion it's 100% clear, but where LGBT issues come up, it's a bit murkier," Carusone said.
The site has hosted old-school anti-homosexuality crusaders who occasionally claim that homosexuality itself is harmful and cite research denounced by mainstream medical associations, but also writers like Milo Yiannopolous, who attacks left-wing "political correctness" while simultaneously bragging about an extensive gay sex life.
Overall, the site perpetuates the notion that "gay culture is icky and gross and weird," Carusone said, but it's generally "not picking up big policy fights" over homosexuality. In part because the site is reaching an audience that is younger or not previously plugged into older right-wing media, Carusone said, "when it comes to gay rights, they seem to have internalized [conservatives'] own defeat."
And there are hints Bannon might even give a nod to gay rights when it fits with the issues closer to his heart, like stopping immigration. Language was added at the last minute to the executive order freezing refugee resettlement and immigration from seven majority Muslim countries that said, " the United States should not admit ... those who would oppress Americans of any race, gender, or sexual orientation."
Chris Barron, the gay Republican activist who led GOProud and writes about hockey for Breitbart, said he considers Trump's top adviser an ally.
"I'm not concerned about Bannon at all," Barron said.
CORRECTION
The article has been updated to correct the year of Supreme Court ruling on marriage equality. A previous version of the article incorrectly said it was 2014.