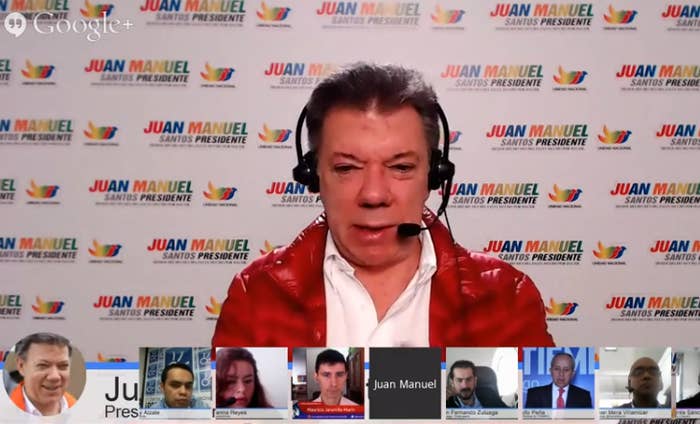 Colombian President Juan Manuel Santos endorsed marriage equality — sort of — during a Google Hangout held this week as part of his reelection campaign.
"Marriage between homosexuals seems to me perfectly acceptable, and what's more I defend unions between two people of the same sex with the same rights and all the same privileges that this union should have," Santos began. But then he added, "Whether this union is called marriage or not for me is secondary — for me, what is important is that they have their rights."
Santos' statement put him in line with the position of the country's Constitutional Court, which ruled in 2011 that same-sex couples were entitled to equal rights, but stopped short of clearly saying that meant they had the right to "marry" and kicked the question to Congress, which it ordered to implement the ruling by June of 2013. Legislation creating marriage equality failed in the Colombian Senate in April, and Santos avoided taking a position on the issue.
But Santos' statement still shows a significant "evolution" on the issue since his 2010 campaign when he opposed same-sex marriage, said Mauricio Albarracín, director of the LGBT organization Colombia Diversa.
"It's good in comparison to his answer the first time [he ran for president]," Albarracín said. "But it's still ambiguous."
Two of the other candidates for the presidency, Enrique Peñalosa of the Alianza Verde and Clara López of the Polo Democrático Alternativo came out clearly in support of marriage equality in Colombia Diversa's election questionnaire. Voters go to the polls May 25.