Ugandan Health Workers Could Become Front-Line Enforcers Of Anti-Homosexuality Act
Updated draft guidelines propose to let health workers break confidentiality of LGBT patients when "a person has been sodomized" or in cases of "aggravated homosexuality."
Ugandan health workers could become frontline enforcers of the newly passed Anti-Homosexuality Act, according to an internal health ministry document obtained by BuzzFeed.
These guidelines could help determine the fate of millions of health care dollars Uganda receives from international donors who are concerned about the AHA. A team of consultants for the World Bank submitted a report on Tuesday recommending that a $90 million health care grant be disbursed only if the government implements guidelines protecting LGBT patients and their health care workers from prosecution under the law, which not only makes homosexuality a crime but also makes it illegal to "abet" homosexuality by providing services to LGBT people.
This document shows the health ministry is moving in the opposite direction than donors want to see.
The document, an April revision of "Draft Guidelines for Health Workers Regarding Health Services for Homosexuals," suggests the agency would make health care facilities more dangerous for LGBT people than in a draft produced in March. The April revision specifies that health care workers could "break confidentiality" of "clients with homosexual orientation" even when not required by law in cases when "a person has been sodomized" or in "cases of aggravated homosexuality as defined by the anti-homosexuality act." (Ugandans can be sentenced to life in prison for "aggravated homosexuality" in cases where they have same-sex intercourse repeatedly, or in cases where same-sex intercourse involves a minor, a disabled person, or a person who is HIV positive.)
This disclosure clause is far broader than the one included in the March draft, which only singles out three cases in which confidentiality may be broken without a legal requirement: "where a client is a child," "where a woman has been sodomised," and "in cases [where] mental status is compromised."
Confidentiality clause of the April draft guidelines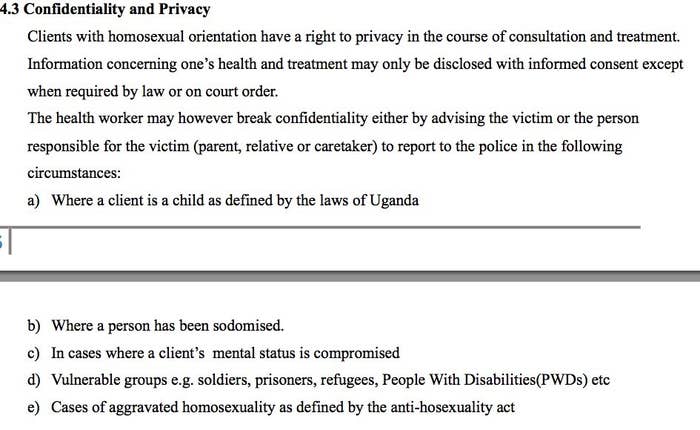 Confidentiality clause of the March draft guidelines

Other language in the April revision also seems to make health care workers more vulnerable to the charge of "promoting homosexuality," even in cases where they have been approved to provide services or conduct research with "homosexual clients."
"It is the sole responsibility of the researcher, investigator, health worker or his/her facility to ensure no acts of promotion or recruitment of subjects into acts of homosexuality as stipulated by the anti Homosexuality Act, 2014 occur," one clause reads. "In the event of promotion or recruitment, they shall be held accountable."
This provision could be especially concerning to international donors following a police raid earlier this month on an HIV research facility affiliated with the U.S. Military HIV Research Program following allegations that it was "carrying out recruitment and training of young males in unnatural sexual acts."
Annotations to the draft indicated they had been reviewed by Dr. Jane Ruth Aceng, Uganda's director general of health services and the lead author of the "scientific report" that President Museveni cited to justify signing the Anti-Homosexuality Act.
The preamble to these guidelines, which is written under Aceng's name, alludes to the key assertion in that report that Museveni cited in his decision.
"Well aware that homosexuality is not a medical disorder nor an abonormality, those invloved in the practice may present with direct/inderect consquences that require medical care/treatment," the preamble states.
Compare the two draft guidelines side-by-side. This is the April revision:
And the first version written in March: