Ukrainian Nationalists Post Photo Album Threatening LGBT Activists
"These degenerates do not deserve to live," one person wrote on the page hosting the album, posted following Saturday's pride march in Ukraine.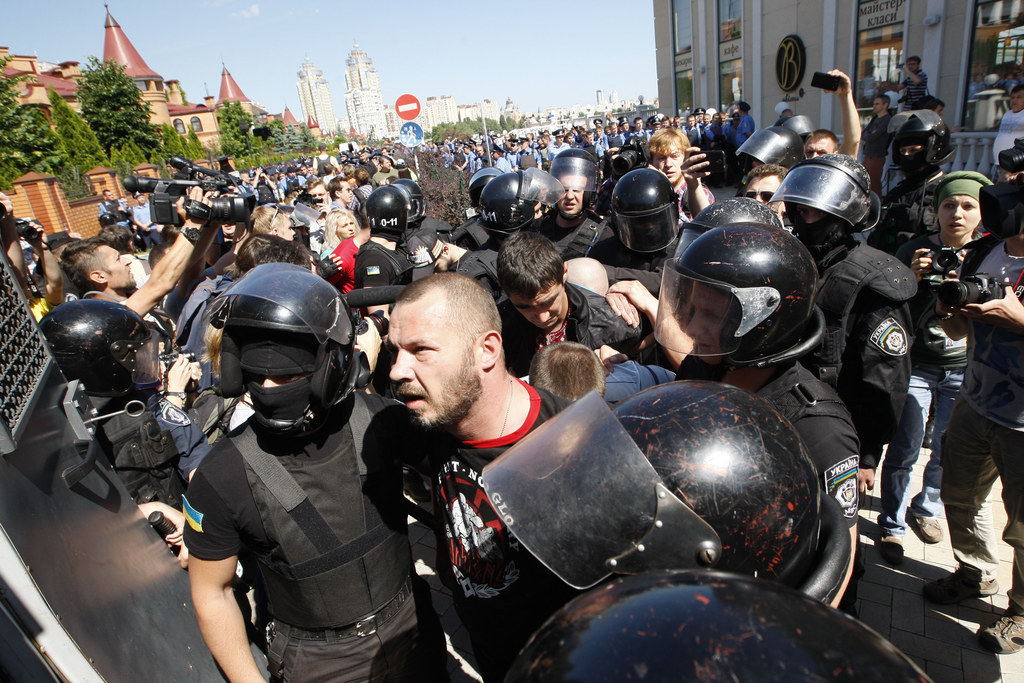 Groups affiliated with far-right Ukrainian nationalists have launched online campaigns threatening LGBT activists after an LGBT rights march was attacked on Saturday.
"For the first time I am afraid for my and my boyfriend's lives," LGBT activist Dmitry Pikakhchi told BuzzFeed News in an e-mail on Monday. "Considering the number of these posts, the number of participants [of the group] and the radicalism — I think that the danger is more than real."
Pikakhchi said he was especially worried about a group called Zero Tolerance hosted on the Russian-owned social network VKontakte, which is the dominant social network in much of the former Soviet Union. The group, which has more than 2,800 followers, has posted a photo album of at least a dozen people the group's moderators say are LGBT activists. (BuzzFeed News is not linking directly to these pages to protect the safety of the people targeted.)
"These degenerates do not deserve to live," said one person who posted to page. Another wrote, "Homothugs will be destroyed."
In an apparent reference to Saturday's LGBT rights march, a third person wrote, "[We] should have beaten them with a crowbar across the spine."
Thirty people were arrested Saturday on suspicion of "hooliganism," and nine police officers were injured while protecting the LGBT right supporters, Ukraine's Ministry of Internal Affairs said. A court ruled today to keep one of the suspects in custody for two months, local outlets reported.
Kiev Mayor Vitali Klitschko — who last week called on LGBT activists to call off the march as a "provocation" while the Eastern portion of the country is still controlled by Russian-backed separatists — has called for those who attacked the march to be "strictly punished" in a statement issued following the event.
"What happened when aggressive young men assaulted the marchers and clashed with law enforcers is unacceptable," Klitschko said in his statement. "Moreover, in a situation where the country deals with an external aggression, it is most important of all that there should be law and order and security at local level."
Svitlana Zalishchuk, a member of the Ukrainian Parliament who supports LGBT rights, said in a Facebook post Sunday night that she would formally request that the Ministry of Internal Affairs investigate the new threats against LGBT people being made on VKontakte and on another site run by the ultranationalist party Right Sector. Facebook appears to have blocked the Zero Tolerance page on its network.
"Interesting that [Zero Tolerance] was created on the Russian platform VKontakte," wrote Zalischuk. "Obviously, Facebook would have deleted it straight away. Curiously, the pages of Ukrainian 'patriots' of this type have a life only on account of the interests of Russian special services."
A spokesman for VKontakte did not immediately respond to a request for comment from BuzzFeed News.