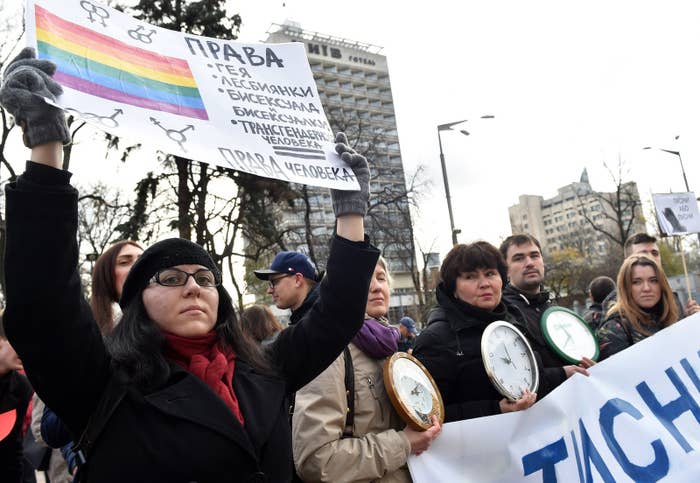 The Ukrainian parliament passed a law on Thursday barring employment discrimination that includes protections for LGBT people, a step the European Union had made a condition of closer ties with the former Soviet country.
Lawmakers had twice rejected the nondiscrimination bill earlier this month over opposition to the LGBT protections. This was the last of a suite of legislation required by the EU — which also included controversial laws against corruption — for Ukraine to qualify for a program allowing its citizens to travel to the EU without needing visas.
The bill only passed after six rounds of voting on Thursday. After the bill narrowly failed on the the fifth attempt, Speaker Volodymyr Groysman called a recess to lobby for the vote, the Kyiv Post reported, telling lawmakers, "Seven votes stand between us and a visa-free regime."

Ukraine has been in the process of forging a closer relationship with the EU for years, but the link has grown increasingly important since the Ukrainian territory of Crimea was annexed by Russia last year and Russian-backed rebels seized control in eastern parts of the country. Generally the EU requires nondiscrimination protections be adopted at an earlier stage of the process of association with the EU, but Ukraine was given more time after former President Viktor Yanukovych walked away from signing a long-negotiated agreement with the bloc, leading to an uprising against his government.
Yuri Lutsenko, leader of a junior party in the governing coalition, had urged lawmakers to vote for the bill, saying, "it's better to have a gay parade on Khreschatyk" — Kiev's central thoroughfare — "than Russian tanks in the center of the Ukrainian capital. I believe that if we're going to Europe, we should recognize the accepted rules in the European community," reported Korrespondent.
Russian allies have used hostility towards LGBT rights to try to build opposition to the EU for several years. "Association with the EU means same-sex marriage," said billboards that went up around the Ukrainian capital shortly before Yanukovych announced he would abandon European ties and instead join a customs union created by Russia.
Evelyne Paradis, executive director of the European LGBT rights group ILGA-Europe, praised Ukraine for adopting the bill in a statement following the vote, but called on lawmakers to truly embrace the spirit of the legislation they have passed.
"The vote was not just about visa liberalisation, it could be the start of a new chapter of engagement on the rights of LGBTI people in Ukraine," Paradis said. "Now, the work of the Ukrainian government enters a critical phase; they have an obligation to ensure that the Code is implemented in its entirety."