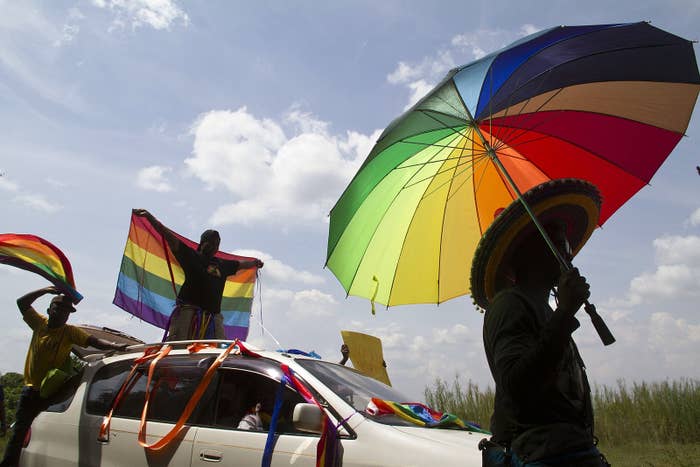 Organizers in Uganda have canceled a pride parade scheduled to be held on Saturday after a tense meeting between a senior government official and one of Uganda's top human rights lawyers.
LGBT pride events have been held without incident in Uganda for the past few years, even during the tense period after the country's Constitutional Court invalidated a sweeping anti-LGBT law in 2014. Saturday's parade was scheduled to be held in a private space in Munyonyo, outside of Kampala, the country's capital. But police raided the Mr. and Miss Pride pageant on Thursday night at the Venom nightclub and detained several of Uganda's most visible LGBT activists for several hours.
On Friday, lawyer Nick Opiyo of Chapter 4 Uganda met with Ethics Minister Simon Lokodo to discuss the raid. Following the meeting, Opiyo told BuzzFeed News that Lokodo had threatened to bring opposition to the event to the streets, so organizers decided it should be canceled.
Frank Mugisha of Sexual Minorities Uganda, a local NGO, confirmed to BuzzFeed News that the parade on Saturday was cancelled and postponed "at least" until the following week.
"We decided to suspend it because of the risks to personal safety," Opiyo said. "The minister threatened to mobilize a mob and a large police group to beat up anyone who shows up for pride tomorrow. We will engage the government next week with a view of holding the pride parade at another date soon."
This, Opiyo said, was a breach of an agreement the Ugandan government had reached with governments of donor nations to Uganda — especially the United States and United Kingdom — which had helped clear the way for pride events in recent years.
"He appears to be operating parallel to any agreements that may exist" between the government and the LGBTI community and donors, adding that Lokodo barred a representative from the US embassy from participating in the Friday morning meeting. "He's threatening to mobilize."

Asked whether the US government considered the Ugandan government to have violated an agreement between the two countries by interrupting pride and if this could have an affect on US aid — including ongoing support for the Ugandan military — State Department press director Elizabeth Trudeau said in an email, "We urge the Ugandan authorities to safeguard the freedoms of all Ugandans under the law."
Andrew Green contributed reporting from Kampala.