Uganda's Foreign Minister Sails Through U.N. Election Despite Concerns Over LGBT Law
Sam Kutesa has been unanimously elected president of the United Nations General Assembly.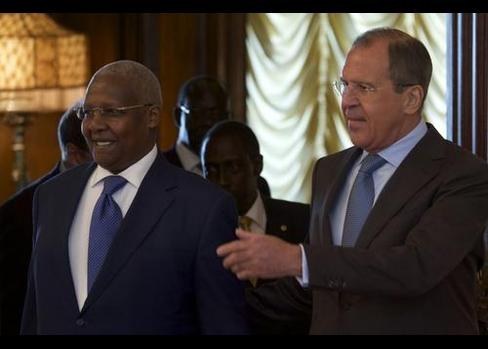 Despite allegations of corruption and a spotty record on human rights, Ugandan Foreign Minister Sam Kutesa was elected president of the United Nations General Assembly on Wednesday without a single vote cast against him.
While there were some scattered calls for Kutesa's nomination to be opposed — including a Change.org petition that had more than 13,000 signatures by Wednesday afternoon — heavyweights in the world of human rights and U.N. advocacy never made serious calls for member states to vote against him. The election rules made it all but certain that he would take office, and the rotating presidency is a ceremonial post with very little power to affect the areas of policy where Kutesa's record might cause the most concern.
Of top concern to human rights advocates in the west is the fact that Kutesa was an outspoken supporter of the law criminalizing homosexuality and LGBT rights advocacy enacted in February. But the International Gay and Lesbian Human Rights Commission, for example, did not formally oppose his nomination.
"We're engaging in this within the confines of what's politically possible at the United Nations," said the group's program director, Marianne Møllman. So instead of pouring energy into a battle that was all but hopeless, Møllman said, IGLHRC "will contact the president of the [General Assembly] as soon as he's sworn in and say, 'You know that you're there to uphold the principles of the United Nations, including nondiscrimination.'"
Fighting his nomination seemed pointless, said a U.S. diplomat speaking on background to discuss U.N. politics, because "the only way that somebody like that could not get the job is for another African candidate to run against them." It's an African's turn to hold the rotating presidency, and the African nations had agreed to back Kutesa well before the formal vote on Wednesday.
Another African country could put up another nominee — and there have been contested elections in the past — but Uganda would be a powerful enemy for any nation that wanted to run its own candidate. And there is no African country eager to make an issue over Uganda's LGBT rights record. Even the government of South Africa, which has been a leader in advancing LGBT rights at the U.N. in the past, has shrunk from publicly condemning the new law.
Instead, Uganda's critics are hoping his election can present an opportunity to highlight the ways the country has fallen short of international norms.
"The UN Charter places respect for human rights and dignity at its core, and it is the job of the General Assembly — and its President — to uphold these principles," the U.S. ambassador to the UN, Samantha Power, said in a statement following the election. "At a time when girls are attacked by radical extremists for asserting their right to an education; representatives of civil society are harassed and even imprisoned for their work; and lesbian, gay, bisexual, and transgender people are endangered for who they are, including by discriminatory laws, the work of the United Nations to advance equality, justice, and dignity for all could not be more urgent. In the face of these challenges, all of us working in and at the United Nations should recommit to vigorously defending these core principles."
And in practice, the presidency is a largely symbolic post. The U.S. diplomat said Uganda could now organize plenary events on special topics, but the president tends "to put forward very bland, innocuous things that have the support of the Assembly — feel-good kind of topics."
Kutesa included some potentially divisive priorities in his acceptance speech, including reaching an accord on climate change. But the only human rights issue he identified as a priority was "advancing gender equality," which may be surprising given the Ugandan government's recent passage of an Anti-Pornography Law that women's activists have decried as the "miniskirt law" that has led to attacks on women wearing clothing deemed to be salacious.
While "concerned that the new president of the U.N. general assembly has been defending a deeply discriminatory Anti-Homosexuality Law," said Human Rights Watch's United Nations Director Philippe Bolopion, "we hope he won't be in a position to promote ideas or values that are intrinsically discriminatory and contrary to the values of the U.N. Declaration of Human Rights."
Kutesa isn't the first U.N. General Assembly president with a troubling human rights record. The last African to hold the post, Ali Abdussalam Treki, had been a longtime member of the regime of Libyan Dictator Muammar al-Qaddafi before he was elected to the post in 2009.