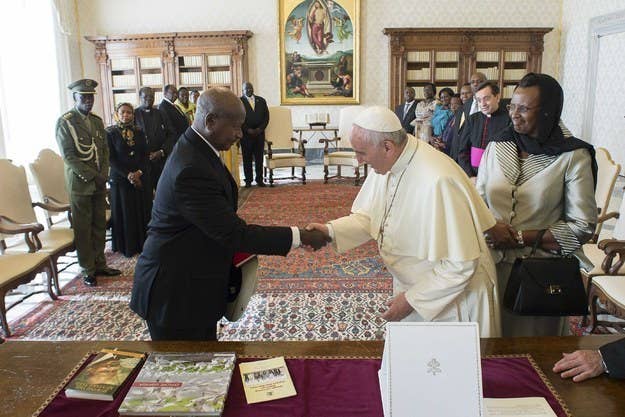 Uganda's parliament adjourned on Friday without passing a new version of the anti-LGBT law that was struck down by the country's Constitutional Court in August, despite overwhelming support from lawmakers.
Latif Ssebaggala, an opposition MP, had begun collecting signatures calling for a new vote on the bill almost immediately after the court annulled the Anti-Homosexuality Act on procedural grounds, saying that not enough MPs were present to conduct official business when Parliament voted on it last December. Ssebaggala told BuzzFeed News that he had the support of more than 250 of Parliament's 383 members, and had told Reuters last month that he wanted Ugandans to be able to "celebrate" passage of a new law "as a Christmas gift."
Support for a new bill includes a number of high-ranking officials of President Yoweri Museveni's ruling party, the National Resistance Movement. But Museveni — who faced an intense backlash from the U.S. and other nations that donate a large portion of the Ugandan government's budget after signing the Anti-Homosexuality Act last February — has come out strongly in opposition to new legislation, including publishing a 3,000-word article in a leading Ugandan magazine saying anti-LGBT legislation could hurt trade with Western nations.
Despite Museveni's near total control of the Ugandan government after almost three decades in power, lawmakers could still force him to reverse himself when they come back into session in February. He openly appeared to be trying to defeat the Anti-Homosexuality Act as well and had promised foreign human rights activists that he would veto it after it passed. But he reversed himself during a February meeting of his party that had been called to sign off on his standing for a fifth term as president in 2016, and there is wide speculation that he caved into pressure out of concern about potential challenges to his leadership.
Museveni has cooperation from key lawmakers, at least for now. House Speaker Rebecca Kadaga — a potential rival to Museveni who pushed through the Anti-Homosexuality Act in a surprise vote on the last day of the 2013 session — told a local television station Thursday that she had not even seen a draft of a new bill, though Ssebaggala insisted he is "just waiting for the speaker to give us a slot" to bring legislation to a vote.
But even members of Museveni's cabinet appear to be working to back him into a corner once again. In August, Museveni tasked a committee of high ranking NRM members to "study" whether a new bill could be drafted that addressed objections brought from human rights activists to the original bill, which imposed up to a lifetime jail sentence for homosexuality and made it a crime to "abet" homosexuality. It was widely assumed that Museveni was hoping the committee would bog down attempts to bring new legislation forward, but instead produced an even more far-reaching proposal in October that included a provision appeared to target funding for human rights activists from foreign donors.
In theory, lawmakers could overcome the Constitutional Court's objections to the original Anti-Homosexuality Act by simply voting on the same language again with a larger number of lawmakers present. But parliament's own rules prevent a swift re-vote; a bill can only come to the floor after clearing several procedural hurdles, including certification from the Ministry of Finance on its fiscal implications.
In the opaque world of Ugandan politics, these procedural steps may be the clearest signs of Museveni's true commitment to blocking the legislation. If he instructs his Finance Ministry to avoid certifying the bill, that could kill it without risking the kind of public confrontation like the showdown that happened before he capitulated to the Anti-Homosexuality Act's supporters in early 2014.
Ugandan political observers believe that Museveni will forestall debate on a new anti-LGBT law at least until the 2016 elections have passed. Historically, Museveni has ramped up government spending in projects that will curry favor with voters in advance of elections, and the potential for another international backlash over this law poses too big a threat to the government's finances. A $90 million health care loan from the World Bank was suspended after the law was enacted in February, and the U.S. and other donors made much smaller adjustments to support to the government. Markets also responded badly to the Anti-Homosexuality Act, with Uganda's currency losing 2.9 percent of its value in the week after Musevei signed the law.
"Uganda's finances are going to be distorted by that election. You don't want that to be compounded by an international boycott," Morris Ogenga Latigo, former leader of the parliamentary opposition, told BuzzFeed News.
But as Nicholas Opiyo, the lawyer who successfully argued the case to strike down the law at the Constitutional Court, tweeted that the fight is far from over.