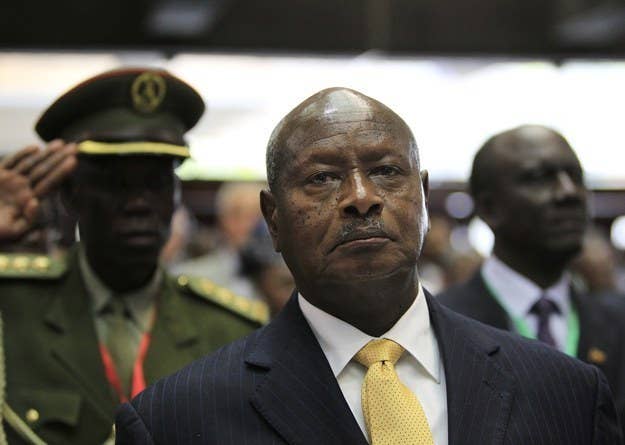 Ugandan President Yoweri Museveni has called on lawmakers to abandon attempts to restore an anti-LGBT law because it would cost Uganda lucrative export markets in the United States and Europe.
Museveni made the call in a column published in a Ugandan magazine on Friday. A previous iteration of the law, which imposed up to lifetime sentences for homosexuality and was called the Anti-Homosexuality Act, was struck down in court earlier this year following an international outcry.
Museveni's column, originally published in The Independent magazine, ran to nearly 3,000 words and was rather convoluted, laying the foundation for potentially supporting any possible positions on the issue. In the end, he appears to urge lawmakers to drop public debate on the law because it could cause Western consumers to boycott Ugandan goods, closing a major avenue for growth.
"To carelessly and needlessly open unnecessary wars with such useful customers is irresponsible to say the least," Museveni wrote, pointing to the country's textile industry.
Museveni goes to great lengths not to be appearing to be giving into pressure from the United States and some European governments who suspended or redirected aid to Uganda after the law was passed. He blames his decision to sign the bill in part on the opposition from foreign governments, but maintains that the country should be realistic about market pressures.
"I was also provoked into signing the Bill by the arrogant approach of some foreign governments," Museveni wrote, adding that now the "point has been amply made" that "nobody should think of using 'aid' to dominate us."
However, he continued, "Privately, however, our partners still raise it, all the time.... When it comes to trade, we should remember that other peoples are also sovereign. They can choose whom to trade with and whom not to trade with."
Museveni suggested that existing laws on prostitution probably covered "two types of homosexuals" that the Anti-Homosexuality Act claimed to target: ones that "recruit under-age children into homosexuality" and "homosexuals who lure the youth, whether under-age or above 18, using money."
But he said he had identified a third "category" in his "research" that now challenges lawmakers, "The ones who are homosexual out of choice and conviction. They are not coerced, they are not after money. They are just attracted to fellow men or women, according to what they say, difficult though it is for me to imagine. This is a group we need to handle."
Museveni kicks the problem back to parliament, saying that he has connected the Anti-Homosexuality Act's original author, Senator David Bahati, with business leaders to "see how to resolve this issue." But, he implied he'd like this to be resolved as quietly as possible.
"Should we endlessly involve Uganda in endless wars with our potential partners in trade on account of this group of voluntary homosexuals?" he wrote, adding, "All family issues are never discussed in public."