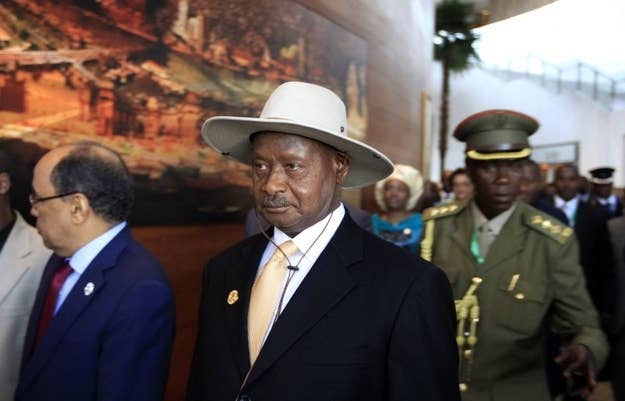 Ugandan President Yoweri Museveni has decided to sign a law imposing up to a lifetime jail sentence for homosexuality, announced government spokesman Ofwono Opondo via Twitter on Friday. NRM caucus spokeswoman Evelyn Anite confirmed Opondo's announcement to BuzzFeed.
This is a reversal for Museveni, who had written to members of parliament after the legislation passed in December that he had come to believe that homosexuality was a biological "abnormality" and not something that should be criminalized. He had also told Western human rights activists that he would reject the bill during a meeting last month.
Museveni made his announcement during a retreat with members of his party, the National Resistance Movement, which has primarily focused on the party's leadership as it prepares for elections in 2016. Museveni had been facing stiff pressure from his colleagues to accept the bill.
The deciding factor may have been that a panel of party members with medical backgrounds Museveni convened to study the cause of homosexuality presented a report concluding homosexuality is not an inborn trait. Museveni had told lawmakers he would sign the bill if "I have got confirmation from scientists that this condition is not genetic."
The committee co-chairman Chris Baryomunsi told BuzzFeed on Thursday, "Speaking as a medical doctor ... homosexuality is just deviant behavior. It can be learned, and it can be unlearned."
Mujuni Raymond contributed to this report from Kampala.