Ugandan Police Spent Weeks Undercover Before Raiding U.S.-Backed HIV Center
The investigation began on March 15 after police "received a report" that the facility was "carrying out recruitment and training of young males in unnatural sexual acts," Ugandan police say.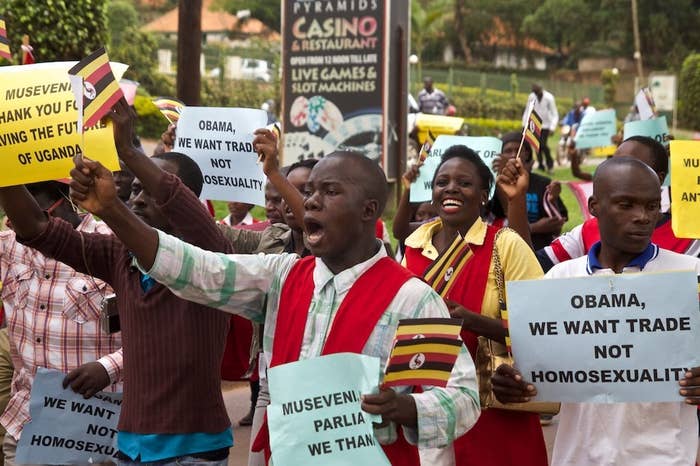 Two Ugandan police officers went undercover for almost a month in an investigation that led to last week's raid on an HIV center run by the U.S. Military HIV Program in partnership with Makerere University in Kampala, according to a statement released by the Ugandan police on Tuesday.
Surveillance of the facility began following a March 15 report "that an NGO based in Nakasero area of Kampala was carrying out recruitment and training of young males in unnatural sexual acts," said the statement, which was attributed to spokesman Fred Enganga. Crime intelligence officers went to "verify the claims by infiltrating the project," posing as men seeking safe-sex education.
The officers found that the training "targeted youth between the ages of 18 and 25," who "were shown videos of men engaging in homosexual activity."
The police broke their cover, the statement said, after "officers observed a large number of participants being shown a same-sex pornographic film." (The statement said the action took place on April 4, but the details match reports about the raid that took place on April 3.) After they "identified themselves to the facilitators and asked for an explanation on what was happening," the participants fled the clinic. The statement seems to dispute the U.S. State Department's claim that an employee of the project was arrested, saying instead that "one of the facilitators "accompanied the officers to Jinja Road Police Station to assist in investigation, and was later released."
The statement said that the Ugandan Police Force's Professional Standards Unit is now investigating the raid following a complaint from the HIV center. But it also suggests that the investigation of the HIV center is continuing.
"We appeal to all persons who may have participated in this training, or have information that could assist the Police in the investigation, to volunteer such information to the Police," the statement concluded.
A Ugandan police spokesperson initially denied the raid had taken place at all. Human rights
lawyer Nicholas Opiyo said police seized materials including condoms, lubricant, and medical manuals concerning HIV and men who have sex with men during the raid, and took pictures of patients who were at the clinic of the time of the raid.
Here's the full statement: