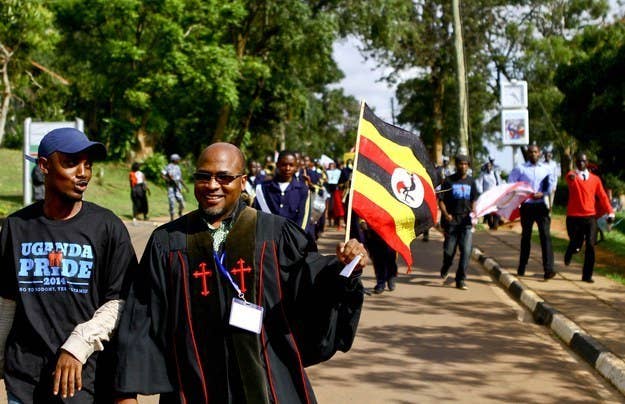 The Constitutional Court of Uganda opened arguments on Wednesday on a challenge to the controversial Anti-Homosexuality Act brought by a group of human rights activists, legal scholars, opposition politicians, and LGBT people.
The first day of hearings focused on the question of whether the law, which punishes homosexuality with up to a lifetime sentence and criminalizes promotion of LGBT rights, was adopted unlawfully because there was no quorum present when Speaker Rebecca Kadaga called for a vote on December 20, 2013.
"This is a fundamental provision, my lords, intended to protect the integrity of parliament," attorney Nicholas Opiyo told the judges in presenting the case. "This procedure, my lords, was ignored by the honorable speaker of the House."
The court adjourned at around 1:00 p.m. and scheduled hearings to resume on Thursday morning at 9:30 a.m., which could be the final hearing. Opiyo told BuzzFeed that he got the impression the court intends to decide on this procedural challenge before hearing arguments on whether the law, which was enacted in February, violates fundamental rights protected by the constitution. If the court agrees that Parliament broke procedural rules, Opiyo said, "it appears ... it will dispose of the entire case," and "it looks likely" that it will decide that during the Thursday session.
If the court rules against the government, it would not be the first time that the Ugandan Constitutional Court has ruled in favor of LGBT rights. Trans activist Victor Mukasa successfully sued Uganda's attorney general in 2006 for raiding his house while he was head of Sexual Minorities Uganda. Inspired by Mukasa's victory, activist David Kato sued the now-defunct Ugandan tabloid Rolling Stone over a series of articles outing LGBT people. Weeks after winning the case in 2011, Kato was bludgeoned to death.
The hearing was presided over by Justice Sam Kavuma, with an audience that included leading anti-LGBT activist Pastor Martin Ssempa and Frank Mugisha of Sexual Minorities Uganda. Before beginning arguments on the quorum question, much of the day was taken up by an unsuccessful attempt by the attorney defending the law to delay the hearing, claiming they had not had adequate time to prepare. The Constitutional Court had set the hearing date for September, before unexpectedly announcing last week that arguments would begin on Wednesday. The court rejected the government's motion, saying the government had not filed a petition to have the hearing delayed.
Mujuni Raymond contributed to this report from Kampala.