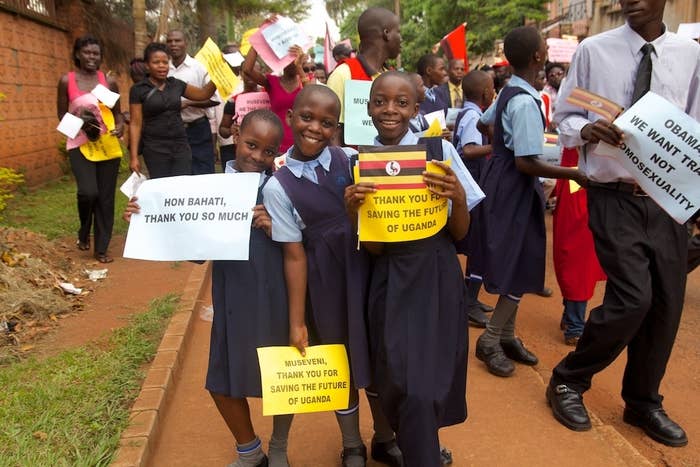 KAMPALA, Uganda — Fire jugglers, acrobats, and schoolchildren performed at a five-hour ceremony in the Ugandan capital on Monday called to celebrate the country's new Anti-Homosexuality Act.
Speakers paid tribute to President Yoweri Museveni, the official guest of honor, and linked Uganda's fight against homosexuality with shedding its colonial past in an event that had the feeling of a campaign rally.
"Today, we come here again [to celebrate] sovereignty and freedom … [and] to take charge of our destiny," said David Bahati, the lawmaker who sponsored the bill, noting that the event was taking place at the Kololo Independence Grounds, the parade grounds where Ugandan independence was granted in 1962. "The citizens of Uganda are with you, Mr. President. The religious and cultural leaders are with you, Mr. President. The members of parliament and the nation is behind you."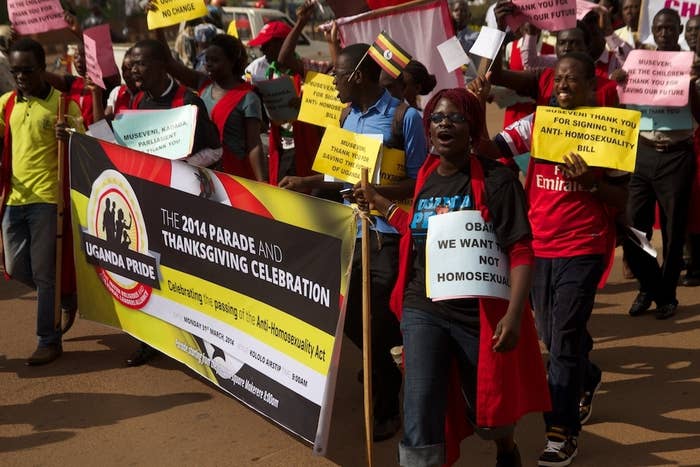 The event, called the "National Thanksgiving Service Celebrating the Passing of the Anti-Homosexuality Bill," was organized by the Inter-Religious Council of Uganda (IRCU), an umbrella organization of the country's major denominations, and other groups that had supported the bill, which punishes homosexuality with up to life in prison and essentially bans LGBT advocacy.
The event comes amidst several moves by Museveni to consolidate his position as the unchallenged leader of Uganda and his National Resistance Movement party ahead of presidential elections in 2016. In February, Museveni and his allies attempted to oust Prime Minister Mbabazi from NRM party leadership to derail his chances at challenging the president for the nomination, which he had been rumored to be considering. Museveni's government has also been going after the opposition, most recently by shutting down opposition rallies, arresting the organizers, and closing down radio stations.
The rally on Monday kicked off with several hundreds people marching from the campus of Makerere University led by Martin Ssempaa, an evangelical pastor who has been one of the most visible activists against LGBT rights in the East African nation. Marchers carried photocopied signs in pink, blue, and yellow that said, "Museveni, thank you for saving the future of Uganda," "Homosexuality + AIDS = 100%" and "Obama, we want trade not homosexuality." Some carried flags that said "Stop AIDS with abstinence pride" and "Stop AIDS — be faithful in marriage."
Speakers spoke to a crowd of hundreds from a stage set up on an expanse of tarmac opposite packed viewing stands. Museveni sat beside his wife, Janet, in large upholstered chairs at the center of a tent sheltering a large number of government officials, members of parliament, and other dignitaries.
Bishop Simon Peter Emiau, representing three organizations of evangelical churches, compared Museveni's stand for the Anti-Homosexuality Act to his "courage" in overthrowing the regimes that preceded him in power. "Your excellency demonstrated yet another courage by signing this bill," Emiau said.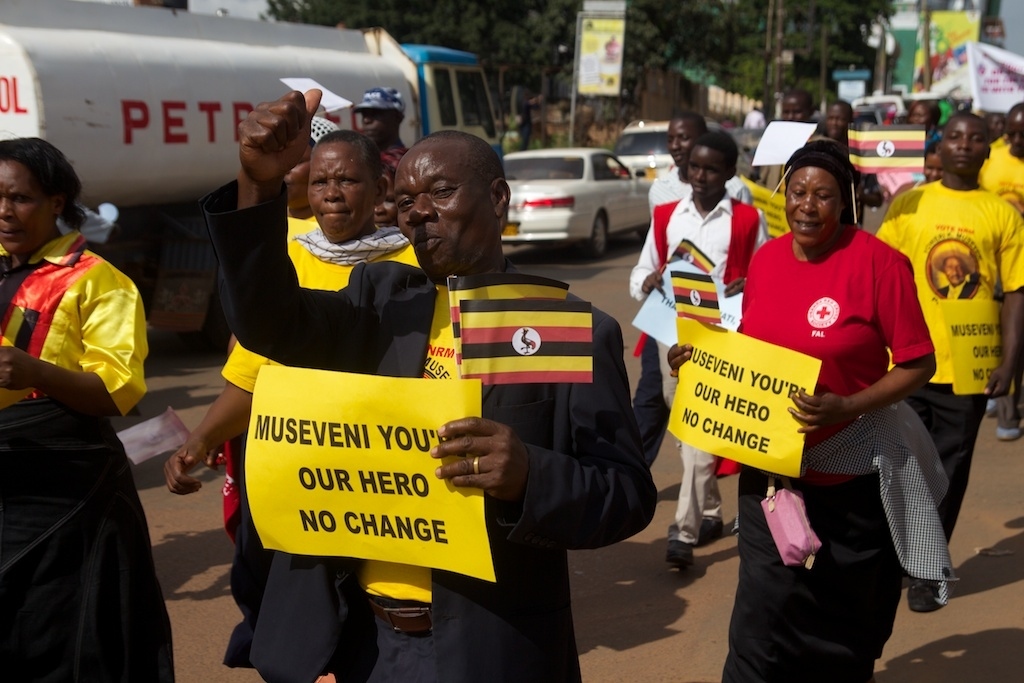 Several speakers suggested there was the possibility of a massive loss in foreign aid over the bill. The religious leaders who make up the governing body of the Inter-Religious Council of Uganda spokes strongly about this concern, which is not surprising since the U.S. government recently announced it would reallocate $6.4 million away from the organization — which had been getting funding for HIV programs — because of its support for the law. This was one of a handful of small adjustments to funding announced in March, but no major adjustments to the U.S. government's more than $700 million in annual aid has been announced. Last week, in fact, Washington launched a stepped up military partnership with Uganda in the hunt for warlord Joseph Kony, which recieved no mention during the warnings of pull out of U.S. aid.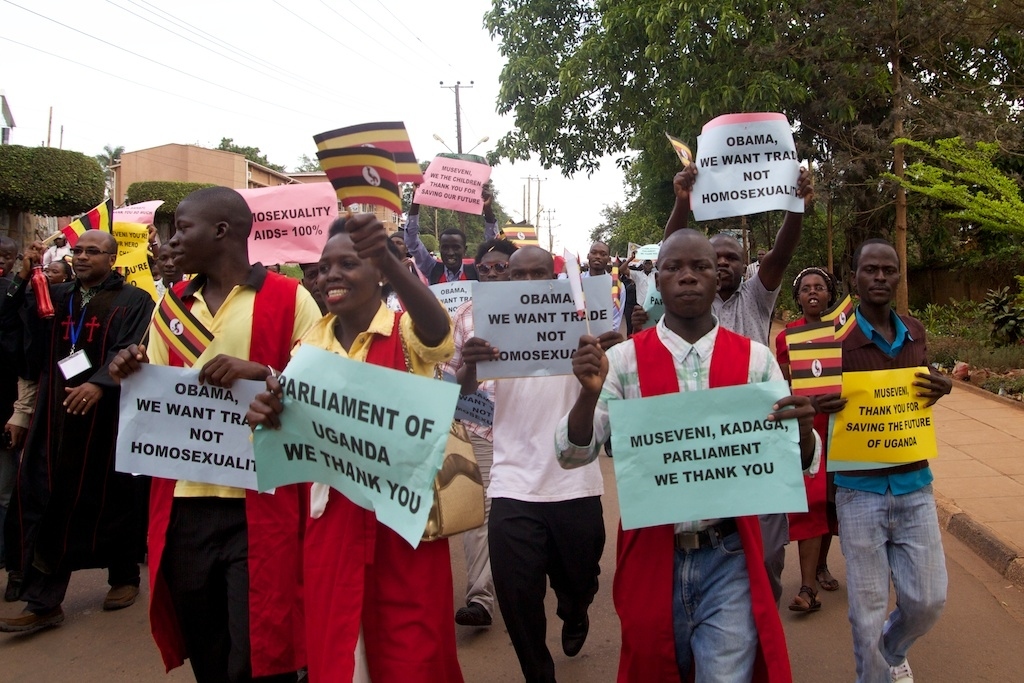 Sheikh Shaban Ramadhan Mubaje, the Mufti of Uganda who delivered remarks on behalf of the IRCU, called for the creation of a trust funded by donations from ordinary Ugandans that would pay for anti-retroviral medications if foreign donors withdrew their support. Uganda should create this backstop rather than consider backing down on principle, he said.
"As Ugandans and Africans we have existed for generations without compromising our values, especially where marriage between a man and a woman is concerned," he said, getting applause when he suggested creation of the fund.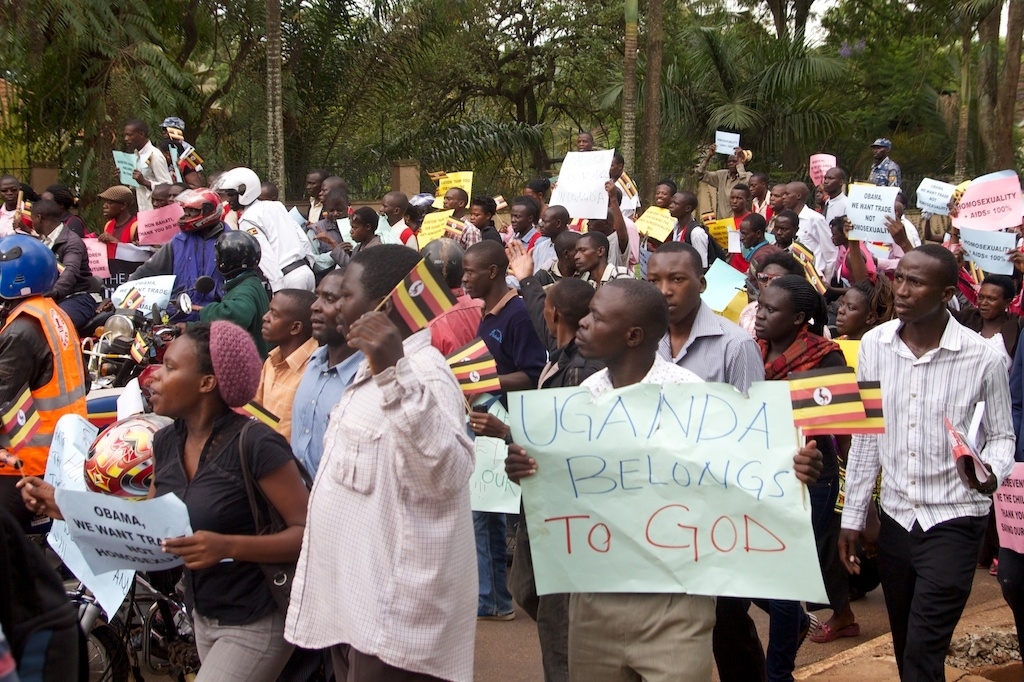 Museveni endorsed the proposal when he delivered remarks from a special podium mounted on the back of a pickup truck driven into the center of the parade grounds.
"I totally support the idea of a fund," Museveni said, diving into a lengthy explanation about how, before he signed the law, he checked that Uganda could afford to pay for retrovirals for all of the 1.5 million people living with HIV in the country should the U.S. cut off its funding. He said he was convinced that much of the U.S. money went to non-essential things, and that Uganda could afford to pay for anti-retroviral therapy and HIV testing on its own.
Before he moved on, however, he added almost in passing, "Fortunately, I have not heard [the Americans] say that they will cut funding for AIDS."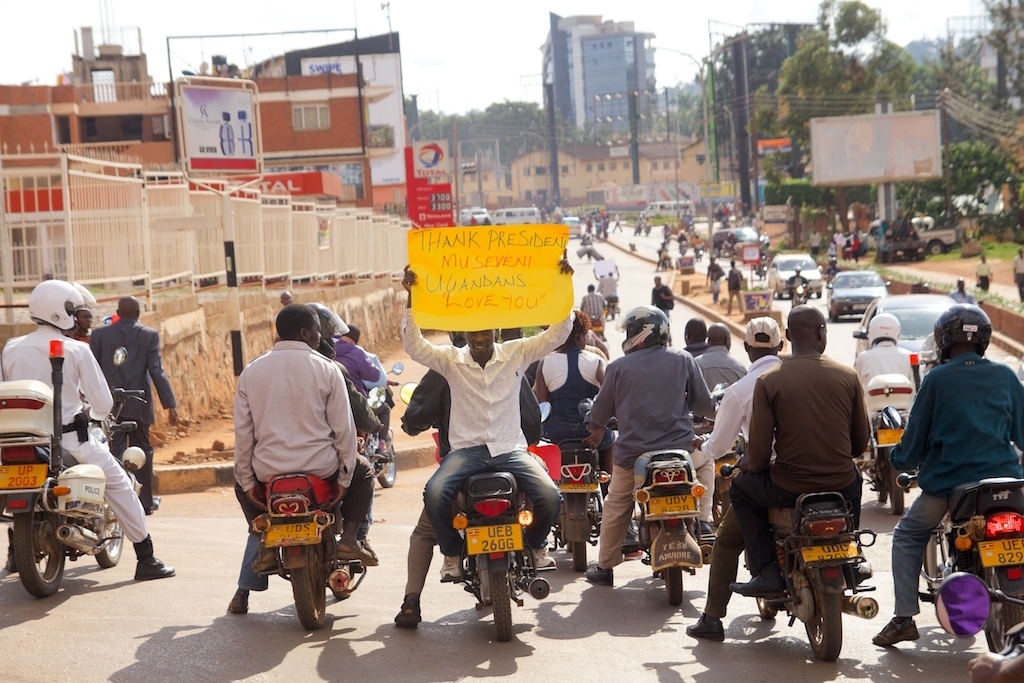 He drew laughs while arguing that the mechanics of gay sex should make obvious how unnatural it is.
"The sexual organs of human beings are highly specialized," he said. "Because that part is not for that purpose, it creates very unhealthy repercussions … the intestines come out — this is terrible!"
"There are other terrible things," he warned. "Oral sex is an idiocy … The mouth is for eating."
Directing his remarks to the many university students in attendance, he said, "There is nothing good in this imported culture — you don't have to be ruined by foreign things."
He vowed to continue championing the Anti-Homosexuality Act.
"I am now mobilized to fight this war," he said.