Tussle Over Gay Marriage In Colombia Heats Up
The legal battle over same-sex marriages in Colombia is also becoming a referendum on judicial independence.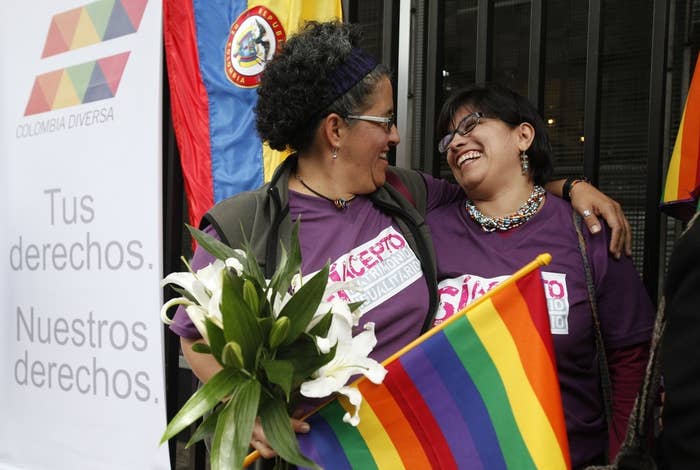 WASHINGTON — Claudia Zea and Elizabeth Castillo's September wedding in the Colombian city of Gachetá was a legal triumph. They were among the first to secure marriage licenses under an order of the Constitutional Court.
But now they, like all the Colombian same-sex couples who have secured marriage licenses in the past few months, are facing a special type of legal action to have their marriage annulled. And this legal counter-offensive is shaping up to be a referendum on the independence of the judiciary and its historic role of protecting the rights of minorities.
The legal vehicle gay marriage opponents are using is especially galling to Castillo, who is a lawyer. The method, known as an acción de tutela, which has no U.S. equivalent, is specifically intended to provide emergency relief to those who's rights are violated — but in these cases is being turned on its head to reverse rights.
"It's outrageous because I know the law," Castillo told BuzzFeed by telephone from Bogota. "It's an argument they pulled out of their hair, fundamentally illegitimate."
Last week the tutela strategy scored its first success. A court in Bogotá annulled the marriage of a couple that was granted by another Bogotá court on September 20. The case against the marriage was brought by a little-known organization called Fundación Marido y Mujer (Husband and Wife Foundation), which describes itself as a non-profit that "seeks to promote the family institution in society."
In an interview after the ruling was handed down, the group's director, Javier Suárez, said that the organization believes gays and lesbians needed "clinical, psychological, medical, and also spiritual attention … so that they can … recover their gender identity."
Judges who allow gays and lesbians to marry, he argued, "overstep their roles and distort the constitution and the law."
It is the Constitutional Court that opened the door to same-sex marriage in the first place. In 2011, the court ruled that same-sex couples were entitled to full family rights under the country's constitution. Rather than immediately grant couples full marriage rights, however, the court ordered Colombia's congress to pass a law implementing the order by June 20, 2013. If congress failed to act by the deadline, the court said that couples could immediately "formalize and solemnize a contractual link that permits them to constitute a family."
It was very careful not to use the word "marriage," which is why it was so hard for couples like Zea and Castillo to marry. They were denied a marriage license by the first court they approached in Bogotá, and so ultimately married in Gachetá.
The country's most visible LGBT rights group, Colombia Diversa, warned couples not to try to marry before notaries—who also celebrate marriages in Colombia—because they were concerned that they would only be allowed to sign "solemn contracts" instead of actually marry. Courts were slow to grant marriages: the first partial victory came in late July, when a couple named Gonzalo Ruiz and Carlos Hernando Rivera were declared "civilly married" by a judge in Bogotá, but the judge confusingly would not call it a "marriage."
A handful of unambiguous marriages have been publicized in the months since. The latest occurred on October 4, when Adriana González wed Marcela Rojas in Bogotá.
Now, all these marriages have acciones de tutela pending against them, according to Mauricio Albarracín, a lawyer with Colombia Diversa.
And although the successful acción de tutela was brought by Fundación Marido y Mujer, he said the strategy to derail same-sex marriage was masterminded higher up. Even before the June 20 deadline passed, the country's inspector general, Alejandro Ordóñez, a top legal official tasked with oversight of public officials and protecting citizens' rights, was threatening to punish officials who granted marriages to same-sex couples.
His statements were so vehement that the Constitutional Court appeared to believe the judiciary's independence was at stake. On July 19, the court's president, Jorge Iván Palacio, issued a statement in which he "made a respectful call to the inspector general of the nation to observe the rulings of this tribunal and ensure strict and timely compliance."
Palacio also "invited" him to "maintain decorum" when addressing the court.
Activists suspect Ordóñez stands behind the Fundación Marido y Mujer, the group behind the same sex marriage challenge. It is a mysterious organization apparently created this summer. Its director Javier Suárez is identified as a theologian, but little else is known about him. The group has only two members, and has not drawn up its governing papers. The Fundación denies direct connection with the inspector general.
Turning to acciones de tutelas is seen as particularly cynical. They are usually held up as an example of Colombia's "progressive heritage," having been used to establish a fundamental right to health care and protecting the rights of people displaced by the country's decades of internal conflict.
It has also been a key vehicle for winning rights for LGBT people, brought on everything like the right to kiss in public to access to social security for same-sex couples. Just last month, an acción de tutela secured adoption rights for a gay man for the first time under Colombian law in a case in which the American journalist Chandler Burr sued to bring home two Colombian children he adopted in 2011.
But this history is what gives Castillo confidence that her marriage to Zea and others like it will survive the legal challenges. The couples whose marriages are annulled will appeal until the question is once again before the Constitutional Court.
"This creates uncertainty, … but, I have confidence that the judges are going to find in favor of equality," she said. Putting her private life up to such public scrutiny is difficult, she added, but "it's worth the effort."