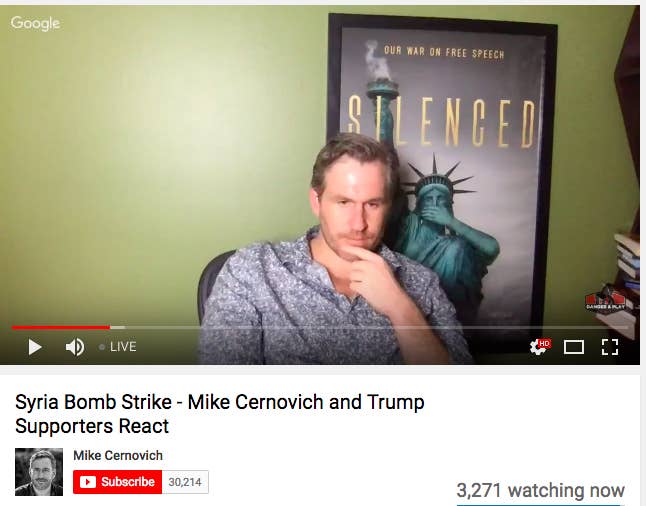 In the minutes after the Pentagon confirmed President Donald Trump ordered missile strikes on Syria, several media outlets and personalities instrumental to his rise to power announced they were turning against him.
Trump campaigned against intervening in foreign conflicts, warning that Hillary Clinton would drag the US into the fight in Syria. On Thursday night, some of Trump's most die-hard supporters felt deeply betrayed that he ordered airstrikes less than three months into his presidency.
Alt-right Twitter personality Baked Alaska summed up the sentiment this way:
"New Right" blogger Mike Cernovich — whose work was elevated earlier this week by Trump allies after he first reported Obama's national security adviser Susan Rice "unmasked" Trump campaign officials caught in surveillance — spent much of the day livestreaming a "filibuster" against military action in Syria before threatening a revolt after the strikes had been carried out.
Cernovich launched the hashtag #SyriaHoax early Thursday afternoon, claiming that the chemical attacks that prompted the Trump administration's airstrikes were not carried out by the regime of Syrian President Bashar al-Assad.
Infowars' Paul Joseph Watson, who picked up Cernovich's claims that the chemical attacks were a "false flag" carried out by Assad's enemies to provoke an international response, announced that he was breaking up with Trump.
Rebel TV correspondent, pro-Trump Twitter personality, and one-time #Pizzagate promoter Jack Posobiec claimed that the pro-Trump online community on 4chan was also in revolt over the airstrikes, though large pro-Trump forums on platforms like Reddit appear split.
Right-wing news media giant Breitbart News seemed conspicuously silent on Syria during the lead-up to the strikes on Thursday afternoon. As conservative social media swelled with conspiracy theories suggesting Trump was being betrayed by false intelligence, Breitbart led with a story that embattled adviser Steve Bannon was still participating in the National Security Council even though he'd been removed from the body the day before.
Breitbart played it straight after the strikes were announced, leading with this headline:
But there were signs of dissent inside Breitbart over the airstrikes. Raheem Kassam, Breitbart's London editor, tweeted: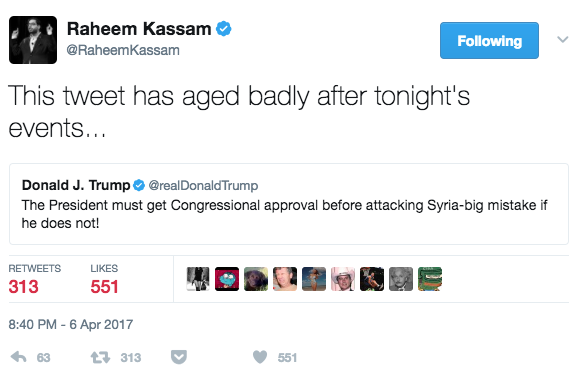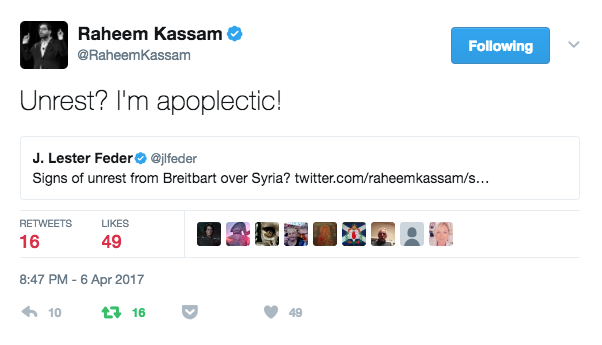 One of the few right-wing social media personalities vocally supporting the Syria intervention was Bill Mitchell, who built a following on Twitter as one of Trump's most active social media surrogates during the 2016 campaign.
It remains to be seen how deep this schism will divide the pro-Trump media world. This is an ecosystem that thrives best in opposition, and this pivot may fuel the movement in the long run, giving the insurgent group some independence from the Oval Office. The quick disavowal of Trump is actually consistent with the reactionary style that cemented its reputation in 2016. And even as people blasted the president's decision, some were billing themselves as Trump's loyal opposition and leaving room for reconciliation.
That includes Mike Cernovich, who tweeted:
Outside Your Bubble is a BuzzFeed News effort to bring you a diversity of thought and opinion from around the internet. If you don't see your viewpoint represented, contact the curator at bubble@buzzfeed.com. Click here for more on Outside Your Bubble.